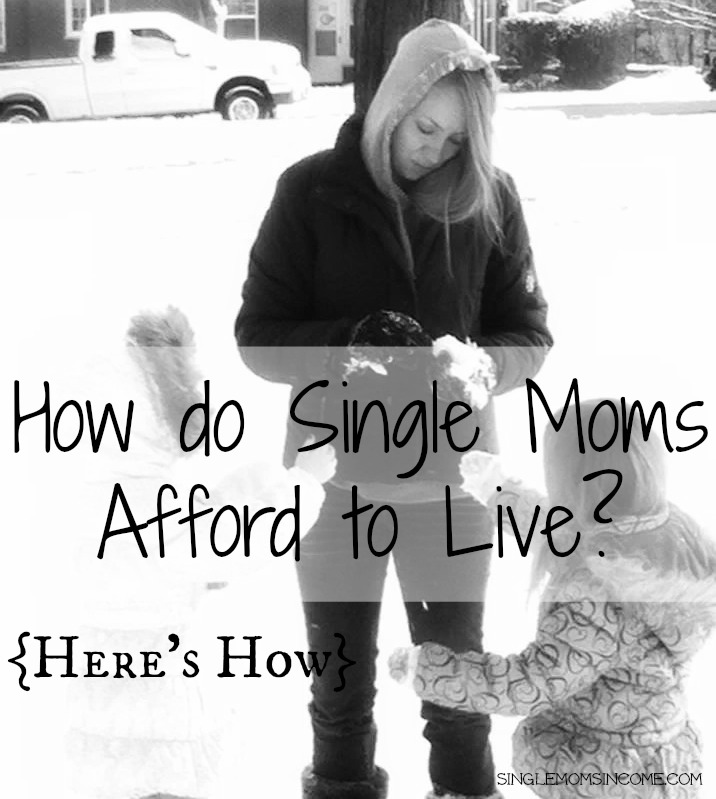 "How do single moms afford to live?"
This is a question that most new single moms ask. When you go from a two income family or a situation where your significant other was the breadwinner, the new single life is tough.
The internet is floating around with answers like "budget" and "don't use credit cards." While those answers aren't bad, they really aren't practical either.
My guess is that if you're asking how you, as a single mother, can afford to live, then you've already stretched your budget to the max .Your situation is beyond living paycheck to paycheck.
If you feel like you're walking in circles here is some practical information that can help you get your financial life back in order.
Apply for Government Assistance
I know that many of you have already ruled out applying for government assistance. But if you're not able to make ends meet you need to do it!!
Forget about what others think or say. Sure there are many people who abuse the system but there are far, far more who actually benefit from getting government assistance.
Here's exactly what you should apply for:
Food Stamps- Food stamps come in the form of a debit card. It is a discreet card that you simply swipe and then enter your pin number. You are given a monthly allowance that will automatically load on a certain day every month.
Daycare – There are programs that pay all or part of daycare expenses for low income earners or those who are attending college.
Medicaid – If you are considered low income you may qualify for Medicaid. Medicaid is simply an insurance plan provided by the government. You do not pay anything for the medical coverage and there are no deductibles.
Even if you do not qualify yourself, your children without health insurance are likely to qualify for Medicaid.
Also, if you're unable to pay your rent each month you might want to apply for Section 8 Housing.
Section 8 Housing – Section 8 housing is a government program that helps low income renters pay their rent. The amount of rent that you would have to pay would be based off of your income.
If you're worried about what people with think of you if you receive government assistance, don't let them know. These programs are all very discreet and you don't have to announce to the world that you're getting help.
Just know that everyone needs help from time to time. You're not alone.
Related Posts:
Pay for the Necessities First
Housing, utilities, and food should be your number one financial priority.
You need to keep food in your children's stomach and a roof over their head. You should not pay for anything else until you have these expenses covered for the month.
If you can't pay for these by yourself then apply for government assistance.
NOW Create a Budget
Now you can make your budget. Once you know exactly what type of assistance you qualify for and how much your main expenses are eating up, you can play with what's left over.
I'd recommend that you save a portion of whatever is leftover in your budget for an emergency fund. You never know what life is going to throw your way, so be prepared.
Decide how much money you want to save and split the rest into budget categories. If you have debt you'll need to make that a priority as well. For more info on paying off debt you can check out How and Why You Should Get Out of Debt.
Here are some possible budget categories:
debt repayment

retirement

financial goals (buy a car, down payment for a house, etc.)

entertainment

clothing

gifts (Christmas and Birthdays for your kids)
Look for Creative Ways to Save Money
The one thing that is going to make or break you financially is your outlook on life. Do you want to make lemonade out of lemons or do you want to give life a sour face?
There are many single moms, myself included, who try to look for the good in things. Doing this will dramatically help your situation.
Here are some suggestions:
Look for Cheap but Fun Entertainment
Stretch Your Grocery Budget
Cut Expenses the Smart Way 
Be a problem solver and keep your head up. Some creativity matched with a positive attitude will take you a long way!
Focus on Making More Money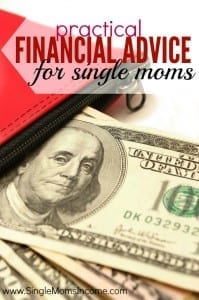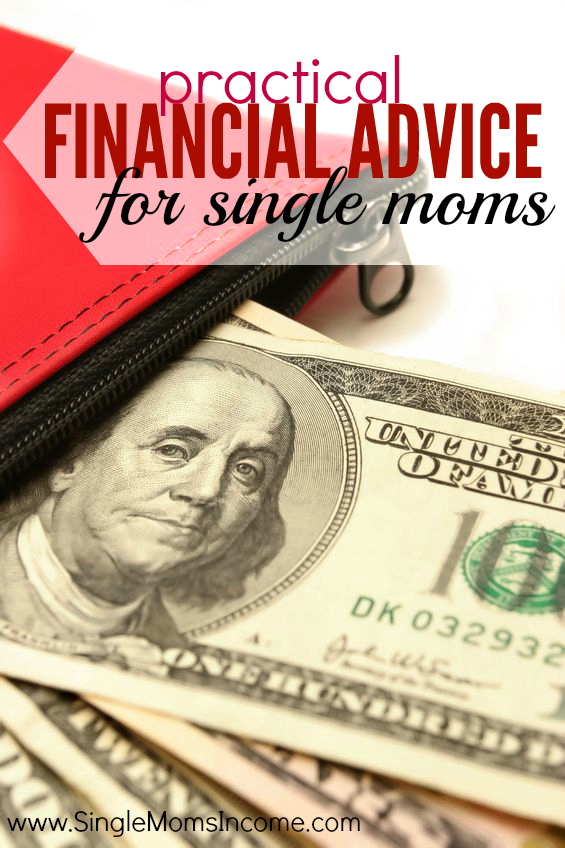 In the beginning one of your main focuses will be cutting costs and stretching your frugality to the limits – but that's not how you want your whole life to be.
To really remove the stress from your situation you have to pair cutting costs with earning more money. Remember, when you cut costs you're limited – you can only go without so much. When it comes to earning more money there are no limitations. Put a lot of your energy toward finding a better paying job, earning side income, or starting a side business.
Here are some ideas for you:
Go Back to College – While I don't necessarily believe you have to have a college degree to be successful – it certainly won't hurt. You can apply for scholarships, financial aid, and also receive free daycare if you do decide to further your education. You can also look for smart ways to save money while at university.
Start a Side Business- If you're more of an entrepreneurial spirit like I am starting a side business might be the right fit for you. You can take anything that you're good at it and turn it into a service. Here's a list of more than 85 Work From Home Jobs for Moms.
Ask for a Raise – If you've proven yourself to your boss don't be afraid to ask for a raise. Don't be demanding, simply point out all the great things you've done for the company and state that you feel deserving of a raise. The worst you'll be told is "no."
Switch Jobs – Leverage you skillset. If you've been working a job that has taught you a certain skillset think of other businesses who pay more that will find value in what you know. For instance, I worked as a bookkeeper for 7 years. I liked the job but there were no pay raises so I went and applied for a job with a financial services firm. I was trying to get in good with the accountant but the head of insurance really liked me and hired me on the spot. I then took my knowledge of insurance and started writing for insurance based websites for even more money.
I'm a big fan of online courses to help and increase skillset when applicable. Here are a few free starter  courses you can check out:
There are also others ways to make easy money on the side. Just remember, if it's easy it's not going to pay too much.
Here are some online programs that can help you earn a little pocket change. (I actually use both of these and put my earnings toward my Christmas budget.)
Swagbucks –  This is a search engine, just like Google or Yahoo, only you get randomly awarded "swagbucks" through seach. You can trade in your Swagbucks for gift cards or prizes. I always go for $5 Amazon gift card which only takes 450 Swagbucks to reach.
They also have surveys, daily polls, and special offers that you can participate in to earn more Swagbucks.
Inbox dollars – Inbox Dollars also pays you to read emails, take surveys, and complete special offers. I always use the reading emails feature, which pays .02 per email. It is extremely simple and only takes about 10 seconds to earn your .02. Your account has to reach $30 before you can request a check.
You can currently get a $5 bonus for signing up.
Take Surveys – Through that link you'll find more than 15 companies that you can take surveys with as well as information on focus groups.
I have extensively talked about earning extra income on this blog. I've tried to highlight some of my best posts on my "Extra Income" page. You can look at it for even more ideas.
Keep a Positive Outlook on Life
Your outlook will determine your outcome.
If you sit around and play victim to your circumstances you're not going to get far. However, if you decide that you're going to make it and live a happy life then you'll do just that.
You'll have your fair share of tough moments, but in the end it's all up to you on how you respond to these tough moments. You can rise to the occasion or break under the stress.
Be proactive, not reactive.
If you're a single parent or have been a single parent, what's the best thing you did to improve your financial situation?