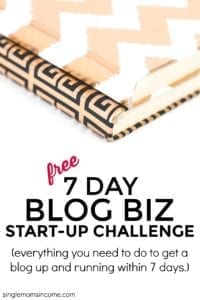 One of the biggest concerns I hear from would-be bloggers is that they don't have the technical skills to start a blog. Fear not, I had no technical abilities when I first started either. In fact, Single Moms Income was NOT my first blog.
I started my first blog in 2010 and just as I got it to a point where it made it's first $150 and I thought I was "getting it" I accidentally deleted the entire blog and all the backup files. Ooops.
So when someone tells me that they've been wanting to start a blog but are afraid of the technical side I TOTALLY get it.
Luckily, over the years I've spent blogging I've gotten pretty good at a lot of the technical stuff that used to scare the crap out of me. I decided to make a free email course that will help all of my technically-challenged friends get the basics up and running.
(The basis include installing WordPress, creating posts and pages, setting up categories and creating a menu. The course also covers way to earn with a blog (day 6) and what to work on to grow a blog going forward (day 7.)
Here's the daily break down of what the course covers:
Day 1: Blog Biz Start-Up Intro and Prep Work
Day 2: The Blog Setup (The Easy and Professional Way)
Day 3: The Blogging Essentials (Choosing and installing a theme, creating an "About" page and creating a menu.)
Day 4: Let's Talk Categories and Organization
Day 5: Your First Blog Post
Day 6: The Business of Blogging (We're talking money now…)
Day 7: What to Work on Going Forward
If you think this free course will benefit you I'd love for you to sign up below: