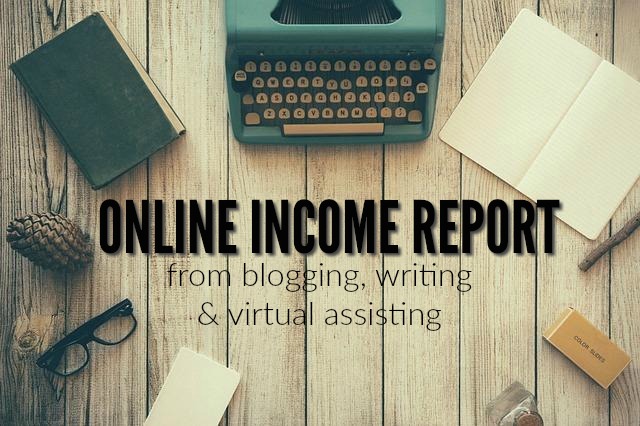 If you're new here I started posting income reports when I started this blog, almost seven years ago. I initially had goals of making a few hundred dollars per month and then slowly growing that amount. Luckily, that's what I've been able to do.
In 2012 I decided that earning money online was going to be the only way I could create the life I wanted living in a small town with no good job options. I dove in head first and started trying things out. I've failed at sooo many different things and have had great successes with others.
I've earned money through being a freelance writer, virtual assistant, and blogger. (And yes, I know how crazy that sounds to most people!) Right now my income is coming solely from blogging.
I took a year off from doing income reports after the birth of my last daughter and now they're back.
January 2019 Income Report
Last year I worked a lot less than I ever have in my adult life. And because of that my income was somewhat affected. (You can see my 2018 income report here.)
In the past few months I've gotten a babysitter and got back to work 😊 And income-wise, January wasn't too bad of a month.

In January I earned a total of $5,472.71.
It broke down like this:
Ad Networks – $1,031.81
Affiliate Income – $3,815.90
Sponsored Posts – $625
Considering my income has gone way up and down over the past year I consider this to be a pretty good month. February wasn't quite as good to me but I'll share more of that in a couple weeks.
My income goal for the year is to reach $100k.
I have a ton of ideas for doings this I just have to make myself focus on one thing at a time so I can get stuff done!
Elite Blog Academy is Open
If you're looking for blogging guidance my favorite course opens today. You can check it out here.
This course is what took me from a few hundred dollars per month to a few thousand dollars per month with my blog. Elite Blog Academy is only open a few days per year so if you're interested in enrolling NOW is the time.
If you're on the fence about whether or not EBA would be a good fit you can check out the Passion to Profit Webinar to get an idea.
More Blogging Advice
If you've been thinking about starting a blog I hope my income reports inspire you at least a little bit. I know it can be super inspiring to read income reports where the blogger is making $20k+ per month but those can also be a bit intimidating.
When I first started blogging my goal was to make $2,500 per month. I'm really happy that I've been able to reach where I am working part time, taking care of my kids and without selling a product.
If you want to do the same, you can! It just takes time + hard work.
Here's some more blogging resources for you:
How to Start a Blog (Step-by-Step) – If you need help setting up a blog this tutorial will walk you through setting up a blog with Bluehost. If you think you can handle it you can go ahead and use this discount link (affiliate) to get hosting for as low as $2.95/month.
SEO for Bloggers – If there's one thing in blogging I consider myself good at it's SEO (search engine optimization.) This post goes over everything I do.
How to Make More with Ad Networks – If you're looking to optimize the ads on your blog this post has some helpful tips.
Passion to Profit Webinar – Don't forget to sign up for the EBA Passion to Profit Webinar on March 7th.
Happy Monday! And I hope your January (and February) was just as good.