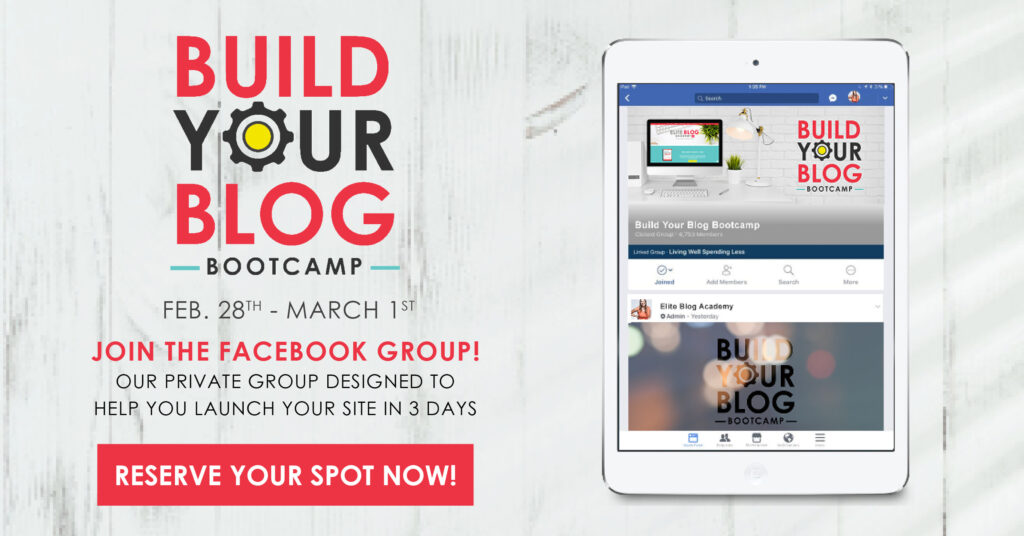 Reminder that Build Your Blog Bootcamp starts tomorrow. The bootcamp is free and put-on by my very favorite blogging course, Elite Blog Academy.
If you've wanted to start a blog or website but are intimidated by the tech stuff or want feedback from peers and blogging pros, now is your chance.
Now, you might be thinking…."Yeah, well the bootcamp is free but I still have to pay to start my blog."
True, true.
Luckily, I have a link that will get your first year of blogging at GoDaddy for a little over $12. (You read that right – ONE YEAR for $12.) Here's the link. That is my affiliate link. If you use it, I'll earn around $1.
Now back to the bootcamp info. Here's what you get:
All Bootcamp videos & daily challenges
The technical know-how you need to set up and optimize your blog
Inspiring strategies from experienced EBA Alumni (who have been where you are!)
Several exclusive Bootcamp FB live sessions moderated by Elite Blogging Academy staff and special guests
If you need a little hand-holding and want free expert instruction, you NEED to sign up for the bootcamp. You'll also get access to a pop-up Facebook group which is always highly active. You can ask all your questions or lurk in the background and learn from everyone else's questions. (I've done a bit of both!)
This is only available for three days each year. It starts tomorrow.
🎇 Get one year of professional blog hosting + a free domain name for $12.
Hopefully I'll see in the Facebook group soon.