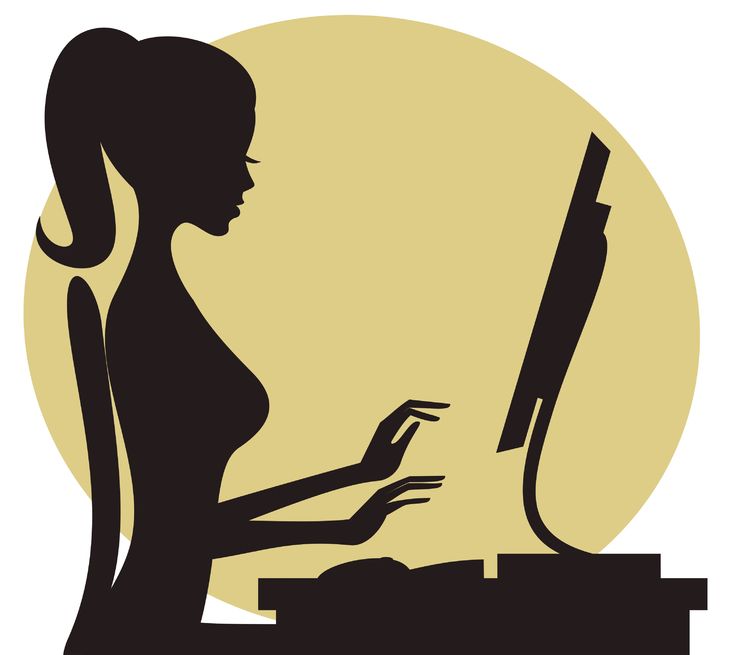 Over the past few years blogging has opened up SO many doors for me. It's what helped me start a freelance writing business. It's where my virtual assistant and blog management clients came from and it's a big reason why I was able to earn over $63,000 online in 2015 and $86,000 in 2016.
(For the record that's over twice as much as I've ever earned working a "real" job!)
The truth is starting a blog is pretty easy. Earning money from a blog is a little more tricky but it's doable and has many benefits outside of earning money.
I've learned a ton about blogging over the past several years. Today I'm going to show you how you can start a blog with a good hosting company and also various ways you can make money from a blog.
A Word of Advice Before You Begin
Before you start a blog you have to know what you're going to blog about! It's very important that you pick a topic that you can write about forever without becoming bored or running out of ideas.
If you aren't sure what direction you want to take your blog consider coming up with a general blog name that could be taken several different directions. (That's what I wish I would've done!)
How to Start a Professional Blog (The Cheap and Easy)
Here's how to start a blog with GoDaddy for only $12 per year!
# 1 – Visit GoDaddy (use the link below for a good deal)
Go through this link to get $1/mo WordPress Hosting from GoDaddy!
(You need to go through that link to get the special pricing.) Get deals from new hosting promo codes
Click the "economy" option. Click continue at the bottom of the screen.

(Your discount will show up when you checkout.)
# 2 – Choose Your Domain
Finding a good domain name can be tough! I'd recommend you come up with several ideas because most will be taken. I'd also recommend that you try and go with a .com name
You can check your domain's availability by entering it in the box provided.


When you find an available domain, it should automatically select it for you, hit the continue button.
# 3 – Checkout
Next you'll be taken to the checkout page where your discount will automatically apply. Click checkout and fill in your payment information.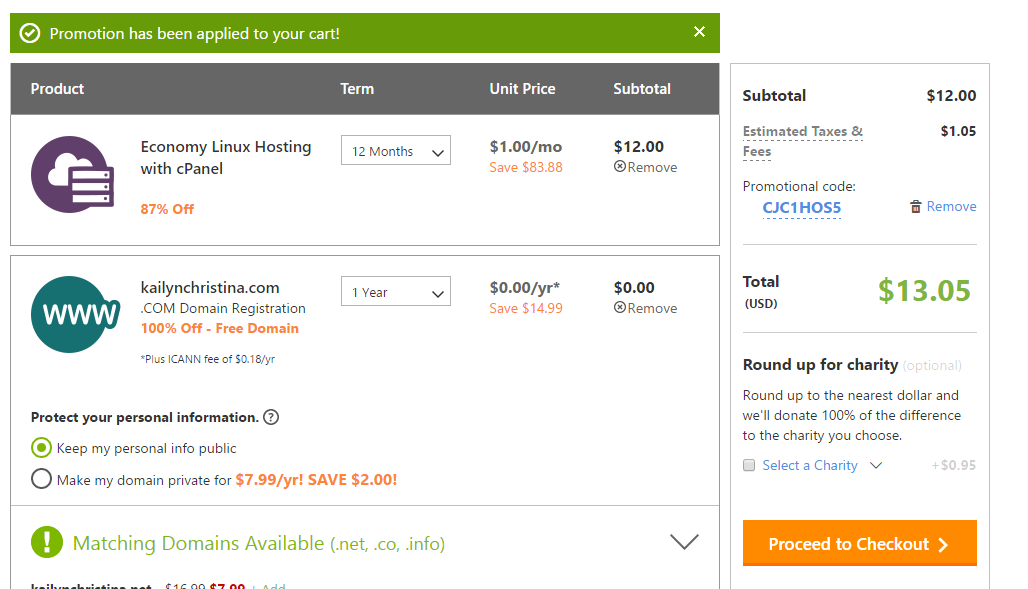 # 4 – Set Up WordPress
This is the part where most people get tripped up but it's easy to do, I promise.
When you're finished checking out you'll be taken to a Thank You page. Scroll to the bottom of that page and you're gonna see this: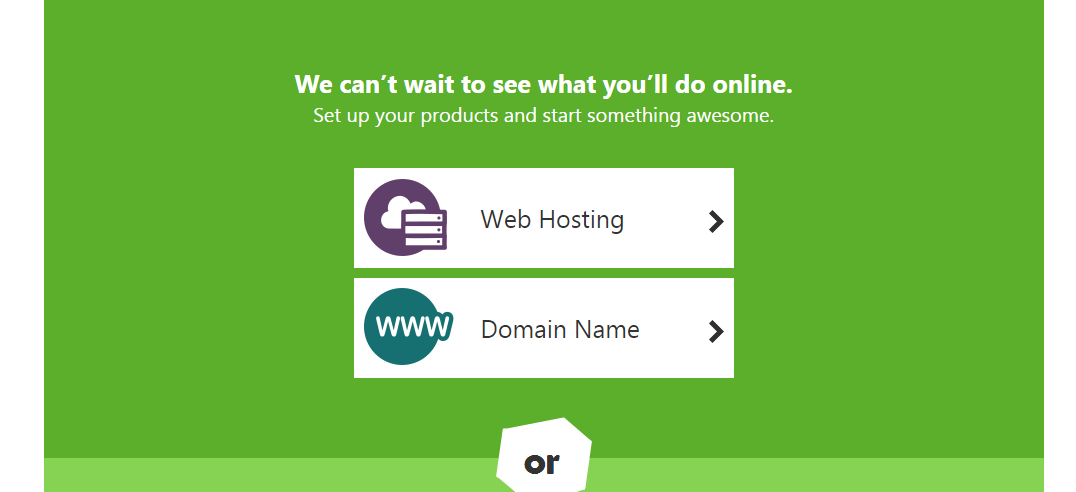 Click "Web Hosting"
Under "New CPanel" click setup.
Below is what the next screen will look like. If the domain name you want is already selected just hit next. If not, choose your desired domain name from the drop down menu and click next.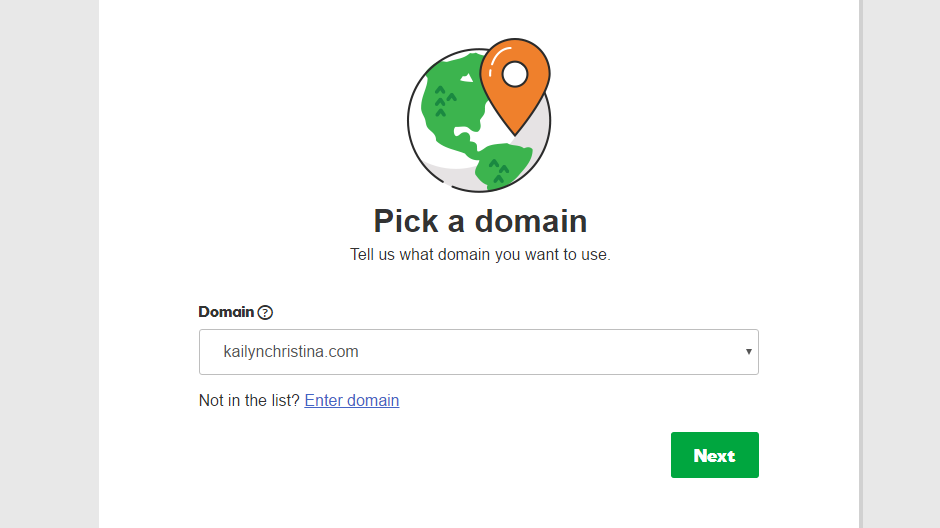 The next screen is pretty self-explanatory. Choose your location and hit next.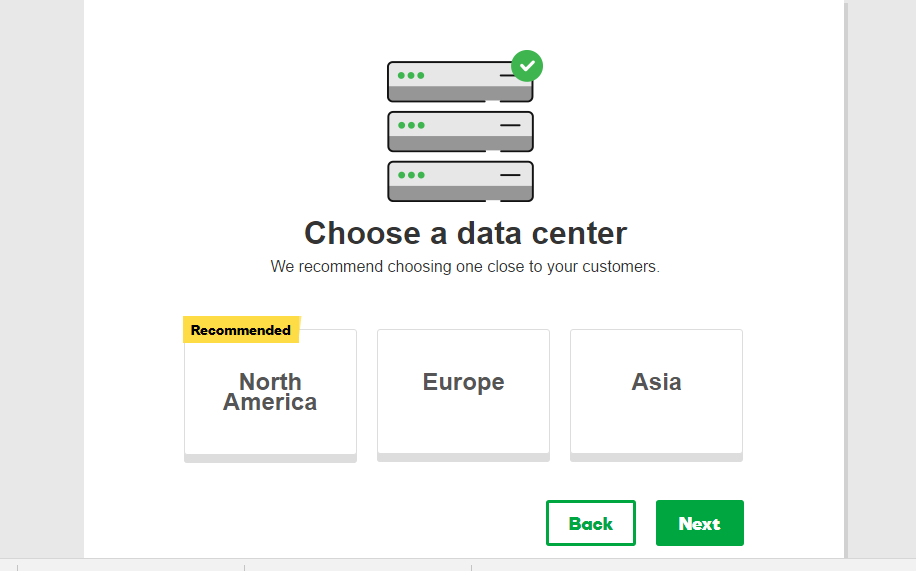 On the following screen you'll be prompted to create a username and password. I put my username as the name of the site I was creating. Just choose something you'll remember. (Or better yet write it down!) After that click next.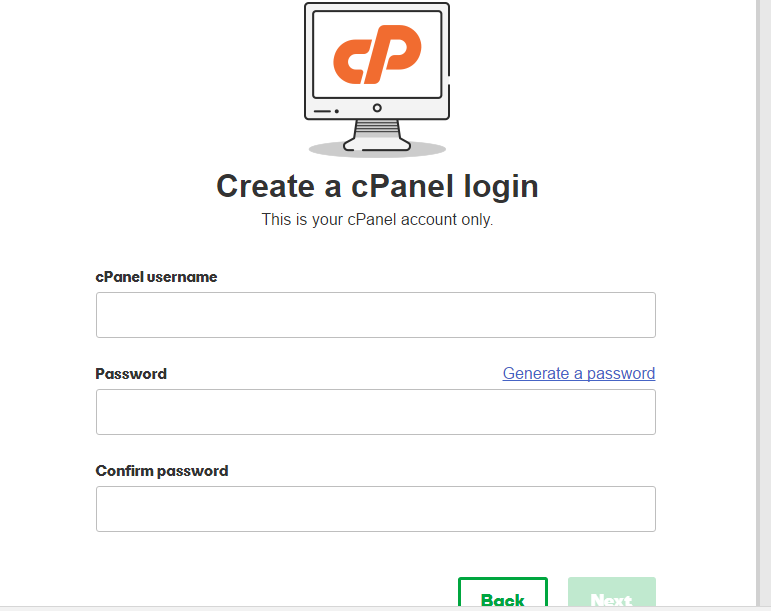 Next is the screen below. Click "yes" and enter the username and password you'd like for your WordPress blog. You're done!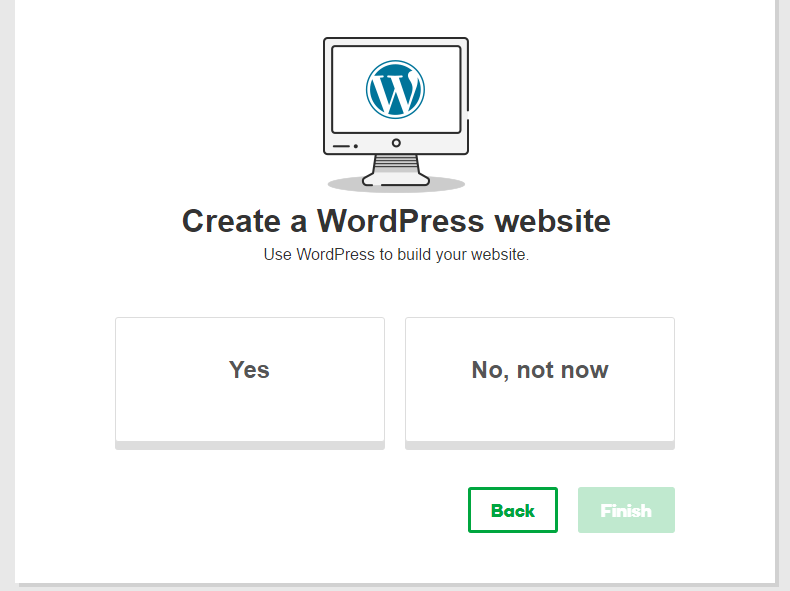 GoDaddy will start setting up your WordPress site and will email you when it's completed. After completion you'll be able to log in using the username and password you just set up.
To log in to your blog simply go to thedomainyouchose.com/wp-admin From there you can enter in your username and password.
That's it. You're now officially a blogger with a WordPress site! Congrats. Now you can move on to the fun stuff like finding a good theme and of course, writing blog posts.
Here's that discount affiliate link again if you need it: $1/mo WordPress Hosting from GoDaddy!
How to Earn Money From Your Blog
Once you've chosen what you want to blog about and have setup your blog and created content you can begin to monetize.
Every blog earns money in a different way. What works for me may not work for you and vice versa. That's why it's important to make a plan and experiment.
Here are some of the most popular ways to make money blogging. (But remember the sky is the limit!)
Put Ads on Your Blog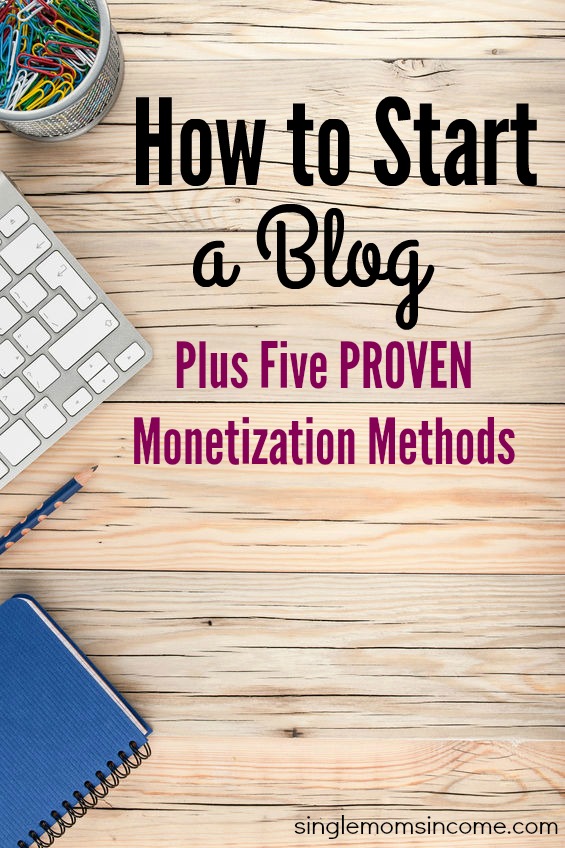 When it comes to running ads on your blog there are three main types: CPC, CPM, and Direct Ads.
The most common ad network in the blogosphere is Google Adsense. (See my top lefthand side bar for an example.) This is called a CPC, or cost per click, ad.
With Google Adsense you get paid every time a reader clicks on one of your ads. The amount you get paid is highly dependent on the particular niche that you're in. For example, I write a lot about personal finance and since this is such a competitive niche the cost per click (CPC) is higher compared to a blog about knitting sweaters, for example.
Other CPC networks you might be interested in joining are Yahoo/Bing's ad network, called Media.net
CPM ads are Cost per Thousand. This mean you get paid a set amount of money for every thousand pageviews your blog gets. The amount you get paid per thousand pageviews is once again very dependent upon your niche.
Some popular CPM adnetworks are Sovrn and The Blogger Network.
With CPC and CPM ads the higher traffic you have the more money you'll make. Don't expect to make more than a handful of pennies if you have low pageviews. On the other hand there's nothing wrong with going ahead and putting those ads on your blog from the very beginning so that you're readers are always used to them.
The last type of ad is direct advertising. This is when a company offers to place an ad on your site for a certain amount of money each month.
If you're interested in learning more about ad networks I have a very detailed post on how you can increase the advertising income on your blog.
Affiliate Sales
Affiliate sales occur when you recommend a product to your reader and they sign up using your special affiliate link. (For example, if you use my GoDaddy Affiliate Link I'll earn a small commission and you'll get a discount. It's a win-win!)
You can become an affiliate for almost everything under the sun. The commissions vary depending on what company you're promoting. Some of the most common affiliate networks are Amazon Associates, FlexOffers and Commission Junction.
You can normally find out how to sign up as an affiliate for a particular company by visiting their website and scrolling all the way to the bottom and looking for the "affiliate" link.
When you're promoting affiliate links just be sure to keep it natural and NEVER promote anything that you don't absolutely love!
Sponsored Posts
Sponsored posts are posts that you write to promote a particular company and are paid for. The amount you get paid for sponsored post can range anywhere from $10-$2,000 depending upon your blog's traffic and audience.
If you think you'd be a good fit to work with a particular company you can email them with your ideas (I've had a ton of success by just asking!) or you can sign up to do sponsored posts at one of these third party places:
Just like with any other blog monetization avenue you should only accept sponsored posts that align closely with your brand and audience of your particular blog. I know how tempting it is to just take the money for anything but that can do more harm than help in the long run.
An example of a sponsored post on this site would be The Tale of Two Credit Scores which I wrote in partnership with Discover – a company whose products I use!
Selling Your Own Product
Another great monetization method is selling your own product.
I've witnessed other bloggers have huge success with this but since it's not something I've done myself yet I can't give you a ton of advice.
Some things you can create to sell are printable worksheets, e-books, and courses.
Use Your Blog to Start a Service Based Business
I have found great success with using my blog as a way to find freelance blogging clients. I used to earn the majority of my income from writing and doing virtual assistant for other bloggers. (My income now comes mainly from this blog. Click the income reports button in the sidebar to see a breakdown of my online income.)
You can see how I was able to launch my freelance writing business here. Making money solely from a blog is a long process so if you need immediate cash consider using your blog to start a service based business.
Blogging is Not a Race
Blogging is not a race. If you're just starting out don't compare yourself to the huge bloggers. We all start at ground zero!
You're not going to get rich overnight from blogging. Instead think of a long term plan and start working on getting traffic and gaining readers. After that opportunities will start to find you.