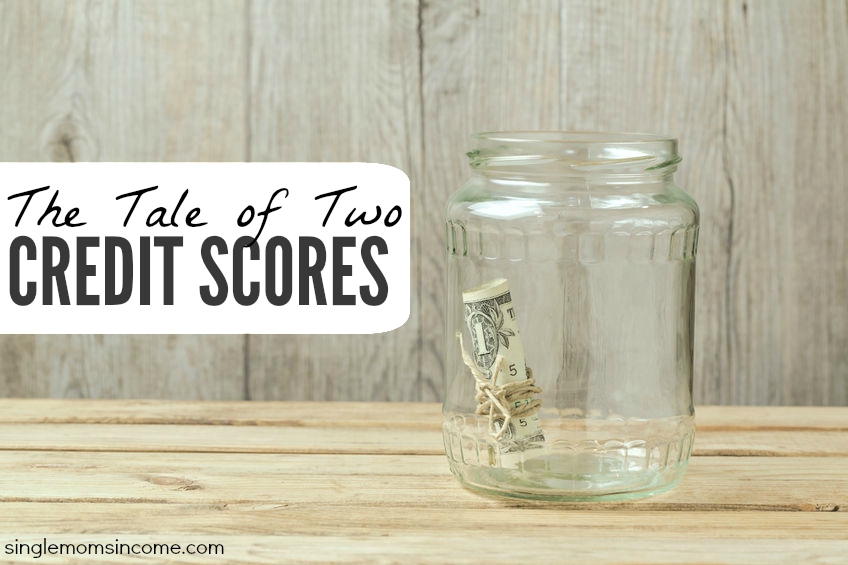 If you ever plan to take out a mortgage, get any type of personal lines insurance, or rent an apartment in a competitive rental market, you should care about your credit score.
When it comes to personal finance the views on credit scores vary widely. While I in no way think that your credit score is the be-all, end-all of your personal finance life or something you should measure your worth in, the truth is that your credit score IS important.
If you've read any number of the "Why You Shouldn't Care About Your Credit Score" posts floating around the blogosphere do me a favor, please? Erase those from your mind.
The truth is, unless you're inheritantly rich and can afford to buy a house with cash, cover your own auto, homeowner's or renter's insurance, and never plan to rent in a competitive rental market, then you better care about your credit.
Today I'm going to show you exactly how much money having no credit cost me. (It's not pretty!)
Part 1: The Tale of Two Credit Scores
Let me illustrate through a couple of real life stories why exactly your credit score matters. I've paid the price of a low credit score and now I get to reap the rewards of having an excellent credit score. #TrueLife
Why My Payment for a $133,000 Mortgage is Only $89 Higher Per Month Than My Old $80,000 Mortgage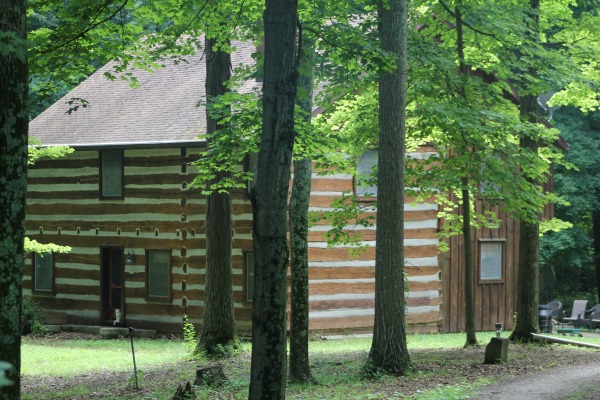 As you know we recently purchased a house. We put a down payment on the house and then got a mortgage for the remaining $133,000.
We had to get the mortgage in only Jamie's name since the bank wouldn't yet count my self-employment income. Paying bills on time, having a low amount of debt, and a good financial track record earned Jamie a credit score in the low 800's.
Due to this we got an interest rate on our mortgage of 4%. Our monthly payment is $635.
My old house with my ex-husband was $80,000. There was no down payment put on it so the mortgage was for the full $80,000. My ex-husband had fairly bad credit due to several lay-offs he went through. I was only 20 when we got together and I had NO credit
Our house payment for that home at 7.25% was $546!
Having a good credit score now afforded me a mortgage that was $53,000 more for only an extra $89 per month.
If I was in the same situation with my credit score as I was in with the first house, and was charged a 7.25% interest rate, my monthly payment on $133,000 would have been $907. That's an extra $272 per month or $3,264 per year. And over the lifetime of a thirty year loan that interest rate would've cost me an extra $97,920!!!
Those are some scary numbers.
The interest rate on your mortgage could be the difference from paycheck to paycheck living versus financial security!
Why I Paid 9.25% on My Car Loan and Then 3% on a Future Title Loan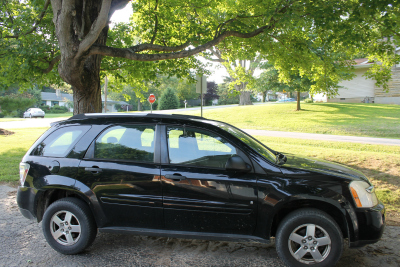 Right before I had my first baby I decided I needed a new car – which I honestly, did. The car that I had been driving wouldn't start half the time. The result would be me stuck in a gas station parking lot in the freezing cold winter. So, before baby came I decided to buy a new car.
I went around to several different dealerships. I had no credit.
The first dealership pressured me hardcore to buy a $20,000 car at an interest rate higher than 20%!! Luckily at the time I wasn't that dumb and was pretty offended by the offer.
I finally found a local bank that gave me a car loan at 9.25%. That is still pretty high. And what was worse was that I purchased an $18,000 car when I was only making about $18,000 per year.
My car payment on a five year loan was $376 per month. I hustled hard and paid that car off in three years versus five, vowing to never get another car loan. (And I technically haven't.)
What I did do though was get a title loan on that car after I got divorced. I took out $10,000 against my car to buy my trailer which I then lived in. My credit was pretty darn good at this point with a FICO score in the high 700's. I got an interest rate at less than 3%.
If I had good credit when I first purchased my car and was able to secure a 3% interest rate on the loan my monthly payment (five year term) would've been $323.
I would've saved $3,180 over the course of the loan.
How a Bad Credit Score Cost a Friend $1,000/Year in Insurance Costs
Last, but certainly not least, was an insurance quote I did for a friend when I worked as an insurance agent.
I was quoting this friend's homeowner insurance.  Initially the quote came back at a pretty good price. However she wanted to wait until her current policy expired to switch. That was fine by me.
Several months later she called to make the switch. The quote was no longer good in the system so I had to requote it. Her credit score had fallen about a hundred points and that $800/year quote grew to around $3,500!!
That was one of the most uncomfortable phone calls ever!
(Just as an FYI insurance agents generally will not tell you that your insurance has went up due to a bad credit score. It's a super uncomfortable conversation. If your insurance policy appears to have been drastically increased without any apparent explanation there's a good chance it could be the result of a dip in your credit score.)
Part 2: How to Improve (or Build) Your Credit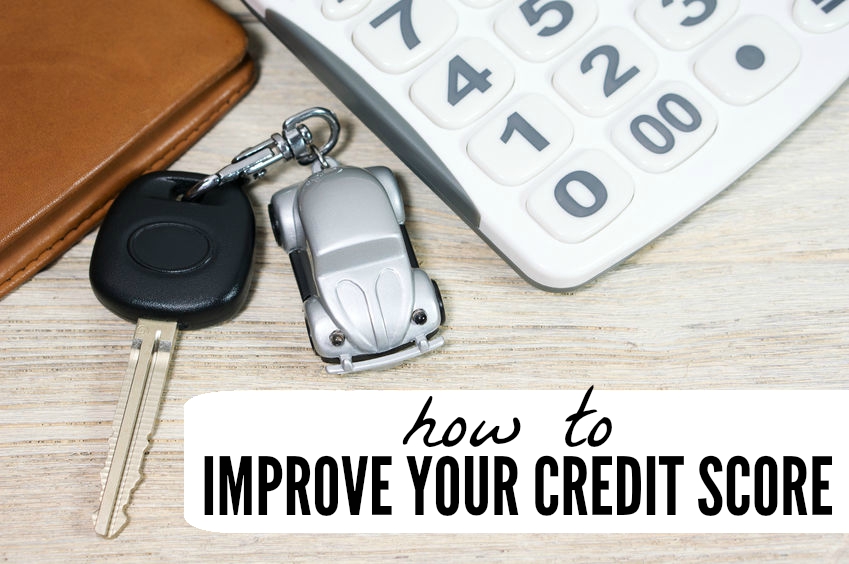 We all start out with no credit. That's where I started and as you can see above, my lack of credit cost me several thousand dollars.
Whether you have no credit, bad credit, or just want to take your credit score from 720 to 780, you can do it! Just keep in mind that it's an ongoing process, unfortunately there are no instant results.
Step #1: Check Your Credit Report
Your first step is to check your credit report. You can get a free copy of your credit report each year from each of the three major bureaus at AnnualCreditReport.com
If you're just now working on your credit go ahead and get all three copies. Look through each of them for any mistakes. If there are no mistakes, you're good to move on to the next step.
If you spot mistakes on your credit report file a claim with the bureau where the mistake is reported.
Every year after you can elect to get one free credit report every four months. This way you can keep an eye on any suspicious activity all year long.
Step #2: Know How Your Credit Score is Calculated
Before you can improve anything you need to know what you're supposed to improve. Guessing just doesn't work.
Here's a graph I pulled from Discover that shows what goes into your FICO score: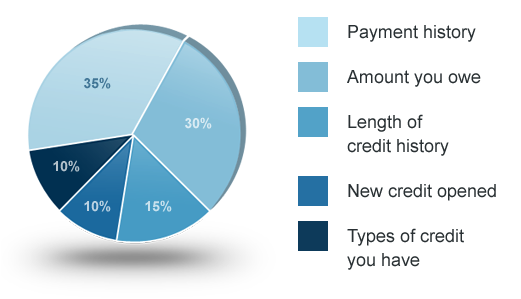 There's one thing that's completely out your control: length of credit history. So just know that if you're beginning to work on improving your credit score that this area will improve over time.
Everything else is in your control and is pretty self-explanatory:
Always pay your bills on time.
Keep the amount of debt you have to a reasonable level.
Don't be constantly opening new forms of credit.
Keep a balanced credit portfolio and don't go too heavy in one area.
Step #3- Making a Plan to Improve Your Credit Score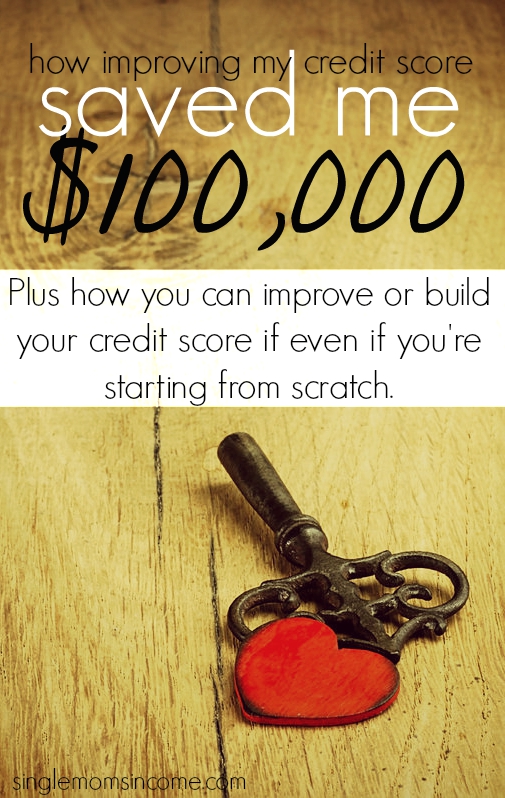 Now that you know what constitutes your credit score and you hopefully know which areas are lacking, you can make a plan to improve your credit score.
Paying Bills on Time
The best thing you can do is pay your bills on time each and every month. It's really that simple. Paying your bills consistently on time will show that you are financially responsible and will help you maintain a good track record.
Figuring How Much You Owe
Your next step in fixing your credit score is looking at how much debt you currently have. If that number is high you need to start paying it off.
Another important factor to consider is your debt to income ratio. A debt to income ratio is simply how much debt you have compared to how much money you make.
While your debt to income ratio doesn't directly affect your credit score it is one number that all lenders will look at if you're trying to take out a large loan. (Like a mortgage.)
To calculate this number divide your monthly debt payments by your monthly gross income. For example, if you had monthly debt payments that added up to $2,000 and a gross monthly income of $4,000 your debt to income ratio would be 50%. That's high.
In fact, according to the Consumer Financial Protection Bureau you'll have a hard time getting a mortgage if your debt to income ratio is 43% or higher.
If you have a high debt to income ratio you need to make a plan to start paying off some of your debt.
Build Credit with a Credit Card
If you have no credit or are just looking to boost your current credit score, one of the quickest ways to do so is by responsibly using a credit card. Of course, I can only comfortably promote this method to people who have enough self-discipline to use a credit card as a tool and not as a form of self-sabotage.
When you take out a credit card, only charge what you can pay in full each month and consistently pay your bill on time. If you do this you'll start to build credit and improve your credit score.
Credit cards and a car loan were the tools that personally helped me build my credit score. And the keyword here is tools. Your credit card should be looked at like a tool and not as a form of entertainment.
There are plenty of credit card offers out there. Look for something with no annual fees. One credit card that I own and recommend is the Discover It card.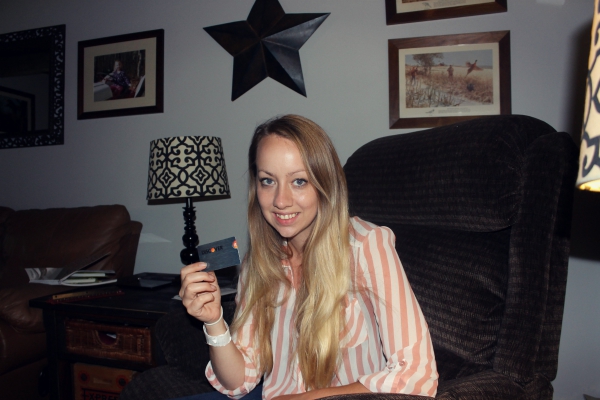 (Sorry for the awkward photo I just want to show you that I really do have this credit card!)
With the Discover It card there are no annual fees, you get up to 5% cashback in rotating categories, and rewards can be cashed out or used for Amazon credit. Discover even recently introduced the ability for cardmembers to track their FICO credit score over the past 12 month-period and provides key factors for the changes in monthly scores.
Talk about a perfect match for someone who is looking to improve and monitor their credit score!
I initially got the Discover It card for the Amazon.com rewards. I pay for everything online via a credit card and like to rack up free Amazon money since I buy a lot of our regular household goods via Amazon.
The fact that Discover It now lets you track up-to-a-year of FICO scores on your statement is an amazing bonus and is ideal for anyone really looking to boost their credit score.
You'll get a snapshot of your credit score each and every month so you can track your progress!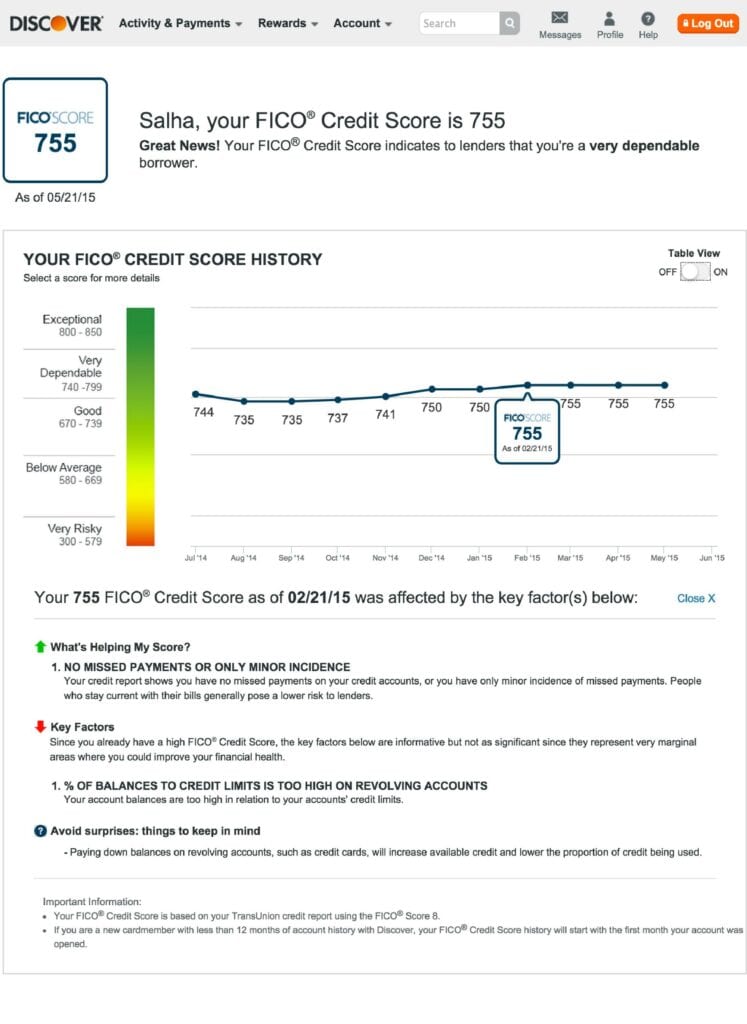 Just remember, regardless of the card you get the most important thing is that you're able to pay your statement each month and that you consistently pay on time. Consistency is the key here!
Know that It's a Journey
Improving your credit score doesn't happen overnight. But the higher you can get your credit score the more money you'll save yourself over the course of your life.
You know what you've got to do now so just keep plugging along. You'll eventually get there!
_______
A huge thanks to Discover Products Inc. for sponsoring this post! However, I must tell you that my views are my own and do not necessarily reflect the views of Discover Products Inc. and its affiliates. 🙂