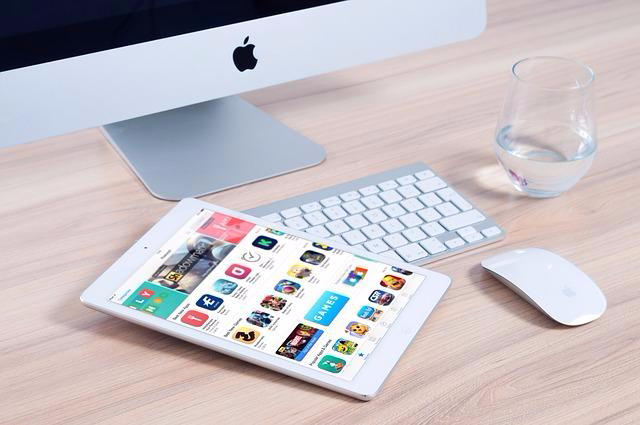 Making extra money means nothing if you can't manage to hang on to it. At the same time it can take almost as much effort to save money as it does to make money. Especially, if you don't have systems in place.
So I thought I'd start sharing some of my little secrets for saving money without a whole lot of effort. These will all be easy things you can do that pay off pretty well.
Today I'm sharing my four favorite ways to save with Amazon. (No. 2 and 3 on the list have been helping me effortlessly save money on my grocery bill each month!)
# 1- Amazon Prime (Can't Live Without)
I've been an Amazon Prime member for more than two years and I absolutely love it. Not only because I get free two day shipping but because of the other features.
So…… living with Jamie I now have satellite. But when I was on my own Amazon Prime movies were what the girls and I watched. There are thousands of free movies with Amazon prime. So many, that sometimes it would take me a good hour just to decide what I wanted to watch.
Every time I feel like watching a movie I hit up the Amazon Prime selection and my girls watch free kid's shows on the Kindle.
My favorite features of Amazon prime are:
Free two day shipping w/ no minimum order amount
Free movies (over 40,000 free movies and TV shows)
One free Kindle eBook borrow per month (If you don't have a Kindle you can download the free Kindle Reading App on Most Devices)
Amazon Prime is $99 per year but you can also get a 30-Day Free Trial
.  For me the $99 is more than worth it.
The downside to having Amazon prime? My brother is always asking me to order for him. I guess the down side really isn't too bad 😉
# 2 – Amazon Subscribe and Save
Jamie drinks a lot of energy drinks.
It started out last winter when we had horrible snowfalls. He works for the department of transportation and plows snow in the winter. When it snows he'll work sixteen hour days for as long it takes to clear the roads. This can sometimes be 7 sixteen hour days in a row.
Last winter he started drinking Monster Energy Drinks to stay awake and I can't blame him. (There's no way possible I could be stuck in a vehicle all night long on sixteen hour shifts. Okay, well there's no way possible I could plow snow at all!)
Anyway, the energy drink habit stuck. He doesn't drink coffee, he drinks Monsters and when they're around I start the morning off with one of these too.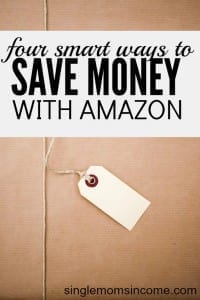 But they are so freaking expensive!
In order to keep my grocery budget in check  I started researching and found out I could get these cheaper on Amazon than anywhere else! Considering how heavy a case of energy drinks is, I really wasn't expecting that.
Plus when you use subscribe and save you get an additional 5% off. Then I realized that when you have five subscribe and save items you get 15% off! Score.
I started price comparing and found five things we used on a regular basis that were cheaper on Amazon than where I normally shopped. The extra 15% off made these things a good deal. **One note about Subscribe and Save: you have to have five subscriptions come at once to receive the 15% off. 
With all of the subscribe and save items I ended up saving a total of $19.07 on my orders compared to what I normally pay and all the items beside the energy drinks are very low cost. (Shampoo, conditioner, deodorant, etc.)
And on the bright side I don't have to worry about buying these things at the store anymore.
# 3 – Swagbucks Amazon Gift Cards
I've been earning a lot of Swagbucks lately, enough to cover my subscribe and save items! While I used to use these for Christmas I've instead just been applying the gift cards as I get them.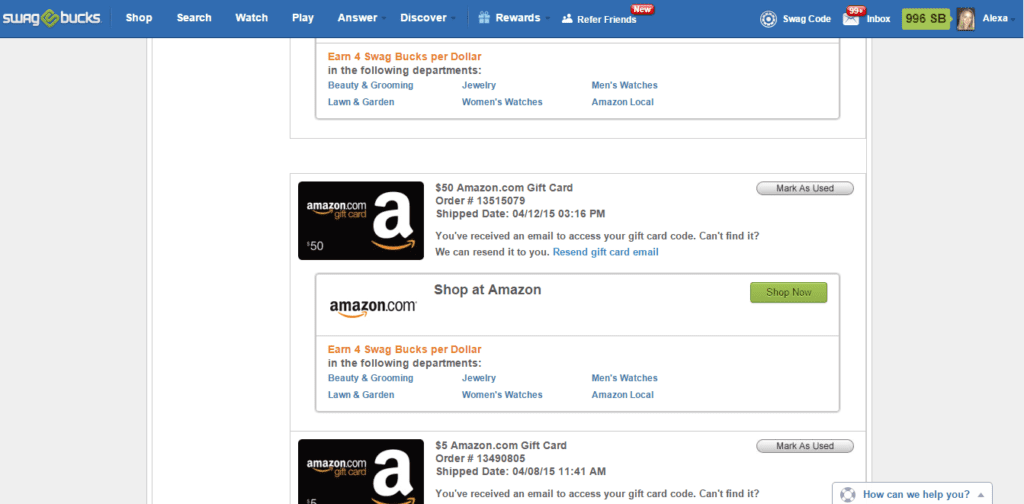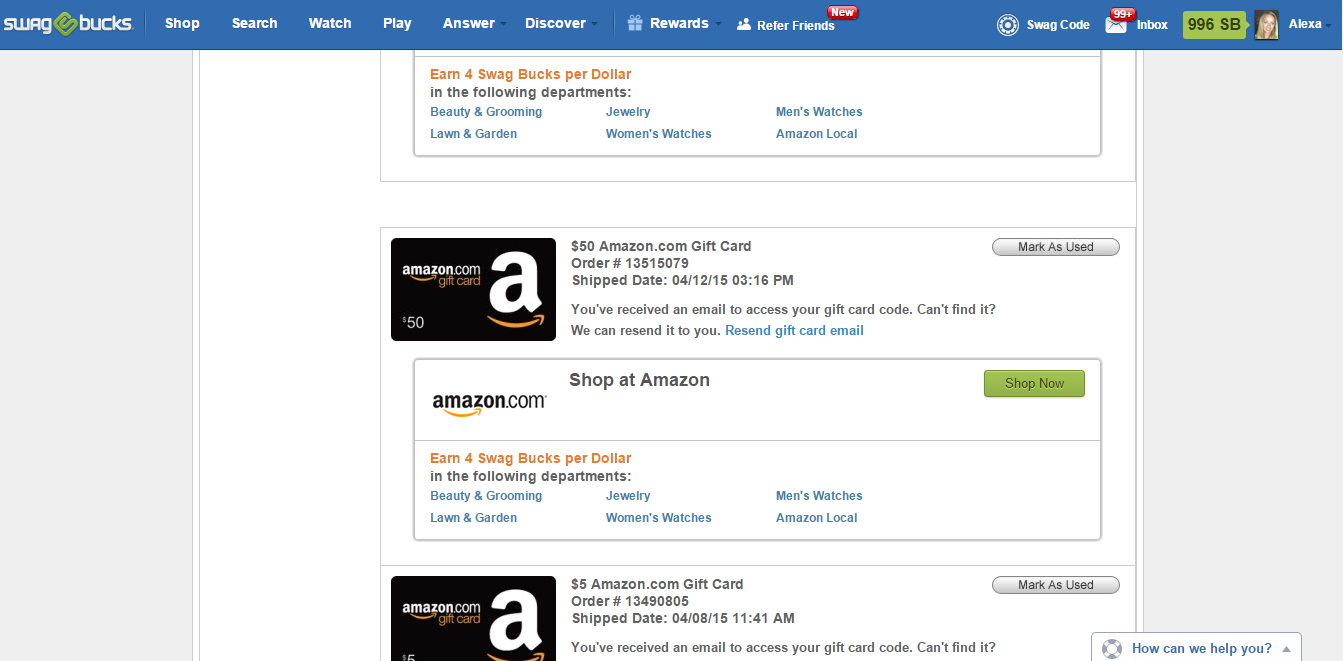 Now when my Subscribe and Save orders ship it just deducts what I owe off of my gift card balance.
# 4 – My Amazon.com Rewards Card
Now, I'm not a credit card churner by any means. But I do have a Chase Amazon Rewards credit card and a Discover It Card linked to my Amazon account.
Amazon is the only place I use the card. If I make a purchase and don't have enough gift cards to cover it I put it on my Amazon rewards card and immediately pay it off. And if I'm making a big purchase on Amazon like my new laptop (which I hate) or my camera I put it on one of the cards so I can earn rewards.
It doesn't add up to a huge amount but hey, I'll take an extra few dollars that requires very little effort!
I love finding little, easy ways to save money. Even for someone who is super busy once you put it the work to find good prices, Amazon can be a set it and forget way to save money every single month.
My next secret to share is how you can get free clothes every single month 😉
What's your favorite way to save with Amazon?