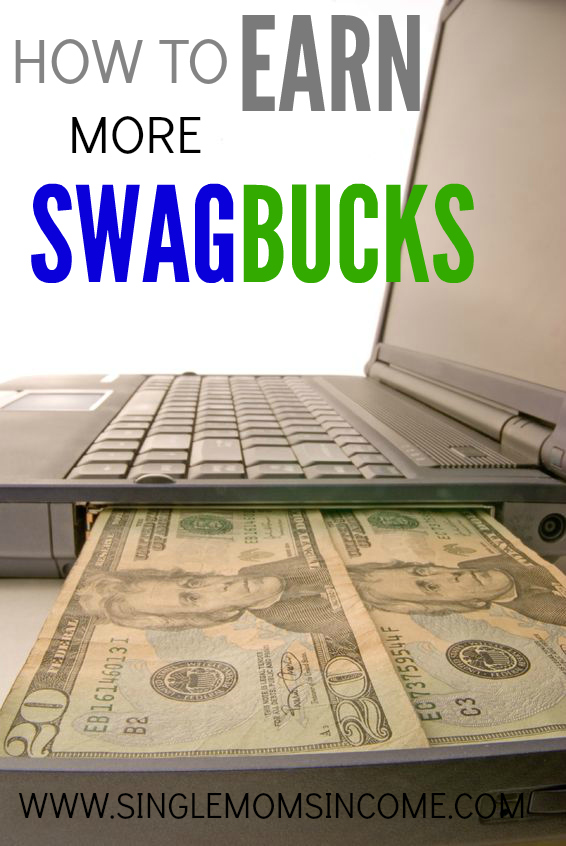 Are you looking to earn some extra spending money or gift cards in an easy way? Swagbucks can help!
I signed up for Swagbucks around three years ago and have since earned several gift cards. And the thing that I love most about Swagbucks it how easy it is. I promise, you don't have to spend a lot of time on it to earn rewards.
But first some of the basics.
Is Swagbucks legit?
When I first heard of Swagbucks I immediately wondered "Is Swagbucks Legit?" And the answer is YES it is.
Swagbucks.com
is simply a search engine (similar to Google) and when you search through it you randomly get awarded Swagbucks. You can also earn additional points or "swagbucks" by participating in surveys, playing games, watching videos, taking daily polls, and so much more! Once you build up your Swagbucks inventory you can then cash them out for gift cards or other prizes. (I always redeem mine for $5 Amazon gift cards which are only 450 points.)
I make it my goal to accumulate enough gift cards throughout the year to help fund my Christmas shopping – but to be completely honest I end up using a lot of them before then. 🙂

I usually earn at least one $5 gift card per month (sometimes 2 or 3) with almost zero effort. And that's the way I like to keep it.
If you want to earn more Swagbucks without devoting a lot of time to it you can.
Here's how to earn more Swagbucks with little effort.
Use the Search Engine
Instead of going to Google to do your internet searches do them on Swagbucks.
If you're searching the internet for something why not get rewarded for it?
Use the Shop & Earn Feature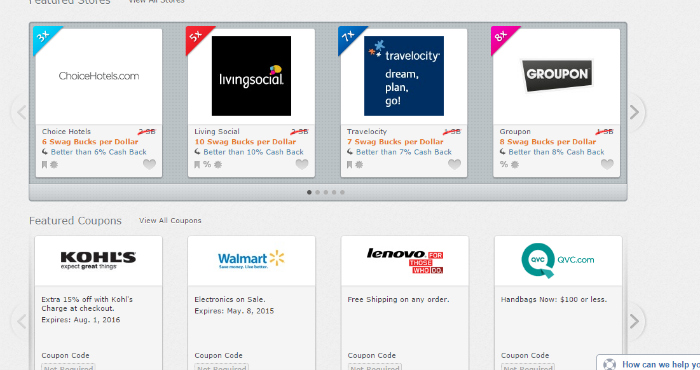 If you're doing some online shopping then head over to Swagbucks.com
Shop & Earn section and see if there are any offers for the store you're shopping at.
As you can see you can earn up to ten Swagbucks per DOLLAR spent with some retailers. If you spend $100 with one of those companies that you were going to buy from anyway, you're earning yourself 1,000 Swagbucks – enough for more than two $5 Amazon gift cards.
Let Swagbucks TV Run in the Background
If you're on the computer open up a second browser window and let Swagbucks TV run in the background.
I picked up this tip from Money Saving Mom and it is another great and fairly effortless way to increase your points!
Take Advantage of Swagcodes
Swagcodes are like promotional codes you can enter in Swagbucks for free points. To get alerted when a new Swagcode is available just install the Swagbucks toolbar and enter the codes as they come in.
Refer Your Friends and Family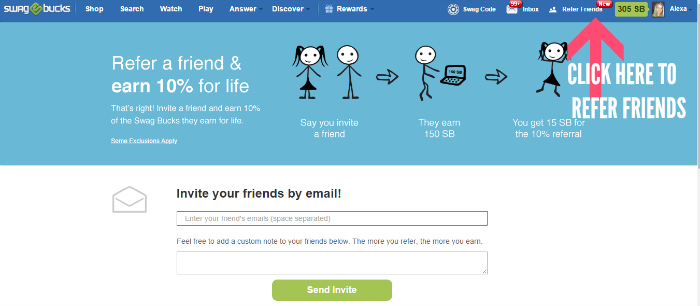 Swagbucks is honestly a great and easy way to earn a little extra cash so why not refer your friends and family?
When someone signs up through your special link you'll earn 10% of what they earn for life. You can send your link via email, share your link on Facebook, or even put it in your blog if you have one.
Why not spread the love?
Earn More Swagbucks in Minutes a Day
While you certainly can earn some good rewards by taking advantage of all Swagbucks has to offer (like surveys, games, and daily polls.) The truth is you can also earn some extra gift cards with very little effort. Why not give it a try?! Join Today
.
What's your favorite way to earn Swagbucks?