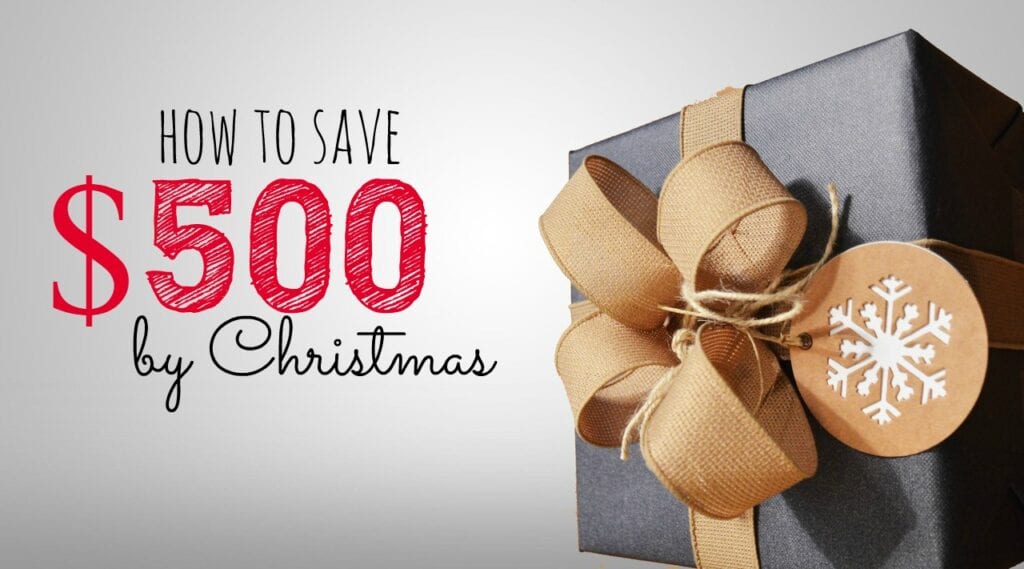 Christmas is only 19 weeks away. And judging by how fast time seems to go you know that Christmas is going to be here before you know it.
Even the big box stores are trying to remind us of Christmas earlier and earlier each year. I saw a whole Christmas tree display at the store yesterday!
Don't think I'm trying to get you to open your wallets and dish out tons of extra money in the name of Christmas like the stores do. I actually want to do the exact opposite.
Instead of running out and overspending on a bunch of junk, let's take a smarter approach.
If you can save $500 by Christmas and then wisely spend it, you should be able to get awesome gifts for everyone on your list!
Save $26 Per Week
Here's an easy calculation. Divide $500 by 19 weeks. You get $26.32.
So for simplicities sake I rounded that number to $26. All you have to do to get to that $500 mark is save $26 per week.
I know sometimes that's easier said than done. Maybe you can't save $26 each and every week. If so just put back what you can manage without abandoning your other, more important financial obligations.
If saving $500 by the time Christmas rolls around still feels out of reach here are some creative ideas to help.
Make Room for All Your New Stuff ($150)
Hands down, the easiest way to make easy extra cash is by getting rid of your old stuff. I had a yard sale earlier this year and made a few hundred dollars by doing hardly anything.
I thought I had gotten rid of my junk but I really hadn't. I've since went through my closet and halved it again. The girls also have way, way too many books. I need to go through these and get rid of all the ones they've outgrown or have no interest in.
If it's been awhile since you went through and got rid of your stuff, do it now. Try listing it on Facebook Yardsales. You'll eliminate your clutter, make room for future Christmas stuff, and earn you some shopping money to boot.
Seriously, there's no easier way to make extra money.
Go On a Financial Fast ($100?)
Have you ever watched Extreme Cheapskates? If so you know that the show is usually bogus. I mean is eating out of the dumpster really worth saving money? I think not.
But to give the show a little teensy bit of credit there was one idea I liked: a financial fast.
Basically what you do is pick a certain amount of time, say a week or a month, and vow to not spend money. You use what you have. You get creative – eat out of the pantry, find free entertainment, don't buy yourself or your kids anything that you don't need to live.
If you could commit to a one month financial fast I think you should be able to save around $100, if not more.
Take Advantage of Bank Offers ($150)
Usually right around October Capital One 360 (formerly ING Direct) has a promotion where you can earn $150 in free money. And yes it is totally free!!
I did this a few years ago so I can vouch for the validity. (I still keep all my savings in Capital One 360. Hands down the best bank I've ever done business with.)
Here's how it works: Capital One 360 will give its affiliates (I'm NOT an affiliate) special links where their readers can sign up for new accounts and earn bonuses. There's usually a bonus for opening up a free checking account and making three purchases via a debit card. After so many days (usually 50) your bonus gets credited to your account.
There are also different bonuses for putting certain amounts of money into savings account.
This is definitely another super easy way to add to your Christmas budget. And I would encourage you to take advantage of it whenever this opportunity rolls around this year. (I'll keep you posted!)
Inbox Dollars ($30)
Everything I've listed so far, except for the financial fast, has been an easy way to earn extra money. So is Inbox Dollars.
It's just a search engine, survey, offer site that rewards you with money for using it. (You can read more about Inbox Dollars here.)
You have to reach $30 before you can request a check. If you go through this link (referral link) you get a $5 bonus. Then for every email you read you get $0.02 (it takes about two seconds to read an email.)
You can also do some of your regular internet searches to earn more money. But the real money comes from trying out the free offers. I do the free ones – like credit karma, signing up for survey sites, and if I'm interested in a financial product, like a credit card, I check inbox dollars first.
I actually earned $15 for signing up for the Discover IT credit card last year. Pretty easy.
Swagbucks ($30)
The only two survey sites you ever see me mention are Inbox Dollars and Swagbucks. And that's because I've tried a TON of these types of sites and these are the only two that made the cut for me.
Similar to Inbox Dollars, Swagbucks is a site that rewards you for searching the web, taking surveys, and completing offers.
You can also refer your friends and family to earn 10% of the points that they earn through Swagbucks. (And yes, I'm using my referral code.) But if you don't feel comfortable signing up through me no hard feelings!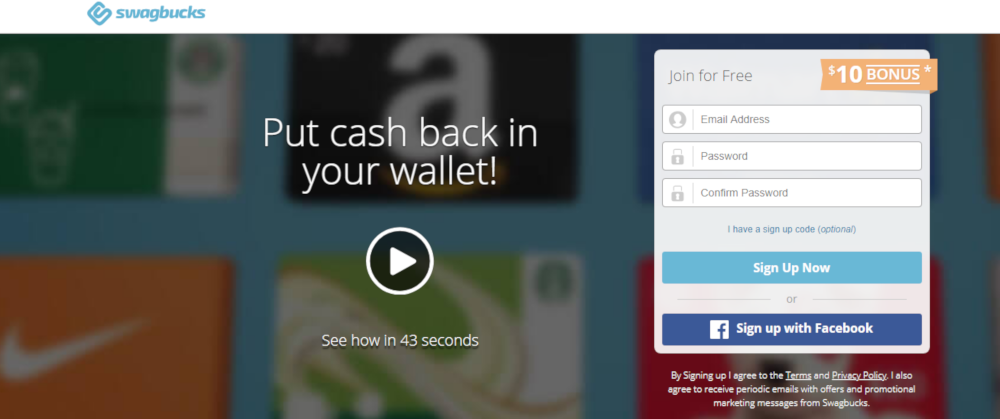 All you need is 500 Swagbucks to get a $5 Amazon gift card. I've got two this month so far!  You'll also get 50 free Swagbucks on your birthday. (I just got mine!)
You're not going to make a living with Swagbucks. But if you spend a couple minutes on Swagbucks every day and use their search engine you can easily earn $30 in gift cards by Christmas.
Conclusion
There are obviously more things that you can do to earn that $500 (like work overtime, do some freelance work, or use some other type of survey site.) The things listed are the tasks that I personally do to earn some extra cash when needed.
Start working on putting that $26 a week away and in future posts we can share ideas about making that budget stretch as far as possible!
 What other ideas do you have for saving $500 by Christmas?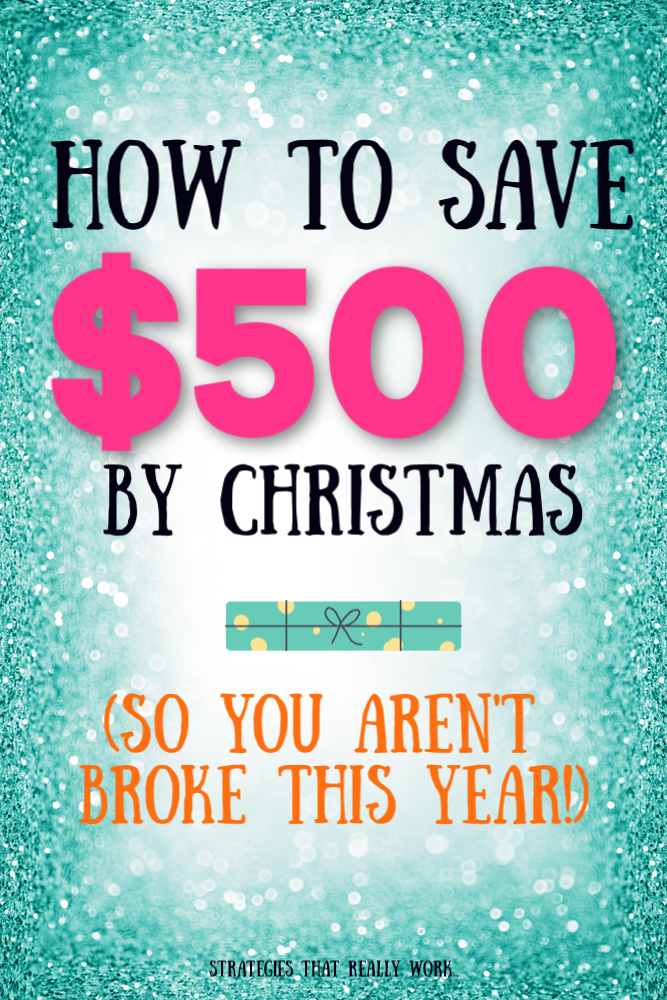 Related posts: