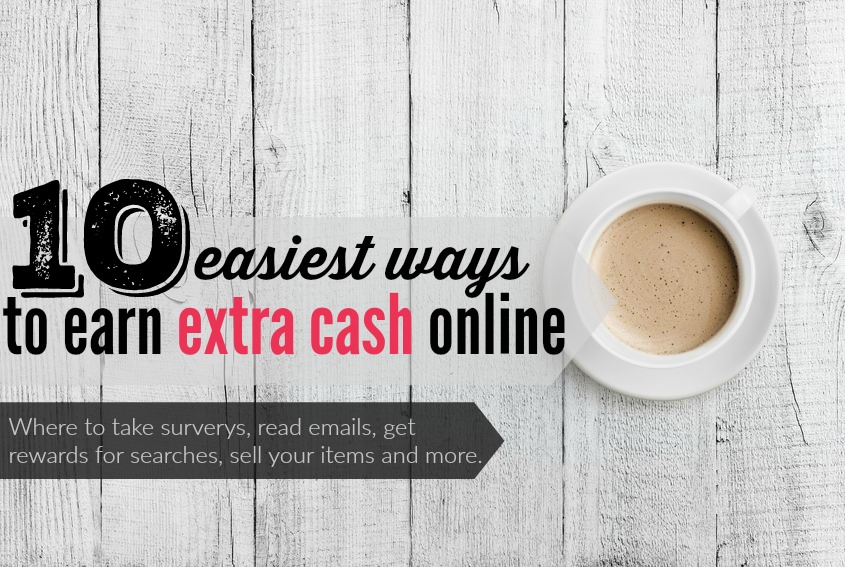 Making money online is a pretty hot topic these days. But not everyone wants to go the slow and steady route I did.
I get at least one email every single day from someone looking to get started online. Some people want to know how to legitimately replace their day job, some want to earn a part time salary to help supplement the family income, and others just want to know the easy ways they can put a little extra cash in their pockets.
In responding to the emails I don't have many places to point the people looking for easy, legit ways to earn money from home so I thought it was high time that I fixed that! Especially since these easy ways to make money online are what turned me on to the whole work-from-home thing.
Here are the ten easiest ways to make money online. (Keep in mind that none of these will or should replace your day job but can supplement your earnings or help pay for Christmas.) 
Taking Surveys
Taking surveys is a super easy way to make money and is the very first thing I tried. The amount of money you can earn taking surveys varies greatly. I personally earned around $0.50 – $5.00 per survey when I did this.
If you want to give this a try I want you to keep a couple things in mind. First and foremost, taking surveys can be frustrating. If there is a "pre-qualifier" to a survey (meaning you take a survey to see if you qualify ) then you're going to spend a pretty decent amount of time to earn a paltry amount. Second, taking surveys is meant as supplementary income and you definitely shouldn't expect to replace your day job with it.
Since you'll likely only get a few surveys each month from each site it's good to sign up with a couple different survey panels if you want to earn some spending money.
Here are the best places to sign up with:
Reading Emails
My second attempt at making money online was through reading emails.
Way back when I would research online jobs I kept coming across people saying they "read emails" for money. I just couldn't wrap my head around how someone would pay you to read emails. I can read fast, I thought, so I searched for a place to sign up.
I found InboxDollars. When I got my first email to read I felt like an idiot. "Reading emails" is actually just viewing advertisements.
Basically InboxDollars sends you an email that has an advertisement in it. You look at the advertisement and then click "confirm email" at the bottom. It takes about seven seconds and you earn $0.02 for every email your read.
This is by far the easiest way to earn money online.

(This is one year's worth of Inbox Dollars Earnings)
There's other stuff you can do like participate in special offers, take surveys, and search the internet for points. You get a $5 bonus for signing up and need to earn $30 before requesting a check.
InboxDollars is one of my favorite easy money making sites. The only two that I have ever stuck with and still earn from are InboxDollars and Swagbucks.
I have received several checks from InboxDollars so I can 100% standby its legitimacy. You can sign up with InboxDollars here and will receive $5 in your account.
Searching the Web
Searching the web is another effortless way to earn easy money. I mean, if you're going to search the internet why not get paid to do it?!
I have used Swagbucks for probably close to two years, if not more. There are a ton of different ways to earn money with Swagbucks (read a bigger list here) but my favorite is just plain ole searching the internet.
When you use Swagbucks as a search engine you are randomly awarded points. It only takes 500 points to get a $5.00 Amazon gift card. (Or you could save up 2,200 points to get a deal on a $25 Amazon gift card.) And it doesn't take that long to reach 500 points. You should be able to reach that $5 gift card amount fairly easily every month.

You can also do other things with Swagbucks like take surveys, play games, and print coupons. You can sign up with Swagbucks here.
Another similar program to Swagbucks is MyPoints where you can sign up and earn gift cards through many of the same ways.
Scanning Groceries with NCP
If you like taking surveys you might like National Consumer Panel. With NCP you're sent an at home scanner or a link to download a mobile app. You can then scan your groceries and take surveys about your shopping habits to earn rewards.
You can get started with NCP here.
Paid Social Media Posting
If you have decent social media followings on Facebook or Twitter you can get paid to Tweet stuff for companies through a company called IZEA.
You normally earn anywhere from $3-$15 per social share. If you could get a lot of these it would add up to a pretty good hourly rate and it's definitely easy money.
(Also check out 6 ways to earn money from your social media accounts for more ideas.)
Using a Cash Back Website
If you shop online you absolutely, positively should be using a cash back website. I use TopCashBack and love them all. Overall they have better offers than the other sites and earning money back with them couldn't be easier.
Become a Usability Tester for Websites
Do you want to get paid to review websites? There are many companies who will pay you to do so.
What you do is visit a website, spend a little time on it, and record your reaction and user experience. You can earn $10 in twenty minutes. That's pretty good pay for a fairly easy online job!
You can sign up with these 7 user testing sites here.
Writing for Content Mills
Content mills are places that play writers very small amounts for writing articles. I would never suggest that someone looking to make a full time income from freelance writing ever sign up with a content mill.
However, if you want to earn a little money writing when you feel like it and don't want to go out and find clients on your own then content mills are what you're looking for. You're only going to get paid $2-$10 for a 500 word article which is way, way below what you'd get by finding clients yourself.
With those warnings out of the way if you still want to sign up with a content mill here are two that I have tried before:
(If you're serous about earning a living writing check out this post, please.)
Performing Miscellaneous Online Tasks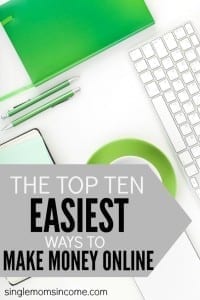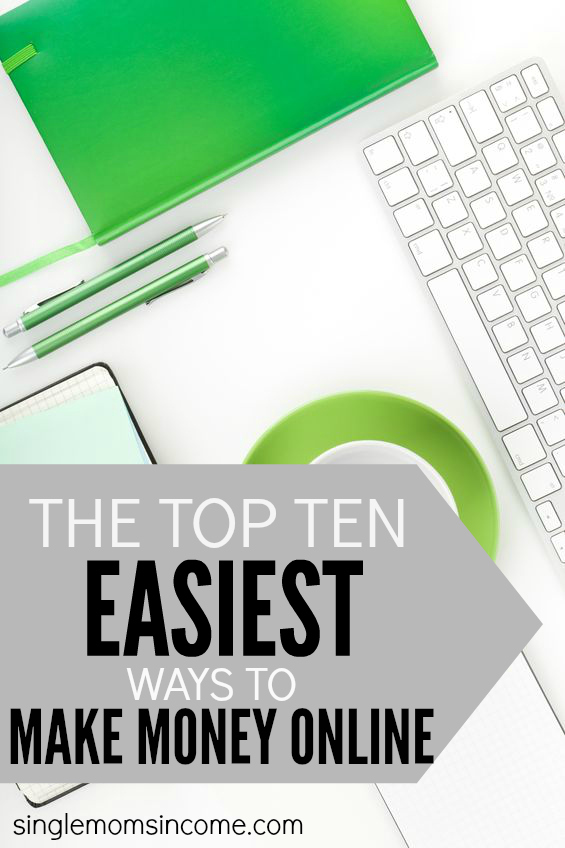 Another work-at-your-own-pace site is Amazon's Mechanical Turk. When you sign up with Mechanical Turk you'll be able to access thousands of HITs (Human Intelligence Tasks.) These are all over the place ranging from posting on Craigslist or Facebook to checking search engine results to online research.
Each HIT is assigned a monetary amount for completion. You're not going to make a lot of money doing this but you can earn when you want to.
Flip Items EBay
I have a confession – I suck at eBay. Luckily, we all have different skills! If you like to "flip" items then this should be a no brainer.
If you're worried about not being able to find items to sell then check out this book. It's currently $2.99 which would be a pretty small investment in a possibly lucrative eBay career.
Sell Your Old Clothes, Furniture, Books, and Household Items Online to These Places
If you're looking to make a decent amount of money quickly this one is for you. Take advantage of the internet and sell your old clothes, furniture, books, and household items online.
I have mounds of stuff to sell sitting around the house. My plan is to sit down one week and sell it all using these methods so that I can report back how much I made. (I'll update this post when I do it.) I think I have around $500 worth of stuff to cash in!
Completing Free Offers
CashCrate is a place that will pay you to complete all kinds of free offers. These range from signing up for trial products, quizzes, and surveys.
The pay ranges anywhere from $0.25 to $50.00. Again, completing free offers on CashCrate isn't going to make you rich but it's another stream of easy money.
The minimum payout for CashCrate is $20.00 You can sign up here.
What Not to Do
Now that we've covered some fairly easy ways to make money online let's talk about what NOT to do.
Never pay to work. You shouldn't have to pay a fee to a company for them to hire you. On the flipside, educating yourself by reading books, articles, or even taking courses is fine for an idea that has the potential to pay itself off. (Example: reading a book about Swagbucks won't make you rich. Reading a book about strategies to sell on Ebay might payoff.)
And never, ever trust anyone who tells you that you're going to sign up and make hundred of dollars per day for easy work. The people who make hundreds of dollars per day hustle hard. Easy money generally means not that much money.
If you're looking for more ways to earn a decent living online check out these resources:
Do you know of any other easy (and legit!) ways to make money online?
_________________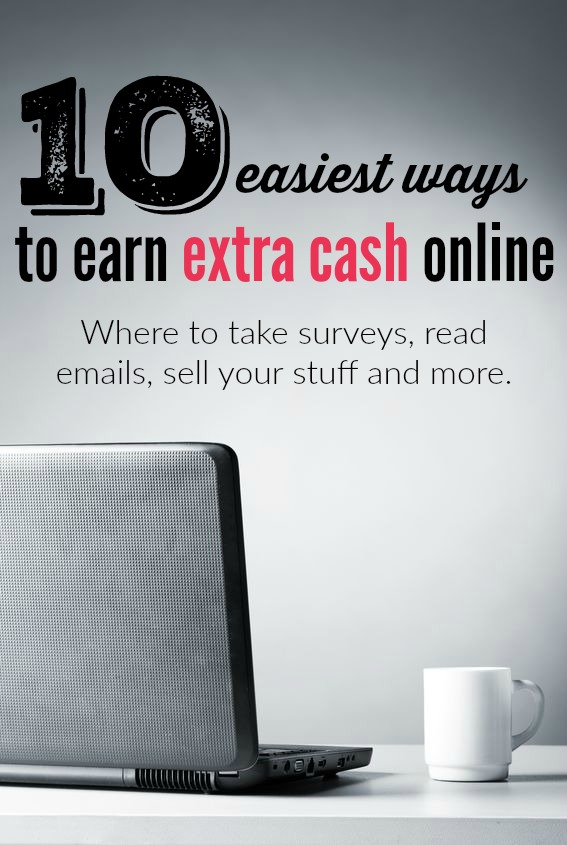 Photo Credit: andreykuzmin / 123RF Stock Photo and cepn / 123RF Stock Photo