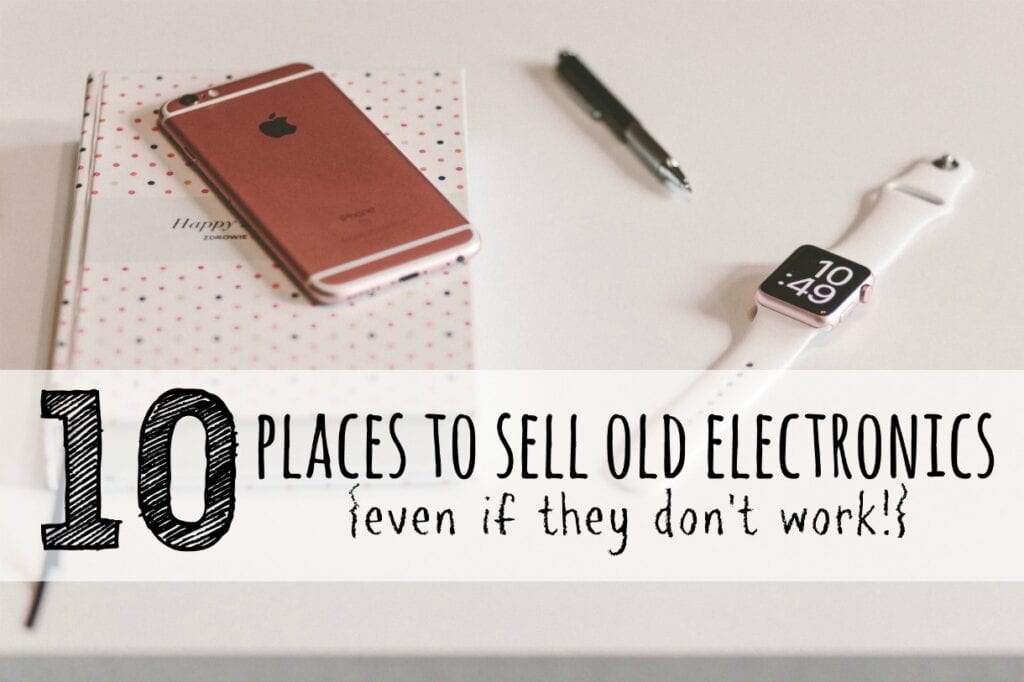 I was decluttering a while ago when I realized I had four cell phones, one laptop and one tablet lying around, never being used. Getting rid of clutter and not hanging on to physical items is kind of my thing. (My closet, as an example.) I have no problem throwing out the old except when it comes to electronics.
For the longest time I had no idea what to do with the electronics my family no longer had a use for. So they just sat around. Ugh.
When I finally decided to fix my problem I found several places to sell old electronics – even broken ones! And doing so was incredibly easy.
If you're like me and don't want to toss old electronics into the trash here's how you can turn them into cash instead.
Gazelle
Gazelle was the first site I came across and I like it because it's SO easy to use.
You can sell cell phones, tablets, MacBook's and more. To get a quote you simply select the device you want to get rid of. If you like the offer they make, you can send in your device (prepaid shipping) and will be paid via PayPal, paper check or Amazon Gift Card.
Amazon Trade-In
Amazon allows customers to trade in many different items including electronics in exchange for an account credit.
You can visit the Amazon Trade-In section here and find your device. After answering a few questions about condition Amazon will give you an estimate. If you like their quote you can print out a shipping label and send your item in.
Once received Amazon will inspect your item to make sure it's in the condition you promised and will credit your account.
NextWorth
NextWorth is similar to Gazelle. The website is set up so that you can easily select the device you want to get rid of. The big difference is that Next Worth accepts even more types of electronics than Gazelle. You can sell phones, cameras, laptops, video games, wearables, iPods and more.
Once your item is sent in and accepted you can receive payment via check or PayPal.
Best Buy Trade-In
Best Buy has a trade in program that allows you to trade used electronics online or in store. (Not all stores participate so check with yours ahead of time. Or you can get an online quote here.)
Best Buy accepts a variety of different electronics and pays via Best Buy gift cards.
GameStop Trade-In
If you have a GameStop near you they offer another great way to get rid of old electronics. You can sell your old cell phones, laptops, gaming consoles, gaming accessories and video games for cash or store credit.
You can see the approximate value of your items here.
Green Buyback
Green Buyback accepts a TON of different electronics and even guarantees to buy back your broken devices.
You can visit their site to get a free quote. If you're happy with their pricing send in your item via a prepaid shipping label. They will credit your account in 1-3 days after receiving the item.
Payments are made via PayPal or check.
uSell
USell is a site where you can sell your old phones and electronics to professional buyers. (This site appears to be particularly interested in iPhones.)
You can get a quote on their site. Once you send in the item the buyer will review to make sure the item is in the condition you promised. If everything checks out you'll be paid either via PayPal or check.
SellBroke
As it sounds SellBroke accepts a wide variety of broken and working electronics. You can get a quote on their website, send your devices for free and if all checks out receive payment via PayPal or check.
You Renew
YouRenew is a site that is interested in mainly iPhones, BlackBerrys and iPads, although they do accept many other devices.
You can get a quote for your device on their site. Even if your device has no value you can send it in and they'll recycle it for you. Payments are made via check.
Sell My Cell Phones
Sell My Cell Phones is a comparison site that will search for the highest price for your old cell phone. They offer free shipping and pay by check.
You can get a quote for your old cell phone here.
Which Site is Best?
Most of these sites work very similarly. The one that's best for you depends on what you're getting rid of.
It takes less than a minute to get a quote from each site. You can run through them all very quickly or pick one and be done with it. Either way you'll be getting paid to get rid of your old electronics!
Is there one site you prefer over the others?