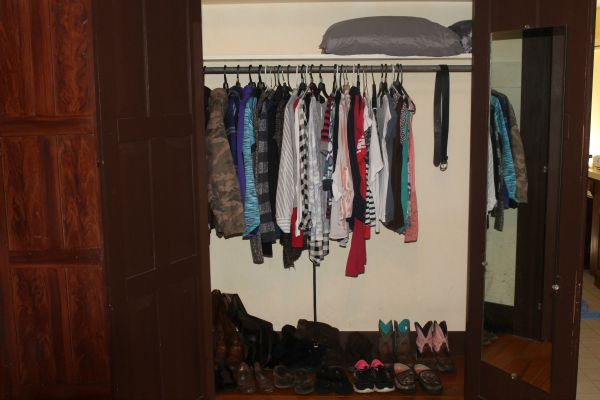 As I've been giving family and friends tours of the new house I keep getting the same comments "Are those the only clothes you own?"
Why, yes, yes they are!
In comparison to the people I know my clothing collection looks quite tiny. But there's a very smart reason for this.
Why Is My Closet is Bare?
I wear the same few outfits over and over and over. But I've noticed, I'm not the only one. However, I must be the only who only keeps the clothes that I actually wear.
I don't like clutter. And I don't feel bad throwing things away. I know a lot of people get attached to material items for sentimental reasons but I'm not one of them.
If I don't like it, use it, or wear it I throw it away – regardless of who gave it to me.   And since I only keep the clothes and shoes I actually wear I've got a pretty bare closet. (With the exception of one dress Ava bought me for my birthday, which you'll see below. It would crush her if I threw it away.)
You ready to take a tour?
Inside My Closet
Here's what the inside of my frugal closet looks like: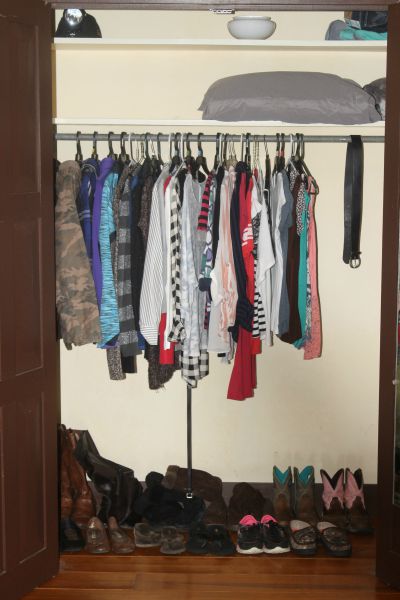 At first glance it looks like I have more shoes than I do tops!
As far as clothing goes I have:
One Work Coat (for painting/staining projects in the cold winter months)
One Good Coat (My Camo coat)
1 Casual Jacket
1 Belt
1 Dress
2 Sweatshirts
5 Sweaters
9 Fall/Winter Tops
10 Summer Tops/T-Shirts
Listing it out makes it sound like a lot more than what it looks like!
When it comes to shoes I have: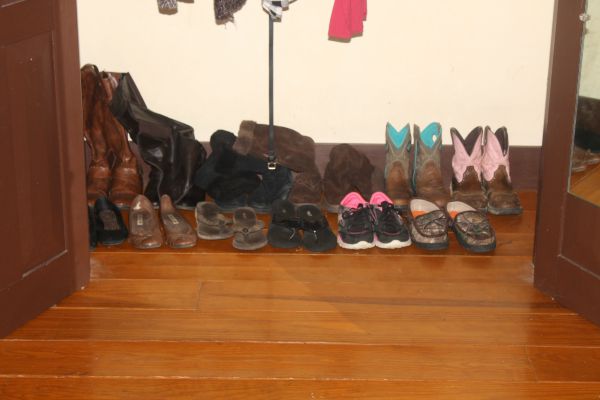 4 Pairs of Fall/Winter Boots
2 Pairs of Work Boots
3 Pairs of Flip Flops
2 Pairs of Flats
1 Pair of Running Shoes
1 Pair of Slippers
Inside My Dresser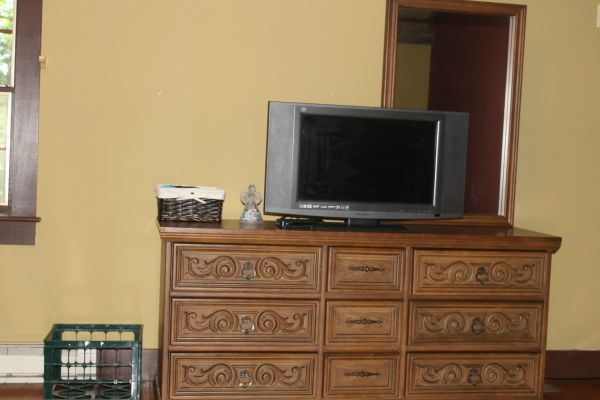 On top of my dresser is a little basket for my most frequently worn tops. In this I put in the four cami's I own plus the four plain fitted t-shirts I've currently been wearing on rotation. This makes it easy for me to grab my outfit when I'm headed to the shower in the morning.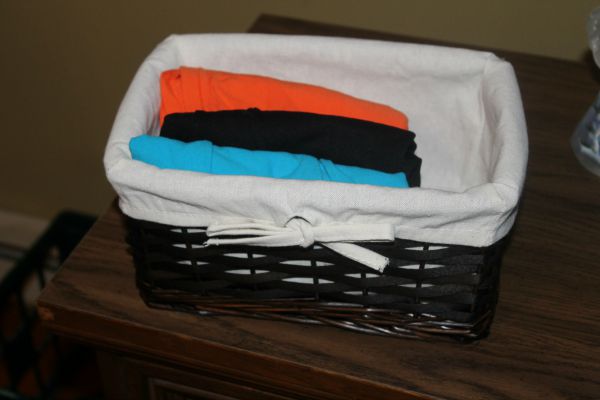 Inside my dresser includes some underwear (of course!), seven pairs of socks (two dress pair all the other are crazy theme ones the girls have bought me, which are the ones I wear) four pairs of sweatpants that are also worn as pajamas. (And are also all covered in paint.)
As far as summer clothing I have 2 pairs of capris, 3 pairs of athletic shorts, and 2 pairs of regular shorts.
Then we get to the pants section and a deeper explanation is needed. I have two drawers holding my jeans. The top drawer is the size I wear now and the bottom drawer is the next size up.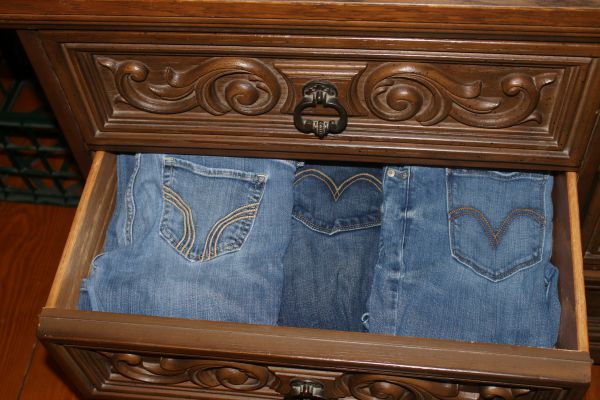 You see, I have always bounced around in weight 5-10 pounds. Which means right now I might wear a size 5 jean and then in two months I'll wear a 7 and then two months later I'll be back in a 5. Seriously. My body has always done this going from 125-135 pounds.
So I've just separated those two sizes and I can conveniently switch them around as needed.
For jeans/pants I have:
1 pair of dress pants
1 pair of very casual dress pants
7 pairs of size 5 jeans
5 pairs of size 7 jeans
2 pairs of paint covered, holey work jeans
That is a look at my clothes. Every single piece of clothing I have (aside from the dress pants only kept for special occasions) gets worn – often! It's taken me a long time to find the right brands that fit my body perfectly but once I find those key pieces of clothing I know to keep buying them when something needs replaced!
As a side note, I've found that out of ALL the brands of jeans I've tried that no brand fits me better than K-mart's Junior's Route 66 jeans. I know that sounds weird but women's sizes don't fit my body. I don't have enough butt to hold them up! TMI? 😉 Route 66 actually fit me and they last much longer than you'd think, too!
In fact, my favorite pair of jeans are K-Mart brand. I've had them for more than 3 years and they are still holding up great.
My Clothing Must-Haves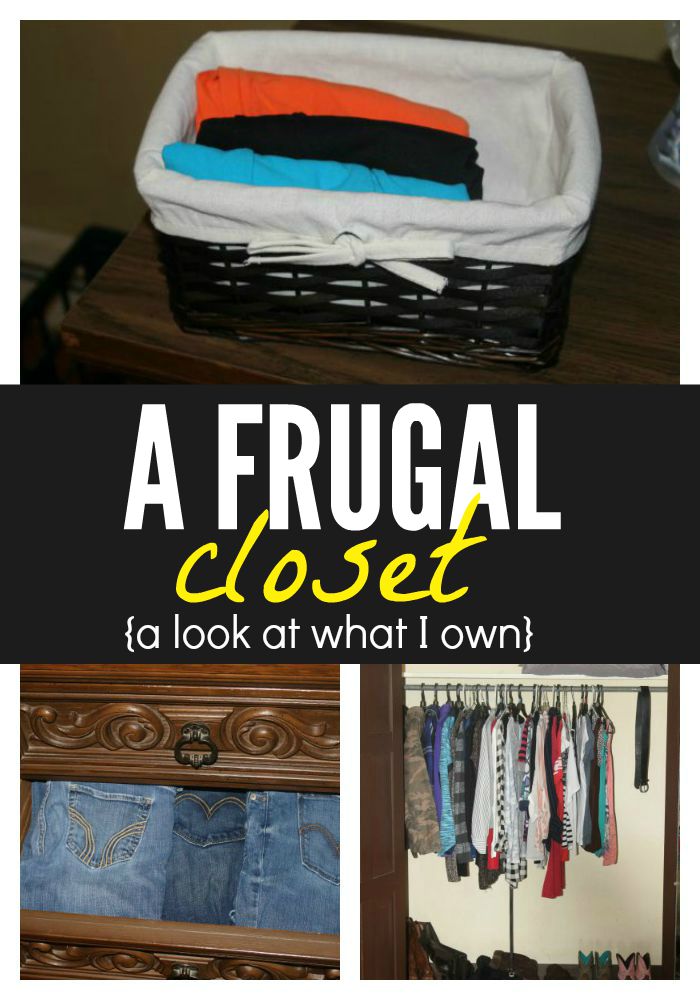 Camis – I wear a cami underneath everything. I have four nice ones in (mostly) neutral colors that I bought from K-mart and they get worn over and over. (These ones. They have held up EXTREMELY well.)When one of them starts fading, gets stained, or tears then I'll go replace it.
Fitted Plain T-Shirts – Next on the list is plain t-shirts. Put on a good pair of jeans, a nice cami with a fitted t-shirt over top, and either a pair of flip flops or boots and I'm good to go.
Good Fitting Jeans – I don't wear dresses. (Except when Ava forces me to wear the red dress pictured below that she bought me for my birthday a couple years ago. It makes me look nine months preggo but I wear it for her occasionally.) I don't wear skirts. I wear jeans. That's what I like.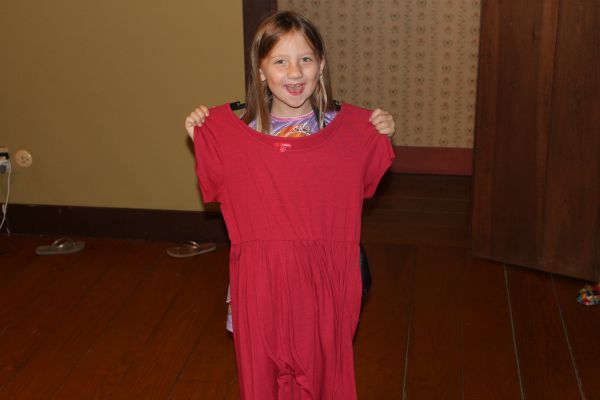 Boots & Flip Flops- I have one pair of tennis shoes that I've owned for years. Besides that I'm content with one comfy pair of flip flops, one nice pair of flip flops, and a good selection of boots for the fall and winter time.
If You Don't Wear It, Don't Keep It
If you want to keep your things organized and save money in the process then start throwing out the stuff you don't wear! By doing this you'll be able to accurately take stock of what you have. Then when you are sure of the type of things you're repeatedly wearing, and the types of things you bought but still have the tags on, you'll know what to buy and what NOT to buy.
Also, buy good quality boots. I've had most of my boots for years. Some are more than five years old and are still holding up very, very well.
I tell you what – having an organized clothing system makes getting ready in the morning much easier. To top it off it feels good to look in a nice neat closet rather than having to constantly look at a hundred things you don't wear or love.
Thank God Jamie and I now have separate closets 😉
Do you find yourself wearing the same things over and over like I do?