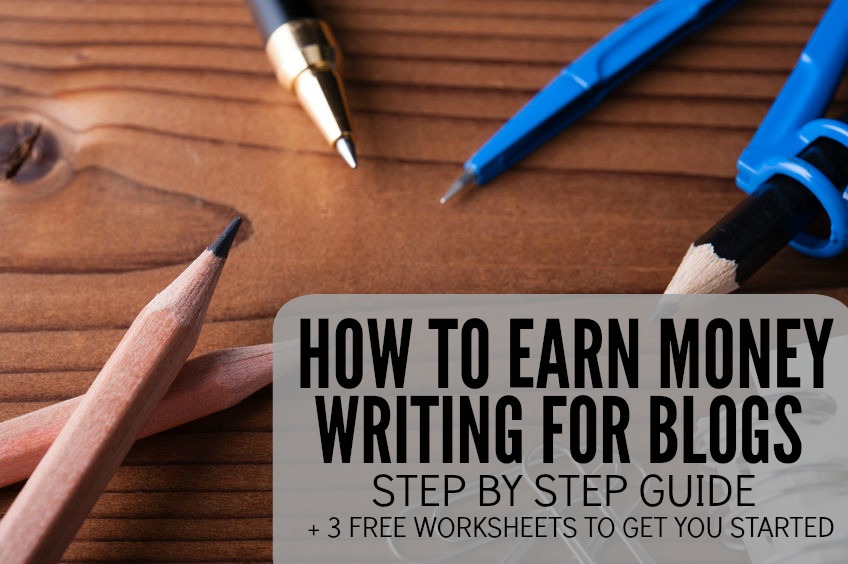 By far the one question I am asked over and over is how to go about finding freelance blogging jobs.
I'll be honest here, I am very surprised that so many women (and a few men) ask me for advice. It's a bit humbling. There are far more successful freelance bloggers who earn MUCH more per blog post than I do.
However, freelance blogging was what allowed me to transition from a day job to working at home. Since then I've added virtual assistant work, blog management, and in the past several months, blogging has picked up.
In the beginning of my work from home journey I heavily relied on freelance blogging for my income. From there I experimented, found what I liked, what I hated, and customized to my liking.
I have many blog posts on my journey finding freelance blogging jobs. But since I'm asked so often what steps I took I want to lay it out all here in one blog post. Plus, I do feel like I have one advantage on giving advice: I made a ton of mistakes when I first started. And maybe, just maybe, I can prevent you from making the same mistakes that cost me a lot of time and all kinds of frustration.
Here's how to find freelance blogging jobs if you're a complete beginner.
Do NOT Be a Jack of All Trades
When I first started trying to find writing jobs I wanted to write about everything. I would reply to every single job board ad that looked even remotely interesting. Heck, I even remember writing articles about air conditioners for a content mill for around $2/article. (Can you imagine how long it took me to earn that $2!!?)
My jack-of-all-trades mentality in the beginning was a HUGE mistake.
If you are a generalist it's going to be really hard to sell yourself to a client. Or at least, decent paying clients.
After pitching over a hundred different prospects I can promise you that the majority of small business and blog owners do not want writers who "kind-of" know what they're talking about. They want writers who know their niche.
Narrowing down your writing topics should be your first step. You need to, at least at first, choose topics that you have experience in.
The first few decent paying freelance blogging jobs I got were insurance related. Not because I loved writing about insurance, but because I was an insurance agent at the time and understood the terminology.
The rate at which I got hired for insurance blogging jobs was astounding compared to my generalist track record. And the thing I heard from almost all of my insurance related writing clients was that it was hard for them to find writers who actually understood what they were writing about! Makes sense.
After getting those first few insurance related jobs I focused on growing my blog which led me to being able to land personal finance writing jobs. Those gigs were of much more interest to me.
Your first step is to narrow down a few topics that you have experience/knowledge in. There is a small business centered on every topic under the sun. If you have knowledge or experience in something then you're going to be able to find a paying client.
Build a Platform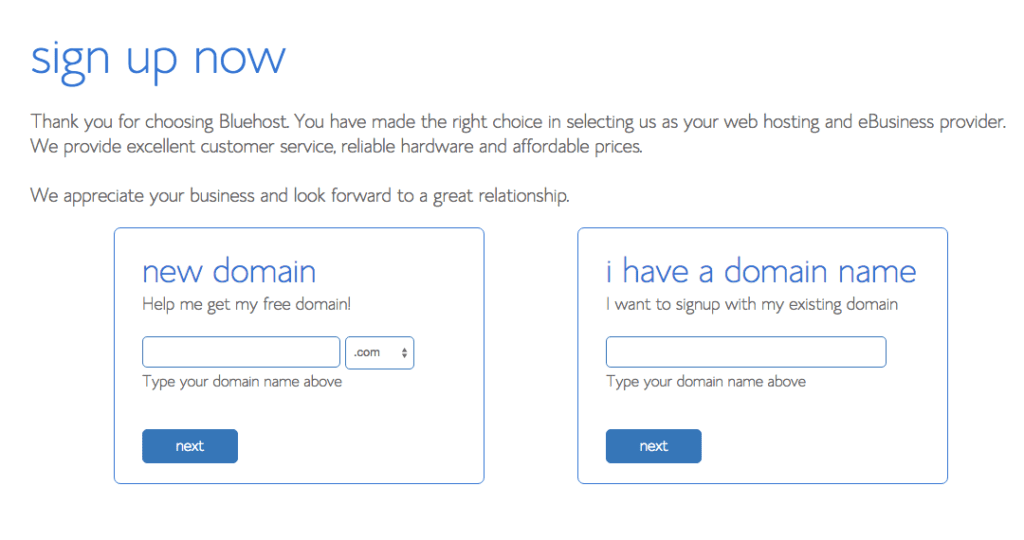 You need a platform. A place where potential clients can check you out.
You need either a writer's website or a blog that is focused on the topic you're trying to get jobs in. You don't have to do both. If you don't want your own blog set up a simple writer's website.
On the writer's website be sure to include:
A Little About You/Your Experience on the Topic
Writing Clips (If you don't have any we'll cover that in a second.)
Contact Information (No need to include your physical address. An email address is fine.)
A Picture of You
If you're going to start a writer's website, a domain that is your first and last name will work unless you're wanting to come up with something different.
I have a tutorial on how you can start a site for as low as $2.95/month. After you follow those instructions you can use a free theme in WordPress for your writer's website. This is a VERY small investment to build a freelance writing career.
If you have a blog add a hire me page with writing clips and services. (Look at Chonce's hire me page as an example.)
Get a Few Writing Samples
This seems like an awful lot of stuff to do before even trying to get writing jobs, right? I know it can feel like that, but it's necessary.
Nobody is going to hire you if they can't see what you're capable of. You need writing samples and there's just no way around that.
Here are a few things you can do to get writing samples if you don't have any:
Use blog posts from your blog if you have one
Submit guest posts to other blogs
Find a small company you can contribute a few articles to for free
No matter which method you choose be sure that the writing clips you're getting are on topic with what you want to be paid to write about.
When I first started this blog I spent WAY more time submitting guest posts to popular blogs than I did writing for my own blog. One blog rejected three of my posts before finally accepting one. Another very popular blog rejected two of my posts before finally accepting one.  I was determined to get featured on big blogs in my niche and it completely paid off.
When I went to send out pitches to potential clients I used this to my advantage. I would use a link such as "I've been featured on many popular blogs. You can take a look at my posts here."
It's not easy work when you're starting from nothing – but everyone starts from nothing. Keep that in mind as you work on getting solid writing clips and know that your effort will pay off.
Once you have at least three writing samples link back to them from your writer's website or blog. Check out Freelancewritingjobs.com. You can get someone to do you writing for you quickly and cheap as possible!
How to Find Paying Clients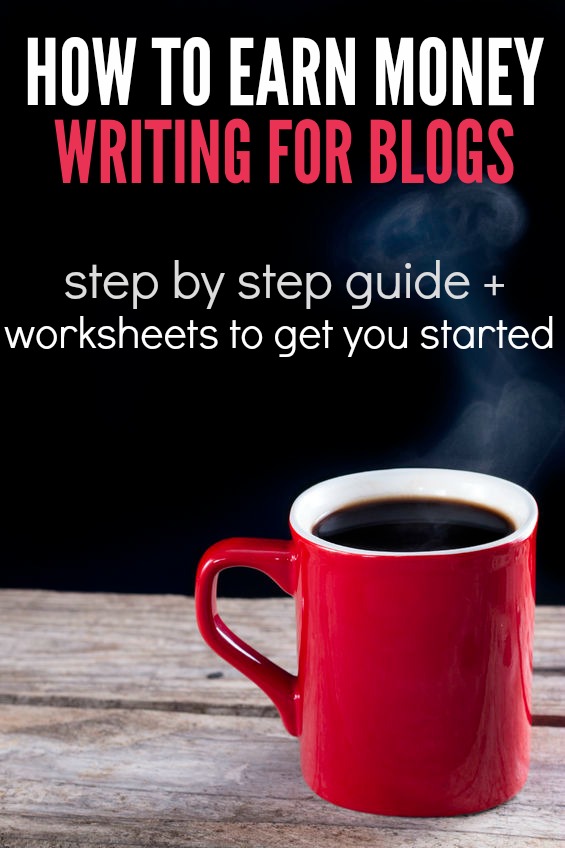 Now that you have all of the prep work done it's time to find clients who will actually pay you. There are a couple methods to try:
Job Board Ads
Cold Pitching
Cold pitching is FAR more effective than competing with hundreds of other writers on job boards. However, if you go about it in the right way it's also possible to find solid clients from job boards too.
Cold Pitching
Cold pitching is simply finding blogs/businesses in your niche that you want to write for and sending an email pitching your services. It sounds a little scary but it's pretty effective.
The first thing you should do is perfrom a google search for the topic you want to write about and go through the results.
When I was first starting I would do a Google search such as "Insurance Marketing Blogs/Companies." From there I'd go through the search results look for a website that was selling a product or service and that had multiple writers on its blog.
When I found a business that matched that criteria I'd send out an email that went something like this:
Hi (Insert Name of Contact,)

I hope you're doing well!

I saw that you have multiple writers on your blog and wanted to introduce myself in case you're ever in need of another writer.

I've been a personal lines insurance agent in the state of Ohio for one year and am also a freelance writer and blogger.  You can check out some of the places I've been featured here https://singlemomsincome.com/hire-me/

Love what you do. If there's ever anything I can do for you just let me know.

Have a wonderful week!

Best,

Alexa Mason
If I was pitching personal finance clients I'd leave out the insurance agent part and focus more on the blogging and writing aspect. (Please note that this is also a generic email template. I'd customize it as much as possible for each individual client.)
When you're cold pitching and are able to successfully narrow down a niche that matches your skill set you have a much greater chance of being hired as a writer. You have very little competition and to be frank, a lot of business owners wait for help to come to them rather than going out and finding it themselves.
Pitch yourself.
The worst you will be told is "no." I am a super introverted person and when I first started, cold pitching was way out of my comfort zone but I did it anyway. Now being told "no" does not bother me one single bit.
Remember, rejection is proof you are trying.
Job Boards
The other way to find freelance blogging jobs is on job boards. In my opinion the best job board to check out is the Problogger job board  (I used to check the writing jobs in big cities on Craigslist as well.)
Spend a couple minutes each day glancing at the job board ads and only apply to the ones that are relevant to your niche. That is the key to getting job board jobs. You HAVE to stick out from the crowd and the only way to do that is to highlight your knowledge on the particular subject.
Also be sure to thoroughly read the job descriptions as many will want you to use certain subject lines on your emails, etc.
Again, don't spend more than a few minutes each day on job boards. You're better off cold pitching.
What Should You Charge?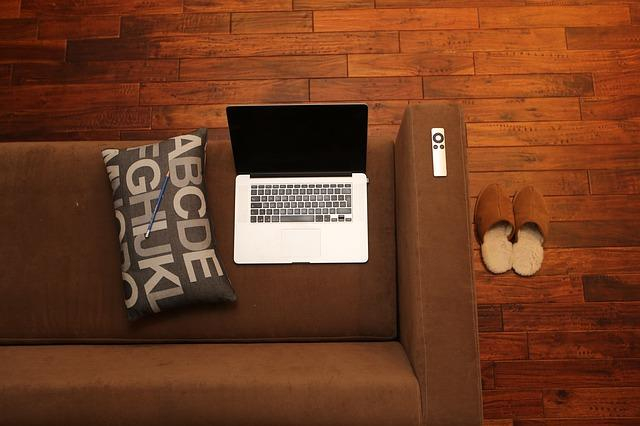 Ahh, this is the tricky and slightly controversial part.
There's actually no right answer to this question. Several factors come into play.
Your experience, writing ability, and niche will help determine your rates. I will tell you what I did and give you some general guidelines though.
When I first started I charged $20 for a 500-700 word article. After easily landing a few clients at that rate I increased my rates to $25. Then to $30. I eventually got to $50/blog post. There are many writers in my niche who earn much, much more than that. But again, your pay is highly dependedent upon who you are writing for.
I care about being paid fairly but I also highly value the type of person I'm working with. I do not want to feel stressed out all the time. I don't want to work for people who want tons of edits and last minute work. Other writers are willing to work with a little more stress for higher pay. There's no right or wrong here, it depends on what YOU want.
If you're first starting out I think it's reasonable to ask for at least $20-$30 for a 500-700 word blog post if you're writing for a for-profit blog. If you're writing for a business blog (sells a physical product or service) I think it's reasonable to ask for at least $40-$50 for a blog post.
If you're writing on a highly niched topic that not a lot of people are knowledgeable about, you can definitely charge more.
________________________________________________________________________________
Note: If you're serious about earning as a freelance writer I recommend the Earn More Writing course from Holly Johnson. Holly earns $15,000+ per month strictly from writing. Her course is structured to teach you everything she knows plus how to find those high paying clients. You can check out the course here.
________________________________________________________________________________
When you start talking prices with a prospect you'll get a feel for how much you can charge. If you easily get what you ask for you need to start slowly raising your price for every new client until you reach the sweet spot. It's trial and error.
Just DO NOT take less than what you're worth. Some people expect writers to work for $5 an article. You don't want those type of clients.
Another thing to consider is the frequency in which a client needs you. For instance, if someone wants to hire me for one blog post per month I'm going to charge more than the person who wants eight blog posts per month.
Again I cannot tell you exactly what to charge. It took me a lot of experimenting to figure it out and it's going to take you some experimenting as well.
Other Things I Want You To Know
If you're just starting out and feeling a bit frustrated I want you to know you're not alone!
When I first started I made all the wrong choices. I pitched 100 people and heard nothing back from 95 of them. I was looking in the wrong places and trying to be a jack-of-all-trades. Now I have people emailing me all the time asking if I'm for hire instead of the other way around.
Once you get some experience and get your name out there this all becomes so much easier. But it takes time. Time and hard work.
Free Worksheets to Help
Here are some free worksheets to help keep you on track: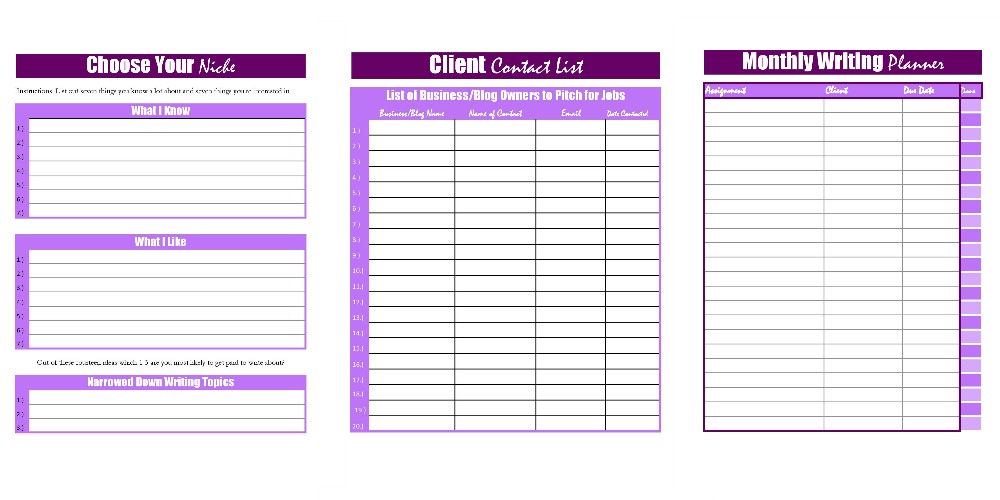 If you want to make a career out of this you have to be willing to put in the hard work. There's no other way around it. Don't give up!