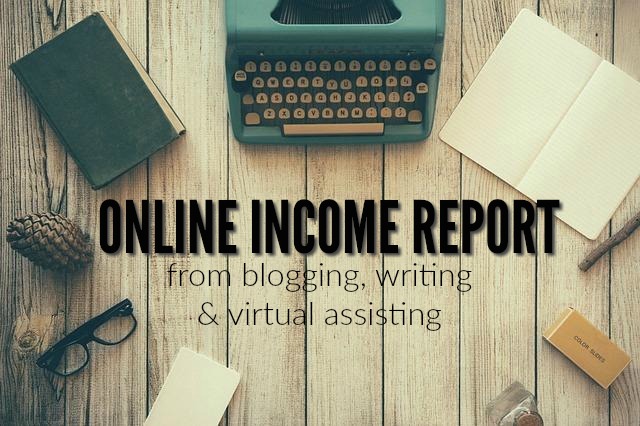 When I started this blog in 2012 it was sort of like a diary of me trying to replace my day job income with freelance work. I did an income report every month which would detail what I made freelance writing, being a virtual assistant, and blogging.
And I did more than double what I used to earn at my day job with my online work.
Then in May of 2017 I had my third baby. After that I stopped freelancing and then stopped doing income reports. Honestly, at that point growing my income was no longer my priority. Staying home with a baby was. (And if you're wondering if that decision adversely affected my income…well, it did. But we'll get to that in a minute.)
Now that the baby is a toddler I finally felt okay getting some help. She's started going to a babysitter. (She goes 3 hours per day 4-5 days per week. And is only a mile away!) And now, I can finally get back to feeling like a semi-productive adult.
Since I have more time to work and income reports have always been favorites I thought I'd bring them back.
Here are some previous income reports you can check out:
All of 2018…
I'm going to be completely transparent with these. Income for 2018 has been ALL OVER THE PLACE. My monthly income has been as low as $2,300 and as high as $12,000. (This isn't accounting for expenses though.)
I have earned less this year so than I have the prior three years and it's no surprise, because I haven't worked that much!
All the income from 2018 is from the blog. And as far as hours go, my guess is I've worked maybe 20 hours per month. (And I know that makes me seem super lucky but I put in hundreds of unpaid hours when I started this blog. And yes, sometimes I still feel a little weird about the fact that I no longer have to struggle to make a decent income.)
Here's a month-by-month breakdown:
January – $2,318
February – $3,080
March – $4,501
April – $5,233
May – $4,842
June – $12,216
July – $4,043
August – $4,104
September – $5,192
October – $3,621
November – $2,636
December $3,394
That makes for a grand total of $55,187.
All 2018 expenses totaled to $10,243 making my 2018 net profit $44,943.
Where Did the Money Come From?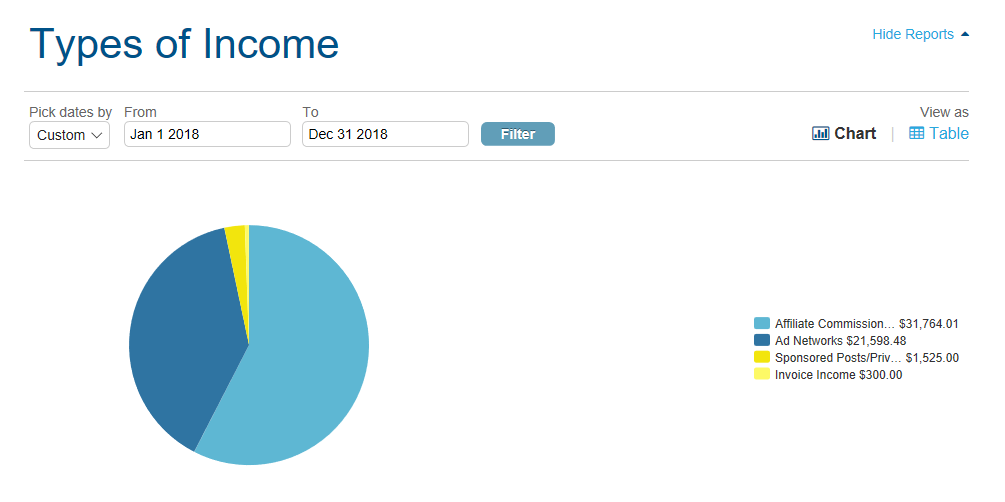 In my prior years a good chunk of my income came from freelancing. However, since I put a pause on freelancing all this year's income is strictly from this blog. (And if you're wondering how I learned how to make income from my blog it's because of this course I took several years ago.)
Here's a breakdown:
Affiliate Commissions – $31,764
As an affiliate you can link to products you recommend and receive a commission if the person who has clicked your link decides to make a purchase.
Ad Networks – $21,598
I mainly use Google Adsense as an ad network. I used to use a different one but all of a sudden the pay went WAY down. I replaced with Google Adsense which I seem to do pretty well with.
You can read all about earning with ad networks here.
Sponsored Posts – $1,825
This number could be higher but I don't accept many sponsored posts. I only like to work with sponsors who I think fit well with this blog.

Blog Help
If you're a new blogger or just haven't been able to gain much traction here are some resources that can help you:
Blogging, for sure, is not a quick or easy way to make money but if you put in the time and hard work upfront it allows a TON of flexibility.