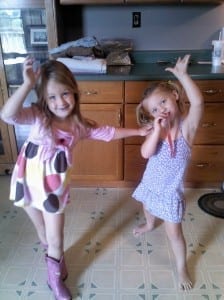 I have done a pretty good job of unspoiling my kids over the past few months. A year ago my girls, ages three and four, would expect a "surprise" from me every day when I picked them up from the babysitters. This usually entailed a sucker, candy bar, or one dollar toy but still added up pretty quickly.
In my effort to keep my budget inline while also entertaining and unspoiling my children we have been enjoying a regular routine that is built around them learning and having fun on the cheap.
I have found several cheap ways to entertain young kids. Here is what I do to entertain my preschool aged kids for very little money.
# 1 – We Have Pretend School
Seeing as I have preschool aged kids they love to learn. They are both at the asking questions age. Almost every answer ends up with another "why."
They soak up everything around them which is why our pretend school does wonders. I bought both of them huge workbooks that have 300 – 400 pages in them.
When we sit down for school I pick out a few pages for them to work on. These work books cost around eight dollars each but should easily last us for a good three months.
# 2 – We Read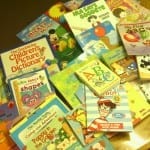 Not too long ago I was able to snag 50+ kids' books off of the Facebook Yard Sale for ten bucks. We read all of the time and still haven't managed to get through all of these books yet.
The girls usually end up with a few favorites that get reread over and over.
I also check EReader Girl on a regular basis to see what free kids books I can download to my Kindle.
# 3 – We Take Nature Walks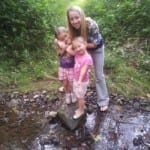 My dad has a pretty nice set up at his house. It's located far off the road in a beautiful setting. He has woods that we go exploring in and a pond that we regularly fish.
I took the girls to the Coon Hunters Club for the first time a couple months ago and they loved it. The club has a huge creek in it. We have been making regular visits and always try to catch the Minos and crawl dads out of the creek.
# 4 – We Paint Our Nails
So this one may not apply to preschool aged boys but my girls LOVE painting their nails. I now let them do it all by themselves. They could sit and paint their nails for hours on end.
It sometimes turns out pretty messy but if I need a little time to myself I just whip out the nail polish.
# 5 – We Cook Together
I have been on a baking kick here lately. We've been picking wild blackberries and making a ton of cobblers. I always let the girls in on cooking even if I know it will turn out disastrous.
They get such a feeling of independence doing things on their own and knowing that they're "helping mommy". There's always a mess to be cleaned afterward but I wouldn't take this feeling away from them for anything.
We Enjoy Each Other
Those are the main ways I keep my girls entertained and unspoiled on the cheap (and without a TV). I am sure there are several different ways that you can do this. For me, focusing on time spent together and teaching them the value of enjoying each day is priceless.
Teaching them that they can't have everything they want was very rough in the beginning (think: hour long temper tantrums) but it has been so worth it!
How do you entertain your kids on the cheap? What are their favorite activities?