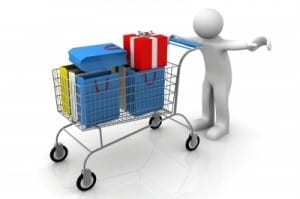 Christmas is officially only five months away. In past years I have always saved around $50 each month in a separate savings account for my Christmas shopping. However, this year life is a little different and I haven't stashed away that $50 a month.
Not to despair though! I am actually glad that I will have less money to spend. I have been trying to scale back and essentially "unspoil" my kids. So, a scaled back Christmas is appreciated this year. I am not going to stress out over buying less Christmas presents for everyone, but I am going to get more creative in earning money for Christmas
Unspoiling My Kids
How many of you have young kids who hold interest in a toy for longer than five minutes? I know mine sure don't. It seems like the more stuff my kids get the more they want and the less they play with it. It's absolutely pointless to buy young kids a bunch of toys that get thrown in a pile.
I have cleaned out and threw so many toys away over the past few months, and I am done with it! If you get your kids less stuff then they will start to appreciate what they do get. I am set on mission unspoiling. I want my kids to appreciate what they have – not demand more.
Since my girls are getting a bit older and are able comprehend larger stories and books, we will read a bunch of books on the true meaning of Christmas. I am going to encourage them to then make their own stories and crafts as present for family members on the true meaning of Christmas. I think this activity will help my girls really understand what Christmas is about instead of buying into the commercial hype.
I also want to adopt two kids to give presents to for Christmas. There are tons of people who have it much, much worse than we do. I want my girls to value helping others at a young age.
Saving & Earning Money For Christmas
With Christmas only five months I need to start saving at least a little bit of money. I am going to save $25 dollars a month from now until December. This will leave me with $125 plus I can use money from my Christmas Bonus at work. I am also going to go my normal route and try to earn a little extra money. I think that this will be plenty of money for the Christmas I have in mind this year.
Last year I used money I earned from Swagbucks and Inbox Dollars to help fund my Christmas spending. I am going to do the same this year.
Inbox Dollars is a program where you can "read" emails for money. They send you a few emails each day and all you have to do is open them and click the "confirm paid email" button at the bottom. You get .02 for every email read. It's a very small amount of money but it  literally takes 3 seconds to view the email. You can also search the web, take surveys, and complete special offers. I normally just read the emails.
Your account has to reach $30.00 before you can request a payout and right now I have $23.47 in my account. I am going to keep reading emails and complete any special offers that appeal to me. It will be nice to have this little bit of extra money at Christmas time.
Swagbucks rewards you through points called "swagbucks." You can earn points by searching the web, taking surveys, playing games, and completing special offers. I just use the search engine feature. You get randomly awarded swagbucks when you search. It takes 450 Swagbucks to get a $5 Amazon gift card. I currently have 49 swagbucks. I think I can easily earn 2 – 3 gift cards by December just by using their search engine.
(Those are my referral links above.)
It's time to start planning ahead! Have you thought about Christmas yet? Have you started saving for it or do you normally just spend last minute?