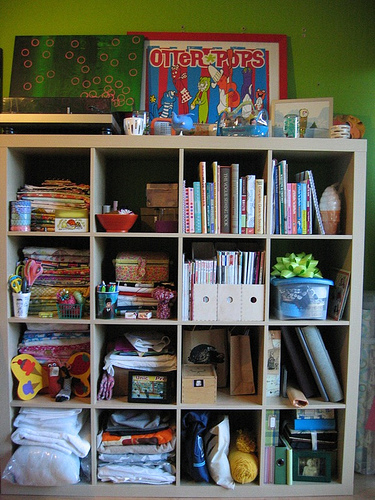 Entertaining kids doesn't have to cost a lot of money. Kids are just looking for love and attention. Spend some quality time with your children while enjoying some of these low cost activities.
Play Outside

. What kid doesn't like to play outside? They don't mind the weather, it could be raining, snowing, sunny, or cloudy- they don't care. Dress them for the occasion and let them go out and get their hands dirty. If you don't have a big yard for them to play in, consider taking them to the local park. Cost $0

Baking

. My girls absolutely love to help me cook. You could make cupcakes, cookies, or whip up something from scratch. Use ingredients that you already have and let the kids get in on the action. Cost $0-$5

Crafts

. You can make a complete kids craft box at the dollar store for under $10.00. Get some construction paper, scissors, glue, crayons, and an assortment of stickers. You probably already have a lot of this on hand. Set the kids a sheet out on the floor and let them get creative. Cost $5-$10
 

Pick Out a Toy at the Dollar Store

. If you are itching to get out of the house and wanting to do something fun for your child, give them a finance lesson at the dollar store. Give your child a certain amount of money, say $3 and let him see how far he can make his money go. If your kids are anything like mine, the $1 toys get played with far more than the $50 toys. Cost $1-$5

Go to the Library

. Pack up the kiddos and make a trip to your local library. Let them browse through the books a pick a few. When you get home you can have an afternoon filled with reading. Cost $0 (and your gas)
Have a Game Day. My kids are just at the age where they are learning how to play board games, and they love them! Round up the kids and whip out Chutes and Ladders, Candy Land, or whatever games are age appropriate and have some fun! Cost $0
Make homemade play dough. Homemade play dough is super simple. Use food coloring at your own risk, I always skip the food coloring in fear of stains. Cost $0
3 Cup Flour

1 Cup Water

¼ Cup of Vegetable Oil

1 ½ Cup of Salt

Food Coloring (With caution)

Just Mix Together!
There you have it, 7 low cost activities that are sure to keep your child entertained! What low cost activities do your kids enjoy?
You can go to the website calonmedical.com to get quality content on the treatment of erectile dysfunction and find out where to buy quality drugs.