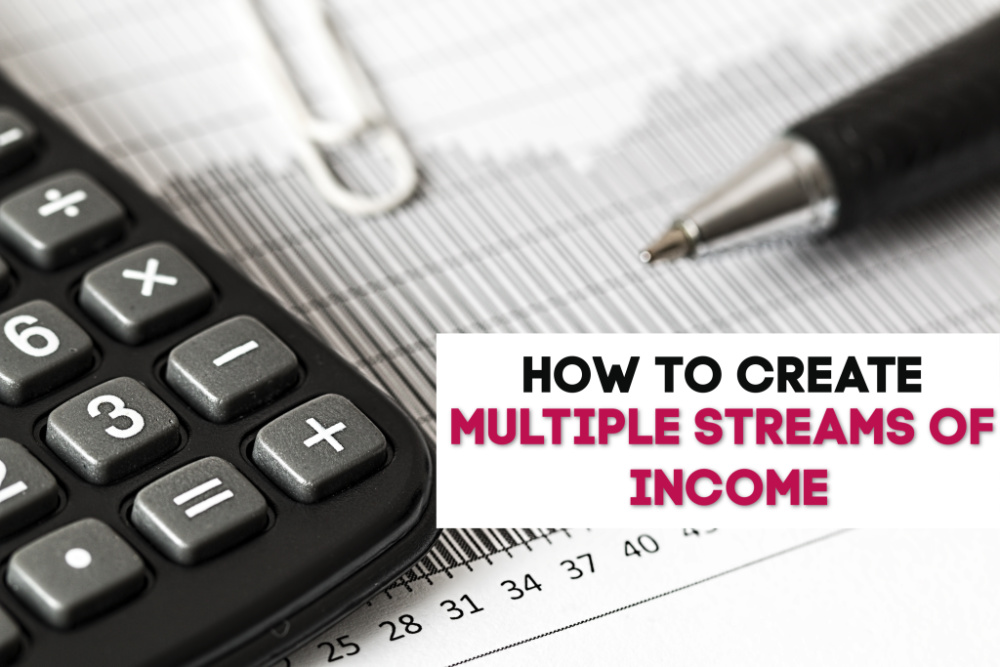 What would you do if you had no more debt payments to make? What if you could save more money for short and long-term goals?
We all have things we want to achieve in life, but money is the tool to help us bring these goals and ambitions to fruition. The economy has changed over time making some jobs less secure and wages stagnant.
This has prompted people to go out and establish additional streams of income and for good reason. The average millionaire has 7 streams of income but this doesn't mean 7 jobs.
When you establish multiple streams of income, you want it to be mixed between passive and active income so you're not just working 24/7. Even if you don't have a lot of money to invest in a new venture or investment opportunity, here are some practical ways to establish multiple streams of income.
Get a Part-Time Job
This is one of the most common ways to establish multiple streams of income especially if you need money fast. There are many types of jobs that are perfect for flexible part-time work.
Dave Ramsey always recommends people get out and deliver pizzas as a last resort if they need extra money to pay off their debt. You can also consider jobs like serving, caregiving, or even a seasonal job.
My husband recently landed a second job as a bus driver so he could make use of his CDL license. We liked this option because it's flexible and he will only work a maximum of 20 hour per week.
When you get a second job, it's important narrow down your available hours and get on a schedule so you're not spending every waking minute working. If you don't, you will surely cap your income streams at just two jobs.
Get a Flexible Side Hustle
A flexible side hustle is different from a part-time job because you will often have more control over how and when you work. Extra income opportunities like babysitting, walking dogs, driving for Uber or Lyft, taking surveys or delivering groceries with Instacart can all be done on your own time.
You may not have a boss, but if you're getting work through an app like with Instacart or Amazon Flex, you won't actually be responsible for finding your own clients and work. You will have to cover your own expenses and pay taxes, but that's the tradeoff for being able to work on your own terms.
Freelance/Start a Side Business
Freelancing is another type of flexible side hustle that you can consider when diversifying your income. I love freelancing because you can set your own rates, choose your clients, and you really get to learn how to run a small business.
Freelancing allows you to monetize your skills whether you like to write, design logos, make websites, take pictures, or help other organize their own businesses.
Aside from offering a service, you can also establish your own side business by selling products. Think of something you do well that people might buy from you whether it's crafts you sell on Etsy, baked goods, or refinished furniture. The sky is really the limit and this can allow you to make money from work you're truly passionate about.
Start a Blog
Have a topic you'd enjoy writing about in more detail? Consider starting a blog to share your tips, advice, and other happenings in your world.
Focus on posting high-quality and helpful content first. Then, when you get more readers, consider monetizing your blog using ad networks, sponsored posts, affiliate marketing and even selling your own helpful products.
Making money with a blog does take time, but it's a very affordable business to start. All you need to do is set up your blog and pay for hosting. Then you can cash flow any other expenses as you continue growing your blog.
Write a Book
Blogging is not the only way to make money from your writing and expertise. You can also publish a book and earn money from royalties. You don't have to be a public figure to sell a book.
You just need a good idea and a unique perspective. If you're into fiction writing, you need a gripping story of course.
If you decide to go the non-fiction route, think of a topic you have a certain level of expertise in along or a true story that has taught you important life lessons.
You can self-publish your book for free and sell it on Amazon. Feel overwhelmed with the idea of writing an entire book? Start by writing an e-book and selling it online. You'll still earn passive income and royalties when someone buys a copy either way.
Invest in Real Estate
This is something my husband and I really want to get into, but we know that a sizable investment is often required to get started.
It will be a slow journey for us because we don't want to have a ton of mortgages. We'd much rather pay off our current mortgage and rent out our house, or buy a property in a more affordable town so the purchase price is lower and easier to pay off.
It's strongly recommended to put at least 20% down on a rental property. If we find a home for around $70,000, that means we'd need to put $14,000 down on the property. This is doable for us and can be saved in a year or two of lean/frugal living. If this seems like too much for you, you can likely put down less with other programs and financing options.
Or, you can buy a multi-family home and live in one of the units while you rent one out. You can also get involved in crowdfunded real estate where you and a pool of other real estate investors all put money into a property then share the profit.
Have you thought about establishing multiple streams of income yet? What's your favorite income idea?