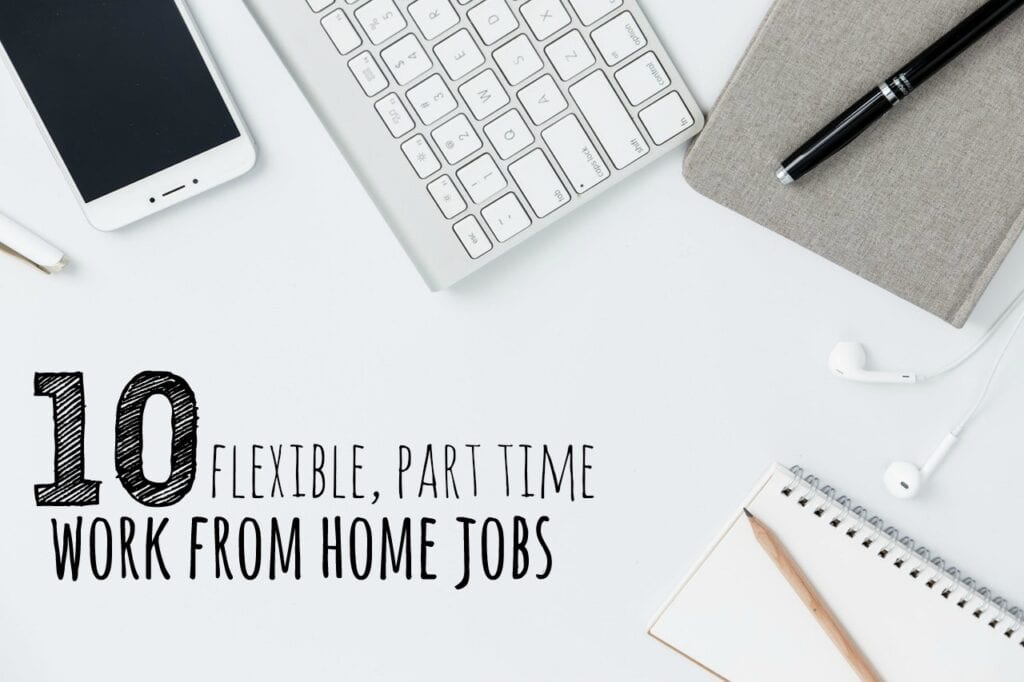 Whenever someone tells me they want to get started working from home my answer is almost always the same – start on the side.
And these 10 flexible, part time work from home jobs are perfect for getting started on the side.
They're also perfect if you're already working a part time job and need another to pay the bills, are looking to supplement your current income, or just want a job you can do when you feel like it.
Some of these jobs allow you to work whenever you want while other wills require a specific amount of part time hours.
Teach ESL with VIPKID
VIPKID is a company that contracts teachers to teach Chinese kids English. The schedule is flexible and you get to pick what times you want to work.
Teachers are recommended to be available at least 7.5 hours per week which would be the equivalent of teaching fifteen 30 minute sessions. There are no caps on the maximum amount of hours you can work – but it may take a little while for you to build up a good flow of students to teach.
(VIPKID will provide lesson plans for you.)
The pay ranges from $14-$22 per hour. Teachers are paid via direct deposit between the 10th and 15th of every month.
Here are the requirements to become a teacher with VIPKID:
Must have a bachelor's degree in any field
One years' experience in teaching or relevant experience such as tutoring, mentoring, or alternative education
Must be eligible to work in the US or Canada
If you're hired you do have to sign a six month contract. After the six months is up contracts can be renewed. You can apply to be a teacher here.
Transcription, Captioning, and Translation with Rev.com
Rev.com is a transcription and translation company that is almost always hiring freelancers.
With Rev you can apply to be a transcriptionist, captioner, or a translator. The schedule is completely flexible with work being done on a first come, first serve basis. Payment is made weekly via PayPal.
The pay for the different job options are as follows:
Transcription – $0.40 – $0.60 per audio minute
Captioning – $0.40 – $0.75 per video minute
Translation – $0.05 – $0.07 per word
You can apply for a position with Rev.com here.
Search Engine Evaluation with Leapforce
Leapforce hires independent agents to quality check search engine results. The job requires a familiarity with Google and its products and good research skills.
You must take and pass a three part qualification exam to become an agent with Leapforce. Payment is made on a net-30 basis.
According to GlassDoor average pay for this position is around $13-$14/hour.
You can submit an application to become a search engine evaluator here.
Virtual Assistant Work with Fancy Hands
Fancy Hands is a company that connects US based virtual assistants with people and businesses needing help. This site is great for anyone who wants to be able to work on a moment's notices without any type of set schedule at all.
With Fancy Hands you're paid on a per task basis. Pay starts at $3-$7 per task, depending on the task.
Some of the common tasks you'll find are:
Data entry
Making phone calls on behalf of someone
Making reservations
Finding the best price on something
You can sign up to be an assistant with Fancy Hands here.
Drive for Uber or Lyft
If you live in a city and have a dependable car that meets the minimum standards of Uber or Lyft you can drive as a part-time gig.
The beauty of driving with Uber and Lyft is that it's 100% flexible to your schedule.
You can sign up to be a driver with Uber here and with Lyft here.
Become a Stylist for Stitch Fix
Stitch Fix is a subscription company that hires stylists to pick out clothing for its customers. Stitch Fix's stylists are from-home contract workers!
To become a Stitch Fix stylist you will have to go through some in person training so you'll need to reside near one of these cities:
Austin
Cleveland
Dallas
Minneapolis
Los Angeles
Pittsburgh
Sacramento
San Diego
San Fransisco
Hours generally range from 15-30 per week with pay around $14-$16 per hour. You can read more about working with Stitch Fix here or apply here.
Test Websites
Website testing is when someone records themselves using a website for the first time. This helps companies get an idea of what user experience is like and what needs improved.
Website testing can be a fun way to earn extra money and for the time it takes it's a pretty good paying gig.
Average pay is around $10 for a 20 minute test. The downside is that the work is not consistent.
If you're interested in testing websites you can sign up with these companies:
User Zoom
User Testing
UserBrain
UserLytics
Enroll App
User Feel
U Test
You can read more about the specific pay and criteria you need to meet for each of these companies here.
Achieve Test Prep (Multiple, Varied Positions)
Achieve Trest Prep is an online program that helps college students test out of college courses.
They offer both full time and part time, flexible work from home jobs in a number of different areas. Some of the part time openings they currently have are:
Transcriptionist
Nursing Prep Instructor
Administrative Assistant
PHP Moodle Programmer
Operations Specialist
Hours, schedule, and pay will vary depending on the position. You can see a full list of their available job openings here.
Answer Questions with Wonder
Wonder is a site where people can ask questions that normally need researched before answered. As an analyst with Wonder you'd be performing the research to answer those questions.
With Wonder you can work whenever you want. The pay is per question and varies depending on the complexity of the question.
To get started with Wonder you can put in an application here.
Freelance Jobs that Are Very Flexible
Freelancing is working for someone on a contract basis rather than as an employee. As a freelancer you'll generally need to find your clients. However, freelancing can have a MUCH higher earning potential than many of the other work at home jobs you'll find.
Also, freelancing is super flexible as you can generally set your own hours and work whenever you want as long as you get your work completed.
Here are three good options:
Writing – There are TONS of writing opportunities available online. I personally got started by finding my own clients using this method. You can also check out the Pro Blogger Job Board for writing openings or look at one of these sites that pay per article.
Virtual Assisting – Virtual Assisting is another fun and very flexible job you can do part time. Here's how I got started.
Proofreading – Proofreading can be a great supplemental gig (or even a full-time job.) My friend, Caitlin Pyle, has a free Webinar on general proofreading if you want to learn more.
Other Ways to Find Part Time Work from Home Jobs
There are many companies who hire for part time work from home jobs. If there's nothing on this list that quite fits your skillset I recommend checking out Indeed.com and entering "remote" in the location section.
You can also check out these job boards to find freelance job openings.
P.S. If you want to learn from some of the best in the business I highly recommend you check out the Work at home Summit. This summit is a collection of entrepreneurs talking about a myriad of different work at home businesses and jobs they've started and grown. This is 100% the best work at home event I've ever seen. (Totally scam free.) And it's free. You can find out more here.