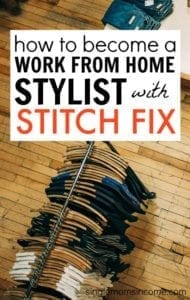 I'm sure that by now you've heard of the clothing company Stitch Fix. The company has gained a lot of popularity over the past couple of years and it looks like there's no stopping them!
The premise of Stitch Fix is simple. As a user you fill out a profile with your style and price preferences. You'll then be matched to a personal stylist who will hand pick five items of clothing for you. You'll be charged a $20 stylist fee and the items will be shipped to you. You then get to try on everything and decide what to keep, if anything at all.
You can buy the items you like and send back the rest. If you decide to buy anything out of your "fix" you're credited the $20 stylist fee.
An easy and fun way to get new clothes, right? It turns out that Stitch Fix may also be a great place to find a work from home job.
Here's how to become a work from home stylist with Stitch Fix.
Working From Home as a Stitch Fix Stylist
Stitch Fix hires stylists to work at home, but not just anyone qualifies. To be considered a good fit for this position you must have an interest in fashion, be detail oriented, client focused, be able to manage your own schedule and be at least 18 years old.
While these are part-time, work from home positions you have to live in one of the following regions since in-person interviews and training are part of the hiring process:
Austin, TX
Cleveland, OH
Dallas, TX
Minneapolis, MN
Los Angeles, CA
Pittsburgh, PA
Sacramento, CA
San Diego, CA
San Francisco Bay Area
To get one of these jobs you'll first need to submit an online application. If you're called for an interview you'll put together a secret Pinterest board for a fake fix. During the interview you'll write about the pieces you've chosen as well as do some in-person styling. You'll also be asked regular interview questions.
If hired you are required to do a bit of on-site training and then will be able to work from home (or wherever your heart desires.)
Hours and Pay for Work at Home Stylists
The hours seem to range from about 15-30 per week with the salary typically being about $15 per hour. (It ranges from $14 to $16 according to these reports.)
Becoming a Stitch Fix stylist appears to be a great opportunity for someone who loves fashion, needs a work from home job and lives in one of the designated areas.
If you think you'd be a good fit as a Stitch Fix stylist you can apply online here.