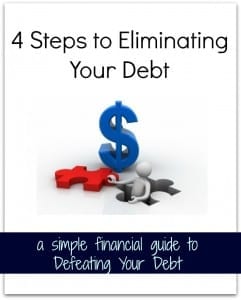 Since blogging is such an awesome way to earn extra income I want to continue on with more ways you can draw more interest to your blog. Today I wanted to talk you about how to quickly write an eBook for your blog.
Having an eBook on your blog is a great way for you to boost your email sign ups and also your credibility. I am always much more apt to sign up for someone's email list if I am getting a free bonus. Some people offer giveaways while others offer eBooks.
I, for one, am always much more inclined to sign up for an email list with a free eBook rather than a giveaway. Mainly because I figure my odds of actually winning the giveaway are slim to none. If a blog offers a free eBook that I feel can benefit me in some way, you better believe I'm going to sign up.
The eBook I wrote for this blog actually took me a while to complete. I started from scratch and spent a lot of time figuring out what I wanted to say.
However, when I bought Defeat Our Debt I had plans to one day sell it for profit. I knew having an eBook and email subscribers would increase the value of the blog which is why I put together a free eBook. I also knew I didn't want to spend the amount of time writing an eBook that I did for this blog. That's why I came up with an easy way to quickly write an eBook. It took me all of one evening to get it together.
Here's how to quickly write an eBook for your blog.
Choose Your eBook Topic
This should probably go without saying but your eBook needs to be relevant to your blog. On Single Moms Income the thing I talk about most is finding new businesses to create. The Single Moms Guide to Starting a Side Business, was of course, an obvious choice.
With Defeat Our Debt the whole focus of the blog is hundreds of ideas to get out of debt. Therefore it only seemed logical to create an eBook on how to get out of debt.
Choose an eBook topic that compliments your blog's topic.
Create a Layout for Your eBook
The next step in quickly creating an eBook is creating a layout. Think about exactly what you want your eBook to be about and create a few chapters in your preferred order.
Here is my outline for 4 Steps to Defeat Your Debt
Intro – Preparing to Defeat Your Debt  

 
# 1 – Know Where You Stand – Create a Budget
# 2 – Your Starter Emergency Fund         
# 3 – Make a Debt Pay Off Plan 
# 4 – Freeing Up & Finding Extra Money for Debt Repayment    
*Bonus Material*     
You can see that my outline is super basic. My chapters are to the point and I've included and introduction and bonus material at the end. Everyone likes a bonus, right?
Once I had my outline I went ahead to the next step.
Choose Old Blog Posts to Fill Your Chapters
Once I had my outline I went through my old posts to see what fit in. I found a post for each and every chapter that I had created.
I then copied and pasted those posts into a Microsoft word document in the order of my outline.
Next I wrote the introduction, edited the existing posts that I had copied and pasted so that they flowed like a book would, and added extra information as I saw fit.
I then went through and added headings, subheadings, and a table of contents.
Lastly, I added the bonus section which was simply links to budget templates, financial calculators, and personal finance blogs.
When it was all said and done my table of contents looked like this:
Table of Contents
Preparing to Defeat Your Debt   
# 1 – Know Where You Stand – Create a Budget 
How a Zero Sum Budget Works 

Cash Envelope System  

Use a Card          
# 2 – Your Starter Emergency Fund          
# 3 – Make a Debt Pay Off Plan   
The Debt Snowball Method        

Paying Off Debt According to Interest Rates        
# 4 – Freeing Up & Finding Extra Money for Debt Repayment      
5 Drastic Changes You Can Make to Free Up Money        

# 1 – Find Cheaper Housing         

# 2 – Downgrade Your Car            

# 3 – Sell Your Stuff         

# 4 – Cancel the Non Essentials  

# 5 – Find a Roommate  

Earning Extra Money      

Finding Side Income       

Make Time         

Market Your Services     

Stay Motivated 
Bonus Material 
Budget Templates           

Financial Calculators        

Recommended Blogs     
Creating a Cover for Your eBook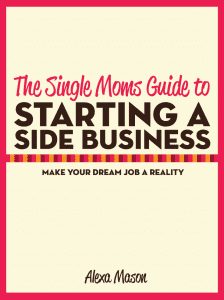 For Single Moms Income's eBook I used a blog friend, Taynia from the Fiscal Flamingo, who I highly recommend. However, for Defeat Our Debt I want to use the cheapest route available.
I purchased a stock photo from Free Digital Photos for $3 and used picmonkey to put the text on the cover.
If you don't want to create the cover yourself you could use a service like Fiverr to order a cover for $5.
Wrapping it Up
Once all of that is done it's time to put the eBook on your blog and increase your subscribers! I was actually pleasantly surprised that despite the low amount of traffic Defeat Our Debt currently receives that I still get sign ups! In fact I started receiving email subscribers the first day I put the eBook up!
If you want to see how my eBook for Defeat Out Debt turned out you can download here for free. No email sign up required! (Because I like you 😉 )
That's my advice on how to quickly write an eBook for your blog. Have you wrote an eBook for your blog? Any tips you'd like to share?
More in the Blogging Series: