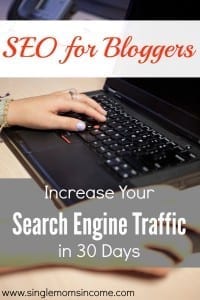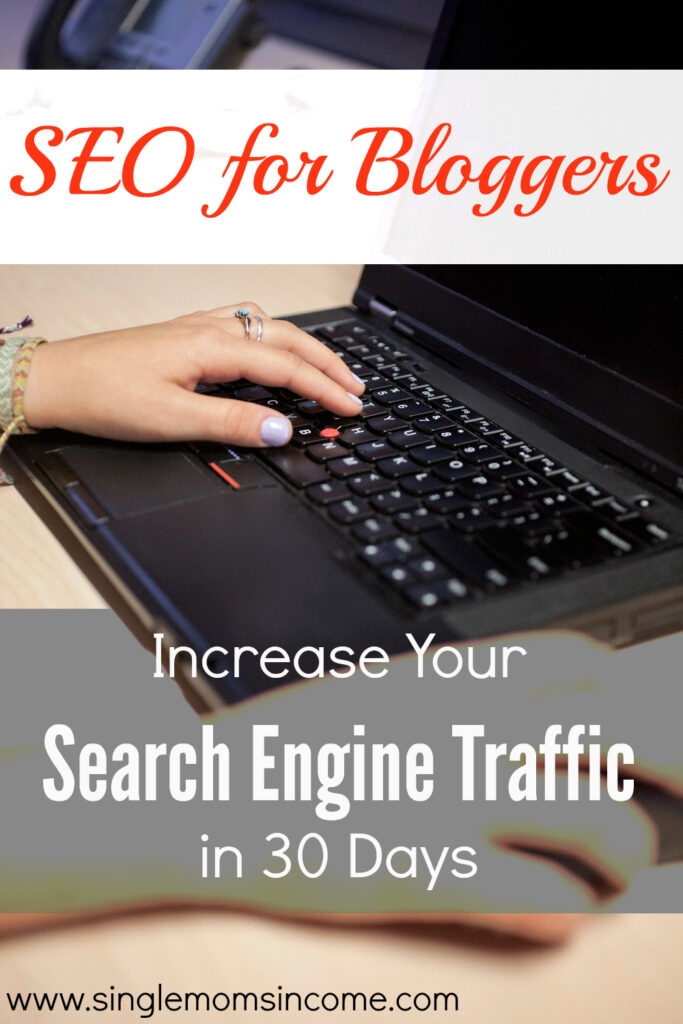 Blogging is a legitimate way to earn money and one of the ways I do so. And, it's something anyone can do as long they're committed. Here is update number one on my blogging goals.
If you're new here let me get you up to speed. I like to challenge myself so I made a goal last month to reach 100,000 page views in one month. I've given myself six months to do this. I figure since blogging is a way to earn some decent money and there are a lot of other bloggers who read, I'd share my progress. Hopefully it can help someone else, too.
I originally declared that I would guest post, work on social media, and work on SEO to get more traffic. The good news? I have several guest posts coming up in the next two months. The bad news? None of them have been published quite yet.
So I can't tell you what the effect of those will be at this point. However I can tell you that my daily search traffic has tripled since I made this goal and optimized my posts.
So, how'd I triple my search engine traffic in a matter of weeks? Let me tell you!
How I Got More Google Traffic
It all started when I watched this video from Jeff Rose. I highly HIGHLY recommend that you go watch it. (Read this post first please.)
Before I tell you everything I've done I want to show you some proof. Here is a snapshot of my Google Search Traffic. You can see that at the beginning of the month I was getting around 80 -120 hits per day. So, on average Big G sent about 100 different people my way per day. Not amazing, I know, but this is still proof that the changes I made helped!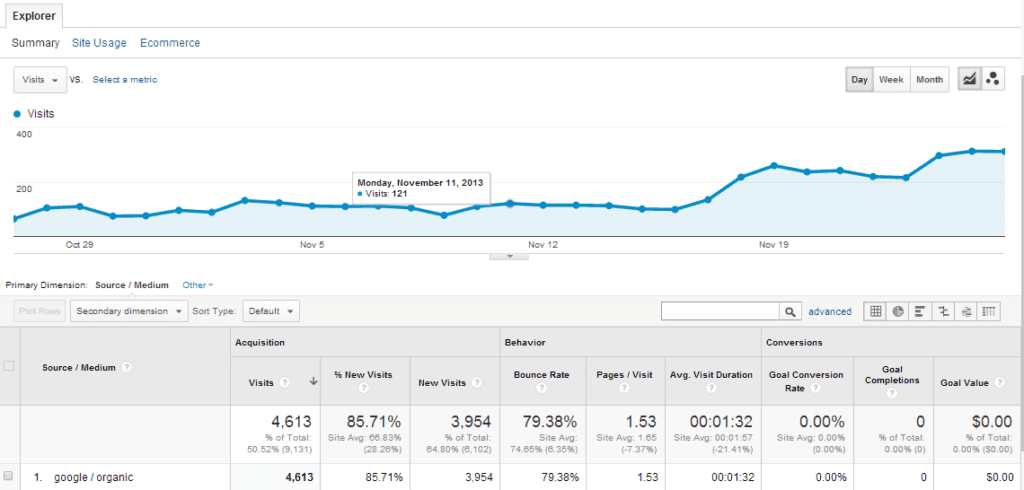 Now take a look at the end of the month. Do you see that insane rise? That happened a week or so after I went through my post popular posts and optimized them. I then started following all of Jeff's tips for all of my new posts.
My new average Google visitors per day? 300
So does SEO work? Yes! Who would've thought!
How I Increased My Search Engine Traffic (Step by Step)
Everything I've done is in Jeff's video. So, I still recommend you watch it because I'm probably forgetting some crucial detail.
Here's how the process goes.
**I want to state that I don't write anything at all with the search engines in mind. I write what I want to write about – period. And, this could be one reason why my traffic is increasing. I simply write what I think will be useful and THEN go back and optimize it.
Here's the step by step process:
Make sure your title contains a keyword.

Bold your main idea in your introduction. Make sure there are keywords in the bolded main idea.

Restate (in different words) the idea of the post in your headings.

Use your SEO form! I never, ever did this and now I do. Fill in the title, description, and keyword portion of your SEO form. I use a Genesis theme which has built in SEO. You can download an SEO plugin, like Yoast SEO, if your blog doesn't already have one.

Edit the hyperlink (only on new posts, you don't want to lose all the links you have on past posts) to contain the keyword for the main idea of your post.

Use descriptions and alt tags in your pictures.
Here's a little better explanation in pictures. I am going to use the post I just wrote about small business ideas for 2014 as an example. This post seems to be getting quite a bit of traffic already.
I came up with the idea when thinking about all of the offline businesses that I've wanted to start. I've read several posts where people state that their longer articles are what makes it in the search engines. This blog post is around 1500 words.
I knew people would be searching for the next big thing to do so I decided to title this post 10+ Lucrative Small Businesses to Start in 2014
I then went back and restated the main idea in the introduction and then bolded it. It looks like this: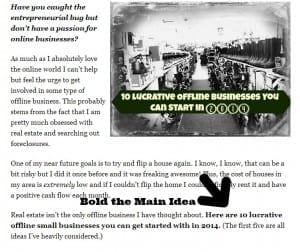 Next I edited the hyperlink to the following https://singlemomsincome.com/offline-small-business-ideas-2014/ Now it has just the keywords I want in it.

I then created a picture to go with the post. When I uploaded the picture I titled it Lucrative Offline Small Businesses I used the same description for the Alt text.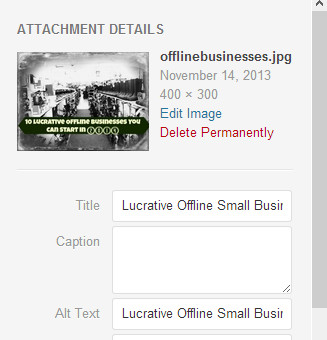 Lastly, I filled in my SEO form.
I'm going to admit I used to think I would get banned by Big G for doing this. For some reason it just felt like I would be gaming the search engines – apparently not.
Now when I fill in the title for the description I try to think of something I would click if it came up in a search engine and I also include the keywords of the post.
On to the description. You only have around 160 characters to fill this out. What I do is state the main idea and try to use two variations of the keyword. The description and title that you fill out in your SEO form is what shows up in the search engine results. See below how I filled in my SEO form.
I then fill in the meta tags with varying keywords that describe the post. I copy and paste those keywords to my tags on the left.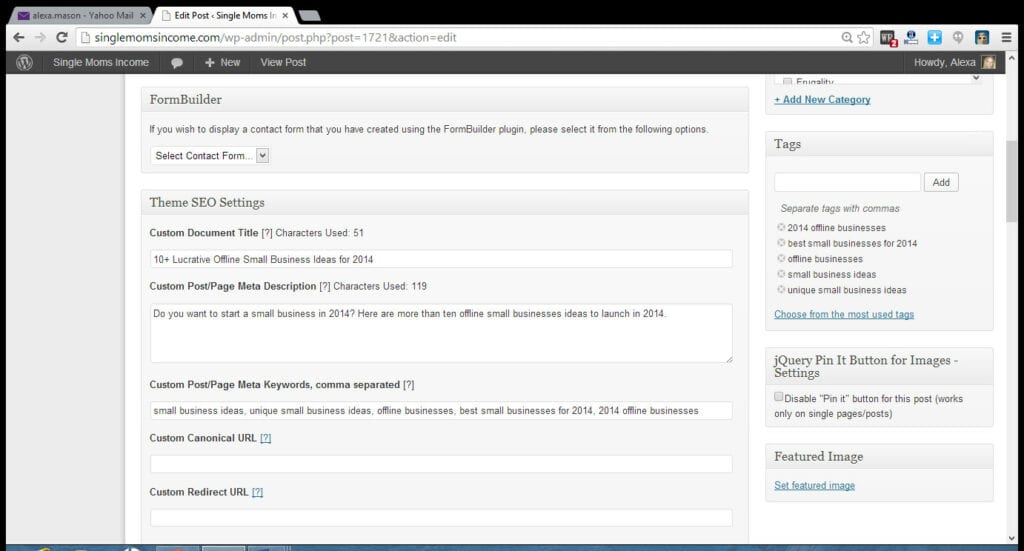 So, that's how I did all that. BUT I found one more shocking revelation.
How Google Authorship Affected My Posts
You've  probably noticed people's pictures showing up beside search results in Google. That is Google Authorship. Here is a post explaining how this is set up.  
I've been reading a lot on the importance of using Google Authorship on posts you write. In case you didn't know Google Authorship is supposedly going to play a huge role in search in the future. Allegedly, trusted authors will dominate the search engine.
Here's my little Google Authorship experiment:
Over the past couple months I have been linking to my "hire me" page in my author boxes from this website and also from Defeat Out Debt. I use the anchor text "personal finance freelance writer".

I wanted to see if doing this would put me in the search results when people searched "personal finance freelance writer" (And, it did.)
Before adding Google Authorship to my hire me page I ranked on page number 4 in Google when searching for that term. I wondered if adding authorship to my hire me page would affect my search engine ranking, so I added it.
Two days later? I'm on page number two of Google for that same search term. Coincidence? I don't think so.

I am now adding Google Authorship to all of the guest posts I submit. I think this is going to play a huge role in the future of search.
Conclusion
I used to think search engine optimization was sleazy and was all about gaming the computers. I don't think that anymore. I think you should write want you want to write and then go back and help the search engines finds you.
I mean, think about it. If you write a post but don't really let the search engines know what the post is about how are they going to find you? They won't.
I'm still far from my 100k page views goal. But, almost a 30 percent increase in page views from some simple SEO stuff? I'll take it!
What are your thoughts on search engine optimizations? Have any tips to share?