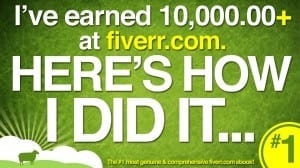 By Dion Lynk
Everyone knows about it, everyone seems to be creating a gig, but does everyone succeed as a seller at fiverr.com?
I'm Dion, a level two (and growing) graphic designer with one of the best start-ups this side of heaven: fiverr.com, a marketplace where you can sell and buy things starting at a paltry $5.
I've done both buying and selling, but I've done much more selling, so I'll provide you a glimpse into what I believe it takes to be a successful seller.
I am not the most monetarily successful fiverr seller, and I don't guarantee anything. I've simply been with the company since day one, and I've accumulated not only experience, but a story that I like to share to inspire and motivate people looking to succeed with fiverr.com.
I've been with fiverr since the early days and I can't tell you how awesome, reliable and inspiring my journey there has been. I've grown so much as a designer and web entrepreneur, and I'm truly thankful for the opportunity fiverr has afforded me as I've been forced to believe in all of my web pursuits, because I've witnessed first hand how doing "whatever" you want on the web can truly change your life if you drown out all of the naysayer's and stick to it!
There's a lot to share, but I only have so many words. I have an idea though.. I'll do a preface to my ebook, "How I've earned 10,000.00+ in my spare time over the last 3 years with a couple of fiverr gigs", and if you hunger for more of my personal experience, tips and musings, you can buy it here at sellfy.com.
Creating a Gig as a Seller at fiverr
A gig is a task, service, or product you offer in the fiverr marketplace. There are just over 3 million gigs offered at fiverr.com. How in the world are you to stand out in the sea of 3 million? You be yourself! I know, it sounds generic and uninformative, but trust me, offer that gig in the way only you can!
I'm not the only graphic designer on fiverr by a long shot, but the way I title my gig's garner the attention of potential buyers, and I've been able to stand out from the crowd because of that. E.g. Instead of offering "SEO consultation services for $5", consider offering "cutting edge SEO techniques with 24 hour results!". You are considered a "seller" so it's important to "sell" your task, product or service because "buyers" are looking to buy what's being sold.
Having Your Gig Ordered and Interacting with Buyers
Yep, it just happened! Someone starting a business, looking for a unique gift, or needing that thing you offer just purchased your gig! Congratulations to you! What now? You deliver on what you promised!
I cannot stress enough, the importance of maintaining a good seller/buyer relationship. Keep in mind that there's a rating system in place to help buyers sort through all of the offerings (0-100, with 100 being the best). Not sure if you've heard that the customer's always right, but this is true especially when its your very own business or venture, because there is a direct correlation between repeat business, referrals and your gig's revenue.
Promoting Your Gig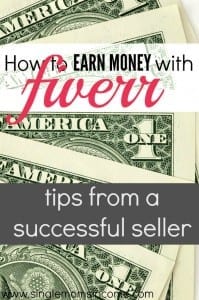 fiverr has grown to some pretty amazing heights! When I think about business and entrepreneurship, I'm one that used to love cutting the "middleman" out. I've realized over time that this isn't the best model for success, because we all need other people to buy and like the things we create. fiverr has built a reputation as the most reliable "middleman" on the web, because their business model is extremely intriguing to a very broad scope of people.
If you'd like to send your special someone a unique gift that says "I love you", why not order one of the many tailor made gigs that will do so in that special and unique way. If you're a student looking to get help on a paper, why don't you order the gig from the full-time teacher that proofreads your document and turns it around within 24 hours.
I'm alluding to the fact that there are millions of buyers on fiverr searching for reliable services, because they've experienced, heard or are curious about the site where you can buy virtually anything starting at five bucks!
Any additional social networking or advertising would be extremely wise on your behalf, and the right tactics will be unique to every seller. I go in-depth on what has worked for me in my, "How I've earned 10,000.00+ in my spare time over the last 3 years with a couple of fiverr gigs" ebook.
Everyone has heard of the site where you can offer "something" starting at five dollars, and possibly "rage quit" your day job should you become good at it. If not, everyone has at least been bombarded with the promise of making money online in someway, on some site, or by some family member who just needs you to sign up and refer "x" amount of people to reach the next tier. The truth is, I tried quite a bit before teaming up with fiverr (I speak to some of those things in my ebook), and I couldn't be happier of my decision to become dialed in and focused when I did, because fiverr has sincerely changed my life!
I hope this inspires you to take it to the next level, because you can! If you'd like to keep an eye on me as I approach 15,000.00 here's my fiverr showcase blog, www.hifiverr.info, and in my best Nicolas Cage narrating voice, "if you'd like to know the truth, the whole truth, buy "How I've earned 10,000.00+ in my spare time over the last 3 years with a couple of fiverr gigs" ebook.
Cheers,
Dion Lynk
I want to thank Dion for the guest post. I've checked out his ebook, design work, and blog and think they are all excellent. If you need some design work done you can check out Dion at Fiverr, if you want to learn more about how to make money with Fiverr I highly recommend his e-book, or you can follow his progress at his personal blog. 
What kind of experiences do you have with Fiverr? Have you ever bought or sold anything through Fiverr?