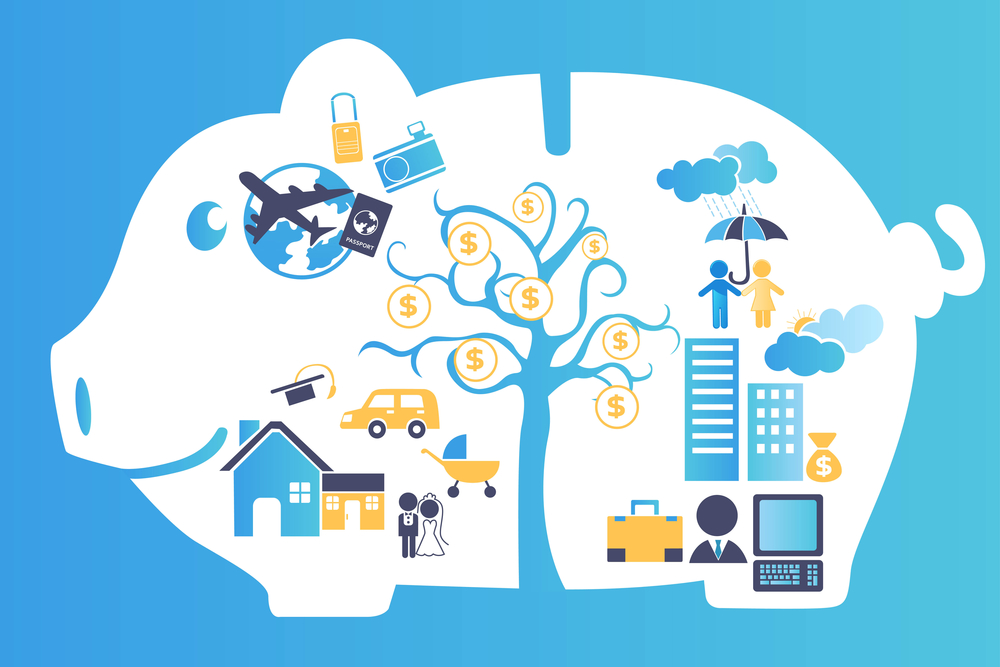 Want to reach financial freedom quicker? The key is to create more cash flow in your budget so you can have more control over how you manage your money. When I first started getting my finances in order as a single mom, my goal was to live on $28,000.
This was not a choice. My salary at my full-time job was only $28,000 so I had to make it work. Let's say you earn $50,000 per year though. Think of how much you could save if you kept your expenses low enough to live comfortably on just $28,000 per year.
Sometimes it's not all about what you make, but more about what you keep. If you're looking to save more money this year, here's how you can live on just $28,000 per year.
Start By Breaking It Down
If you live on $28,000 per year, that comes out to $2,333 per month. While this isn't a ton of money, it's enough to live comfortably on if you have the right strategy. Here's what my monthly budget looked like at just $28,000/year.
Rent: $600 – This is how much my 700 sq. ft. 1-bedroom apartment cost me at the time (water and garbage included)
Utilities + Monthly Bills: $240 (electric, heat, phone bill,
Household Items/ Toiletries: $40
Fuel (Car): $100
Car Insurance: $90
Health Insurance: $299
Groceries: $325
Dining Out/Ent: $150
Misc.: $100
Self Care: $50
Childcare: $300
Total: $2,294
Feel free to tweak this budget to fit your lifestyle, but it's also important to develop a solid savings strategy to keep your expenses low. Here are some categories you can focus on in terms of cutting costs.
Housing
Housing is hands-down the biggest expense most people have. Cut your housing costs and you'll save a ton of money. If you own a home, see if you can refinance your mortgage or rent out some of your space. If you have a spare bedroom or basement area that is not being used regularly, consider renting it out on Airbnb to lower your housing costs.
The cheapest housing options often involve renting an apartment. I enjoyed renting an apartment when I was trying to maximize my savings because some utilities were included in the price of rent. Some apartments even included cable TV.
I know everyone can't or doesn't want to rent an apartment, so another alternative would be to rent a bigger space with a private landlord. As opposed to a leasing office, private landlords may be more willing to negotiate the price of rent. Or you can even barter by offering to help keep up with landscaping for the property or sign s 12-month lease instead of month-to-month. In one of my previous apartments, I opted out of having a garage to save money on rent so I just parked my car outside in the lot all year-round.
How to Find Affordable Housing
Being able to find affordable housing depends heavily on the cost of living in your area. I purposely chose to avoid living in a big city like Chicago I could save money on housing and everyday expenses.
By living in a working-class suburban area, it's easier to find lots of different options in terms of affordable housing.
Transportation
If you want to live on $28,000 per year, you probably shouldn't have a car loan. Save up to buy a used car for around $2,000 – $5,000.
Or, see if you can get around without a car. Walk to stores that are closeby, carpool with coworkers, take public transit, or even ride your bike from time-to-time.
Food
Don't eat all your money. You'll save so much more by cooking meals at home and bringing your lunch to work. Look out for sales and cook filling meals that stretch like:
Soups and stews
Chili (white bean chicken chili is my personal favorite)
Casseroles
Tacos
Rotisserie chicken
Pasta with steamed veggies
Rice, beans and cornbread
Budget to dine out occasionally and take advantage of deals and offers like Groupon discounts, happy hour deals, and 'kids eat free' nights.
Childcare
Keep your childcare affordable by looking at alternatives to expensive daycare centers. Use Care.com and SitterCity to look for qualified babysitter or nannies. See what type of childcare services or preschool programs your local park district offers. Consider church babysitting programs. Or, offer to swap childcare services with your friends.
Consider Using a Health Sharing Ministry
Take advantage of employer-sponsored health insurance if you have some good options. For my situation, I've never had solid health insurance provided by my employer so I looked to health sharing ministries like Liberty Healthshare to save money. This option won't work for everyone, but you can learn more about health sharing ministries in this post.
Shop Around For the Most Cost-Effective Option
When you're living on just $28,000 per year, realize that every dollar counts. Be proactive about shopping around for the best price and value.
Compare car insurance quotes and coverage using sites like The Zebra. If you don't drive too many miles during the month, look into Metromile which is car insurance based on the miles you drive.
Keep your phone bill low with prepaid options like Republic Wireless (plans starting at just $15/month) and Total Wireless (plans starting at just $23/month). If you need a family plan, shop around for the best rates and offers. Verizon Wireless offers family plans that include a free 12-month subscription to Disney Plus.
Speaking of subscription services, keep your accounts limited to just one or two so you can keep this expense low. Don't sign up for Netflix, Hulu, Amazon Prime, ESPN+, Starz, and Disney Plus all at the same time or you'll be paying just as much as you would with a cable bill.
Have Fun For Free
Living on a lower budget doesn't mean you can't have fun at all. Keep your entertainment bill low by finding free and fun things to do in your area whether it's going to free-admission museums or festivals in town.
Check with your local library so see what programs they have going on for the month and use Groupon to save on other paid experiences.
Yes, You Can Live on $28,000/Yr.
It's possible to live on $28,000 per year and be comfortable. It's all about how you budget and save as well as making sure you live in an affordable area.
If you live in an expensive city where the cost of living is high, you can still meet this budget but you'll just have to get more creative.
Get clear on your priorities so you don't feel deprived and remind yourself how much money you'll save so you can truly get ahead.