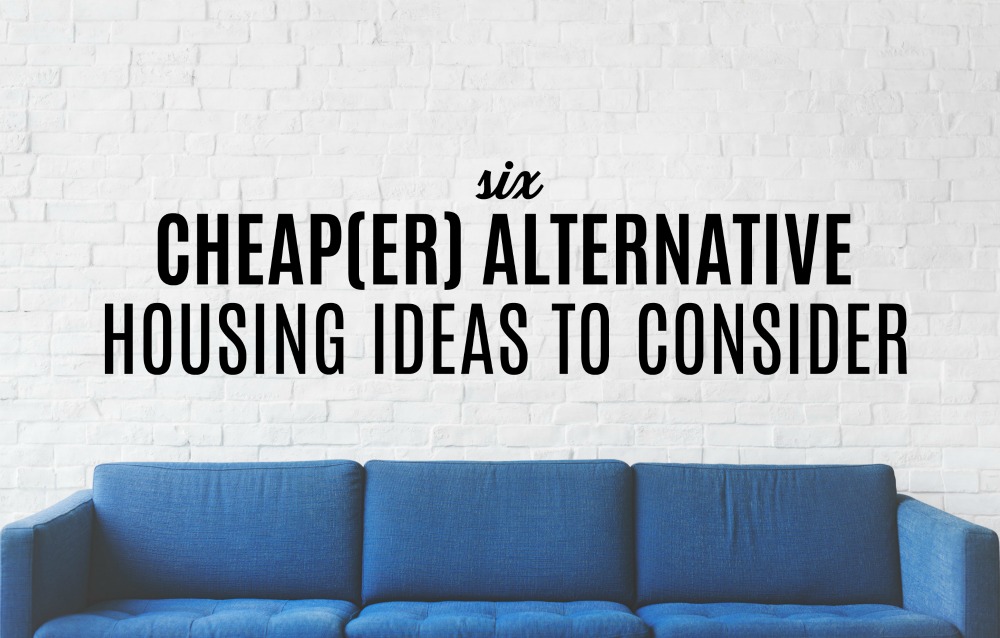 Buying a home is the ultimate symbol of the American Dream. There's just one major issue, houses are expensive. Not only does it cost a lot to buy or finance a home, it will also cost more money to repair and maintain the home.
For some, it's a burden they'd rather not deal with. The average 30-year mortgage can leave you paying twice the amount you purchased the home for thanks to interest.
Some people who want to avoid expensive mortgages are turning to other more affordable, alternative housing options. Here are just a few ideas.
Live For Free at a School
If you're a teacher or are interested in teaching, you can live for free at a boarding school or college. Each school year Universities across the country are looking for resident hall directors to work in the dorms.
Depending on the size of the school there can be many positions available. Resident hall directors keep on eye on the students and make sure everything runs smoothly. In return, resident hall workers are given a place to stay. It could be for the semester or for the entire school year. Easy work with a place to sleep, not too bad of a deal.
While you may not want to teach or work at a school forever, this could be a great way to live for free and save up money to buy a property in cash in the future.
Buy a Mobile Home
This is something I heavily considered and Alexa has actually done it before. Mobile homes also referred to as trailers or manufactured homes have been around for a long time and they are typically much cheaper to buy than a traditional home.
You can buy used mobile homes for anywhere from $2,000 to $10,000 and brand new mobile homes for under $30,000. Since 1976 HUD has had a specific standard in place for mobile homes. After they are manufactured they must pass the same building and safety standards as homes. Mobile homes are made with steel anchors, which secure the mobile home to the ground so unless a catastrophic event happens your mobile home will be safe!
If you buy your mobile home in cash, the only added expense you may have to pay is lot rent if you don't own the land.
Become a Landlord
Consider being a landlord as an alternative to simply being a homeowner. Just renting out a few rooms a month would be a nice addition to your monthly income and supplement your living expenses. You can buy a duplex or multi-family property and live in one unit while renting out the other.
I know some people who've done this before and their rental income basically covered their living expenses or mortgage. If you do have a mortgage, you can even pay yourself rent to accelerate the debt reduction process.
Buying Abandoned Buildings
Tons of old houses are turned into a business. Why can't old businesses be converted into homes? Doing this reminds me of the movie Princess Diaries because Mia and her mom lived in an old firehouse that they converted into a cozy home.
You don't have to be this extreme or nearly as creative but consider it an option if you're looking for a cheaper alternative housing solution. Abandoned building have most likely have been sitting empty for a while so the seller may be more than willing to strike a deal.
I watch a show on Netflix called How to Live Mortgage Free and it follows several people in the UK who are choosing alternative solutions to the typical single-family home that comes with a pricey mortgage. In one episode, someone was rehabbing an old building and turning it into their dream home while saving a significant amount of money.
If you're creative and willing to make it work, this can be an ideal option for you.
Tiny House
Another nice alternative than a traditional home is to build or buy a tiny home. The average size of a tiny house is 300 sq feet which is quite the downsize for some people. You'd have to get rid of some of your belongings but it could allow you to live debt free.
People who own tiny homes also love to travel and don't have to deal with the added pressure of having to spend their time working 40+ hours per week to pay for the standard lifestyle.
There are some companies that will build your tiny house for you based on the models they design. Or if you're willing and able, you can build your own tiny home.
Live On a Boat
Living on a boat is another cheaper alternative housing option if you like to travel. This couple lives on a boat full-time for $2,000 per month. You'll have different expenses, but depending on which housing market you live in, the boat life will likely be much cheaper and more exciting.
Imagine how much money you've have and what you could do with your finances when you don't have a mortgage. When it comes to breaking free from the status quo with housing, you have plenty of options. Always run the numbers to see what will be the best option for your budget.
If you want to live a completely debt free life it's possible, you just have to dare to be different.
Related Posts:
Have you ever thought about avoiding buying a traditional house and choosing a cheaper housing alternative?