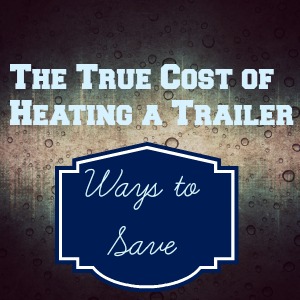 I never realized how much it was going to cost to heat a trailer. I had a few people tell me that it was hard to heat a trailer. I just didn't realize what "hard to heat a trailer" was going to mean.
If you can make out my blurry picture above you can see that my electric bill for this month is $497.78. Yes, you read right – the electric bill for my trailer is $497.78 for one month!!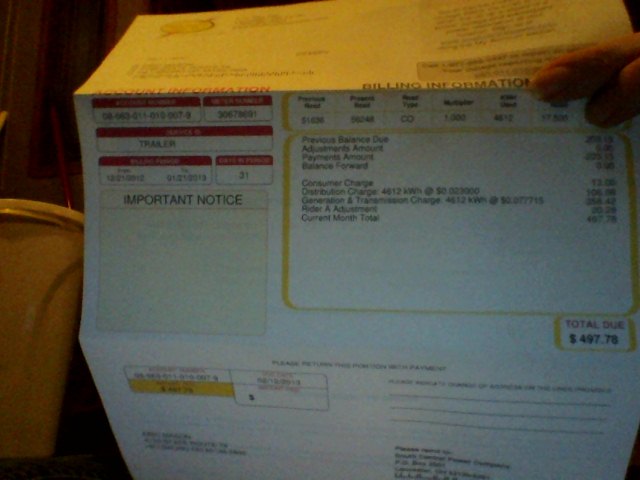 Why My Electric Bill if Freakin' Astronomical
I have about $10,000 in this trailer. I bought the actual trailer itself for $1500. I thought I could fix the trailer up the way I wanted if I bought it cheap enough and put my own money into it – and cosmetically, I did.
I replaced all of the flooring. There were several spots in the ceiling as well as the floor boards that were replaced. I bought a brand new electric furnace and water heater. I replaced toilets. I added a front and back porch and painted the entire trailer.
A friend of the family did most of the work. Of course he was paid and trust me it wasn't cheap! The problem was that some of the work was…well, half assed or something of that nature.
Preventing a Sky High Electric Bill
Please take my advice on this if you ever consider moving into a trailer or know anyone who will be! I bought this place to save money. $497 electric bills are not saving me money. I would be better off renting in this situation.
Number One: Make sure you have proper insulation.
This is so important. If you don't have proper insulation in a trailer then your warm air won't stay warm for very long. When I bought my trailer there were several holes in the ceiling. When the old drywall was removed so was the insulation. When the new drywall was put in new insulation was not.
Now I am heating a tin box.
Insulation has got to be the single most important factor in heating a trailer. If you do nothing else before buying one, make sure that it is well insulated.
Number Two: Check Your Doors
Trailer parts are cheap, in this sense I mean not well built. My doors are absolutely horrible. The back door has to be slammed just to shut. And even after it shuts there is a tiny crack that runs about six inches up from the bottom.
Check your doors for cracks. If you find a crack put an insulation strip around your door. You should probably put an insulation strip around your door even if you don't see a crack.
Number Three: Put Plastic on the Windows
I put plastic on the windows when I moved in. It didn't prevent me from me having a near $500 electric bill, but who knows it could have prevented me from having a $700 electric bill.
Putting plastic on all of the windows is a smart move. It will keep the cold air from getting in and help prevent that super expensive, warm air from getting out.
Number Four: Get on a Budgeted Plan
When I was complaining about last month's $203 electric bill a reader suggested that I get on a budgeted plan with my electric company. I thought this was a fantastic idea and had every intention of doing this I just never followed through.
Guess where I am going tomorrow?
Most electric companies will set you up on budgeted plans. They estimate your annual usage and divide the estimate up into equal installments. Then at some point in the year they will look at your actual usage and settle up with you.
Now last month's $203 electric bill is looking pretty attractive. I will definitely be on the look out to do everything I can to lower my electric bill. Has anyone had any similar experiences or any tips to share? I could sure use them!
What tips do you have to save on heating costs?