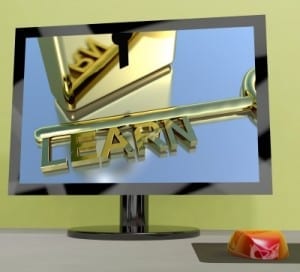 I have a confession, albeit a good one. I just spent $600 on an online course.
Yep, that's right. Six. Hundred. Dollars. On one online course.
Over the past few months I have been shoveling money into my emergency fund like a mad woman trying to prepare for self-employment. And, thanks to everyone's very supportive comments I had a talk with my boss this week. I'll be self-employed soon – real soon.
So you may be wondering why I'd fork over such a large amount of money when I'll be treading into the waters of shaky self-employment in the near future.
Well, let me tell you why.
It's An Investment
Just like many of you went to college to invest in yourself, this course is an investment in myself. I am being taught the art of writing, more specifically blog writing, from one of the biggest experts on the internet.
He and his team help me make connections, craft killer headlines, and even edit my blog posts. Since I plan on making a living writing this course is invaluable to me.
I truly believe that this course will give me enough skills, confidence, and motivation to take my career to the next level and make a lot more money. After all, I just forked over $600, now I have to act. How's that for motivation?
I am banking on the fact that I am likely to receive a return on my investment. I am not simply throwing money away on this course, but am learning the skills necessary to make money in this industry in the near future.
Keep in mind that I am paying significantly less money by taking the course online in comparison to enrolling in university and attending class every day. I believe that I have increased my earning power by signing up for this course and that it could end up being the best investment I have ever made.
So, in short I'm investing in myself. Something that I think absolutely everyone should do.
It's Really Not That Much Money
I read daily horror stories of recent (and not so recent) college grads being consumed with student loans. These students took out twenty, thirty, or even fifty thousand dollars to go to college. I didn't.
My college experience includes a couple semesters spent at the local community college which financial aid fully covered. My only debt is the loan I took out for my trailer which now has a balance of around seven grand. And, I look at this more like my cost of living, like you would your rent.
My online course is about the cost of a class at a community college – only I'm getting so much more. (And not going into debt.)
I Had to Do It
I passed on this course a few months ago when I first heard of it. I seriously considered taking it then but would've had to pay for it on credit, so I didn't.
When the opportunity came around this time I almost passed again. But, I couldn't get it off my mind! I didn't want to spend the $600 but all I could think about was the opportunity I was passing up. Something told me that I HAD to do it this time. So, I did.
I am very glad that I ended up signing up for the class. This may be one of the best investments I've made in my career – ever.
Do you invest in yourself? Ever taken an online course?