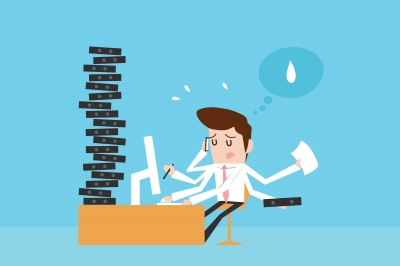 Luckily for me freelance work has been going great. I've managed to add a couple of clients to my roster this week and just finished up some big projects. Unfortunately, my boss who I gave a one month notice to September 12th still hasn't looked for my replacement.
I had agreed to continue working until he found someone who I could train, but he hasn't even look yet! And, working a gazillion hours a week is really starting to take a toll on me. Here's how.
Bad for Your Health
I have been getting colds left and right lately, despite my attempts to eat healthier and take my daily vitamins. I believe this is due to my insane sleep schedule.
Since I am still working the 9-5 I have to work my writing assignments into my free time and after the girls go to bed. This means staying up late, getting up early, and running on empty. I sit here typing this with a horrible cold and a very achy sore throat, which I seem to be getting all too often lately.
I am ready to start getting back to a normal sleep schedule and a more balanced life.
Less Productivity
Another thing a lack of sleep causes is a lack of productivity. After all, it's hard to give a peak performance when you're running on a few measly hours of sleep. Not only that, but productivity usually comes in spurts. Since I am strapped for time I sit down and force myself to do more work even when I know it won't be my top quality.
Rising Stress
I could also credit my colds due to added stress. I have been trying to take on new assignments and have even added a different type of gig to my schedule but it's so hard to keep up. I want to make sure that I have enough work to pay the bills when I'm on my own, but at the rate I am going it seems I'll be working the hours equivalent to two full time jobs.
It also sucks that sometimes I just want to enjoy my weekends – but I can't. I've committed myself to so much work that I've got to fit it in somewhere.
You Can Only Do It For So Long
When I first started working several hours a week outside of my day job I didn't mind it. Actually I enjoyed it. However, I think after a certain amount of time passes it's just natural to feel burnt out. I am looking forward to the day when I concentrate on my own business rather than someone else's. And when I can create a more balanced work-life schedule.
If you have started your side business, just beware: take on too much work and you may suffer these same consequences. Remember to stop, take a breath, and enjoy life every now and again.
(Thanks to the following carnivals for including my posts recently: Carnival of Personal Finance hosted by Reach Financial Independence, Lifestyle Carnival hosted by Master The Art of Saving, Carnival of Financial Independence hosted by Reach Financial Independence, Carnival of Financial Camaraderie hosted by Bryan Maltier, Carnival of Retirement hosted by Mom and Dad Money, Carnival of Financial Planning B hosted by Mom and Dad Money,Festival of Frugality hosted by See Debt Run,Carnival of Money hosted by Financial Nerd)