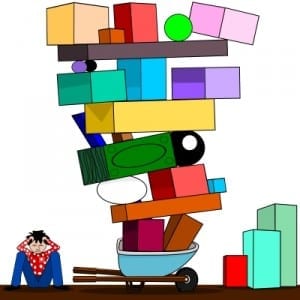 Doing work that you love is fun and rewarding but it's also easy to go way overboard and turn into a workaholic.  What I've found is that when work picks up it really picks up. While this is good it can be really hard to tell people no and before you know it you're working 24/7 and have a higher chance of getting burnt out.
I am trying my hardest not to let this happen to me. (Note that I am mostly preaching to myself in this post.)
Here are a few ways you can continue to grow your business without suffering from a major burnout!
# 1 – Schedule A Work-Free Day
Sometimes it feels good to just be "unplugged." The majority of the time I am at the beck and call of my inbox constantly clicking refresh to see if I have any new emails. Sometimes my email inbox is full of gems and other days I don't hear from a soul. Either way the world is not going to end if I don't check my email.
Since I don't "uplug" myself very often I am making a commitment to keep my email checking to a bare minimum this Saturday. The day will be spent visiting the Zoo and enjoying my birthday. I may not even check my email at all – we'll see.
# 2 – Use Your Time Wisely
When you're working a day job, working on a side business, and taking care of kids your schedule is pretty much plum full. This is why proper time management is so crucial.
Since I plan on making the switch to self-employment in the near future I have been taking on quite a few jobs. I want to make sure that I have enough work to keep me busy when I'm not working a day job. This means I have to use my time very efficiently. I don't do any work during my kids waking hours but stay busy when they are asleep and when I don't have them. Right now this is the best that I can do.
# 3 – Learn to Say No
I want to stay busy and I really, really want to make self-employment work, this is why I have such a hard time saying no. I love all the people who I work with right now but in the future I will evaluate job offers much better and only take the ones I really enjoy or that bring the most money for my time.
Right now I pretty much say yes to almost every opportunity that comes my way.
# 4 – Sleep
As I write this post this is day number two where I have stayed up until 1:30 a.m. to write and got up at 6:00 a.m. to get my work done before my day job starts. I need to learn to start arranging my workload in a way in which I don't have to sacrifice so much sleep.
I feel like I manage my time pretty well but there just has to be a better way. The good thing though is that I have a bunch of work and am closer to being on my own. However, I am looking forward to a full night of sleep tonight. A good night's sleep means a healthy mind and a healthy mind means more productivity!
Conclusion
Now it's pretty obvious in which areas I am struggling but I think this can happen to anyone. When you are doing work you enjoy and moving closer to a big goal it's easy to make a lot of sacrifices. The bad thing is that a lot of sacrifices can lead to burnout that nobody wants.
If you focus some time on yourself instead of just business you will feel more refreshed and in turn work more efficiently and effectively – helping you grow your business.
I am working on fixing the areas in which I am lacking. And, the goal is that when I make the switch from side hustle to full time hustle that some of these problems will resolve themselves.
What are your best tips to prevent burn out?