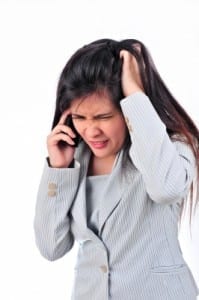 Is your job making your miserable? Are you planning an escape? Would you rather do anything but go to work?
It sounds like you need to learn how to make the most out of a crappy job!
My current job is far from my dream job (but I'm working on that). What I have learned though, is that complaining gets you nowhere and your energy could be better spent planning and learning.
If your job really sucks follow these tips to make it more enjoyable.
Use Your Job to Harness a New Skill Set
Yes, thats right. Your crappy job can actually give you the skills you need to accomplish your goals. Take me for example, I am an insurance agent, I have to talk to people on the phone all day. There are many times that I have less than pleasant conversations with irrate customers. (Think :insurance company doesn't want to pay their claim)
I don't enjoy these conversations, truthfully I don't really like talking on the phone much at all, but it's simply not an option at work. I have to act super friendly to people even when I am cussing under my breath, I have to quote various insurance policies and then try to sell my quote.
When I look at my current income goals (writing,websites,blogging) they take marketing. This marketing consists of speaking to potential clients on the phone and trying to sell my services.
So instead of complaining about my job I instead try to do the best I can in the areas that matter most. 
Think about what your dream job looks like. Now what skills does your dream job require that you can learn from your current job? Quality customer service, marketing, financial management……find that skill you need and work to perfect it.
Make a Plan
Nobody wants to work a crappy job forever, but without a plan it's likely to happen. If you hate your job and dream of being somewhere else and doing something different start making an exit plan now. Don't quit yet, but think about what you can do to get to where you want to be.
Maybe you need to go back to school and get a degree, maybe you want to start your own business or perhaps you are like me trying to earn money online. Whatever your desire map out a way to acheive your goals.
Once you have this in place you can go to your crappy job with a better attitude, knowing that this job won't be holding you back forever.
Keep Your Eyes & Ears Open
Be on the look out. You may not come across your dream job in the near future but you could take a step up from where you are at now. If friends or family refer you to a job don't rule it out just because it's not your dream job. It could end up being a lot better than the job you are at now and you may be able to learn a brand new (and very helpful) skill set from a new job.
So keep your eyes and ears open for opportunities that have the potential to inch you up to where you want to be.
On those days when you are ready to throw in the towel keep your plan in mind. Just becuase your job is less than ideal now doesn't mean it always has to be. Learn what you can, stay on good terms with the people you work for and with, make your plan, and be on the look out for new opportunities – because they will come your way!
What are your tips for dealing with a crappy job?