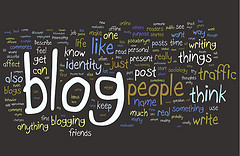 Do you want to make money online? Yep, me too! So far I have given everything a try. I have wrote for content mills, created niche sites, spent countless hours working on this blog, and devoured numerous blog posts on how to make a living online.
Trial and error is necessary when stepping into the freelance world, but what if there was a much,much easier way to land paid writing gigs?
Since I have begun to dig deeper into blogs focused on earning a living off of freelance writing, blog writing specifically, I have reevaluated my approach. When I first started sending staff writing inquires I went for the big blogs, perhaps too big.
Popular blogs that are on everyone's radar get multiple writing inquiries per day. My emails were like a grain of sand sitting at the bottom of the ocean. 
So How Do You Get Paid to Blog for Someone Else?
After research accompanied by a lot of rejection, I can now thank Carol Tice and Sophie Lizard for my new found success. Their ingenious advice – target companies that sell a product or service who have a blog that is not being regularly updated.

These companies see the value of a blog. Blogs provide SEO benefits to the company's website plus have the potential to convert prospects into customers and/or build up an email list. These companies saw the value of a blog at one point, but for some reason or another are now not able to keep up with it. These companies = perfect targets.
Of course, these are the blogging gigs that you have to look for. You have to pick your topic narrow it down and go on a hunt! What does this mean? Far less competition.
Who & How to Approach
I thought about subjects I really understood and could write about all day. Seeing as I am a personal lines insurance agent and know the ins and outs of the business, I decided this is going to be my first target. I headed to Google and searched for "insurance agencies in Ohio"
I checked out all the websites in the first few pages. I quickly found five easy targets. They were agency websites that had nicely designed webpages with a blog that hadn't been updated for a few months.
Carol provided an email template for contacting these types of business owners (which you can view on this post.) I edited it a little bit to better suit me and sent it to these agencies along with my phone number.
What to Charge?
Targeting more focused businesses allows you to charge a lot more than what the content mills are going to pay. Experienced freelance bloggers in specialized niches charge $100+ per post. I plan to charge $40. For a decent insurance agency $40 a week is mere pennies.
My goal is to find at least 100 insurance agency websites in need of blog updates. If 10 of them accept my offer of one weekly blog post at $40 that brings me to $400/week. If 20 accept, I am up to $800/week for writing on a topic that I know like the back of my hand!
Ok, well I am off to find more prospects.

What do you all think? If you have gotten freelance blogging gigs, how did you go about it?