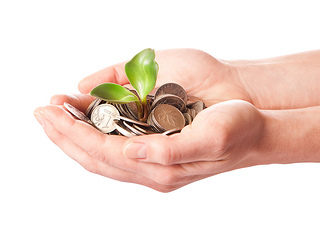 My experience along with those of my  friends have shown me that making money online is completely attainable. Sure, you won't get rich quick and if you have that mind set you probably won't make anything at all. But with time and a plan, making money online can be in your future.
Being Realistic
When I first set my online income goals I was so ready to start raking in the money that I was slighlty unrealistic with my goals. My goals were not completely off, in fact someone with a few hours a day to commit could have easily pulled them off. Unfortunately at this time in my life I am having a hard time coming up with those few extra hours per day.
There is nothing wrong with setting big goals you just need to account for how much work and time it is going to take you to meet them.
My intial online income goals  were dependent upon freelance writing to account for the majority of the income until this blog pulled a page rank. I did do a little bit of writing but nothing that amounted to much money. I decided that it was a better idea that I spend the time that I did have working and writing for this blog. I figured it would be a better pay off in the long run.
Finding Your Niche
I am not oppossed to ruling anything out when it comes to making money online. It's all about trial and error. And if you are trying to make a living online then diversifying your income is another great strategy.
I am looking to kick things off with this blog. Hopefully I will start making a little bit of money after next months page rank update, if things go as planned. Once I build up enough income from this blog then I would love to dabble in staff writing and selling items on Craigslist and Ebay. By November I hope to have replaced the income from one of my day jobs so that I can concentrate more of my efforts on making a living online.
Find what works for you and what you feel you are best at. There is no right or wrong, just what feels right and produces results.
Staying Motivated
Staying motivated can be tough when you aren't instantly producing results. I started trying to make side income online about a year and a half ago. I thought all I had to do was put a blog up and slap a few ads on there and the money would start rolling in. Boy was I in need of a reality check!
Sometimes you can find a friend or family member to keep you accountable. (I love reading blogs where husband and wife write together, they are usually an unstoppable duo. Check out Club Thrifty or See Debt Run.) Other times it is the people you make friends with online who can be your support.
I decided to keep this blog private from friends and family but have made so many other blogging friends. If blogging isn't your thing there are forums for just about everything. Reach out to people online, in my experience they are nothing but helpful.
Find Some Inspiration
I find inspiration in the blogs that I read. I like blogs with a personal touch where the writer is willing to share their best tips and personal experiences. So of course I have to share some of my favorites with you!
These are my girl power blogs 🙂
Housewife Empire If you want to be a freelance writer then this is where you need to go. Nell is a great writer with big goals. She shares awesome advice on how to begin your freelance writing journey. I know when I get back into writing that I will have to dig deep into her archives once again!
Making Sense of Cents  Michelle's online income reports completely motivate me. I remember not too long ago she was bringing in $500 a month from her online efforts. All of her hard work and determination is now bringing her around $5000 a month!! She is proof that you get what you put in.
Budgeting in the Fun Stuff Crystal not only makes money from her blog but she thought a little bit outside of the box and grabbed an oppurtunity when it presented itself to her. She started her own advertising service where she would match advertisers with blog owners, creating a win for everyone. Her income is astronomical! (At least in my eyes.)
Conclusion
I have to stop myself here or I am afraid I will just go on and on with my thoughts on this subject! I would love to be able to make a good amount of money online but even further than that I just love the online community. It's great to be able to connect on a personal level with people who you have never even met before. To feel like some of your best friends are just a click away!
Do You Have Online Income Goals? What is your experience? Any tips to share?