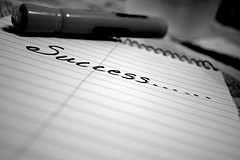 Being an avid reader and keen observer I  take note in what has brought others' succes. Not just when it comes to making money online or getting paid to write, but in life in general. The common denominator to success? Willingness to put yourself in uncomfortable situations.
On Monday I disclosed how I am now going about trying to find paid writing gigs. What I didn't tell you is that giving out my phone number and then trying to sell my services (writing), puts my nerves on edge. When the phone rings and I see a phone number I don't know my heart starts pounding. Email will always be my preferred method of communication, but some people want a phone call.
My nervousness about these phone conversations may seem minute to you, but for me they are uncomfortable. This is probably an uncomfortableness that will go away with a little practice but never the less it's still an uncomfortableness.
Name Your Goals
Without goals, you won't find any success. How can you be successful when you don't even know what you are working toward?
If you want something more but always do what you have always done, then you will always get what you have always gotten. It's simple really (not easy, but simple) if you have a goal to accomplish you have to test the waters and see what gets you the closest to accomplishing that goal.
Step Outside of Your Comfort Zone
"The person who gets the farthest is generally the one who is willing to do and dare. The sure-thing boat never gets far from shore." -Dale Carnegie
The 4-Hour Workweek
 Tim Feriss challenges his readers to put themselves in uncomfortable situations. One of the challenges that he proposes is to hold eye contact with everyone – strangers included. He suggests as you walk down the street see how many people you can make eye contact with.
The point of this exercise? Getting used to putting yourself in awkward situations. It's a small step outside of your comfort zone.
Afraid to Fail?
I can whole heartedly say that I am no longer afraid to fail. At one time the fear of failure did hold me back from trying new things, but now I just brush my shoulders off.
Everyone will not like you or what you are trying to do. This is not to say they will dislike you, you just may not be a good fit. Failure is a learning tool, not the end of the world.
Is your comfort zone keeping you from success?