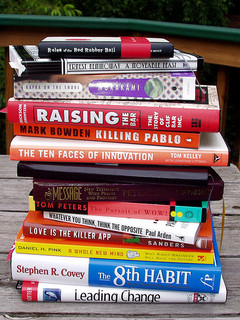 With so much stuff to do and so little time, investing in yourself can seem hard, especially if you are a mother. With the need to please and take care of everyone else, it's tricky to make time for yourself. But, if you can juggle your time and find at least an hour each day to invest in yourself, the rewards will be well worth the effort.
Ways to Invest In Yourself
Is there a certain subject that you want to learn more about? Something that you have always been curious about or excited to learn? I am sure there is, and if so you need to find the time NOW to devote to this.
Reading
Reading is one of my absolute favorite hobbies. I am a lover of learning so I usually shy away from fiction books, but I literally devour anything on personal finance or time management. I think that there is always room for improvement in our lives and reading is one way to discover ways to improve.
Of course, I should broaden my scope of books beyond personal finance and time management. This way I can learn about something new. Any suggestions?
If you don't want to buy books, don't! Amazon often has E Books for free. Crystal from Money Saving Mom recently launched a new website, E-Reader Girl, dedicated to these free E Books. Browse around and see if anything sparks your interest.
Don't have an E Reader? Then check out your local library. And don't forget to stop by here on Friday's as I will be giving quite a few books away!
Take a Class
About a year and a half ago I decided I wanted to finish a degree that I started long ago. I re enrolled in the community college (gasp) and I loved it. I am a numbers dork and I took every accounting class I could. I had a great teacher and learned so much.
Even if you aren't looking to get a degree taking classes at a community college is a viable option. They offer an assortment of classes so I am sure that you can find something of interest. And the best thing? The classes don't cost very much.
Maybe you want to learn to dance, maybe a new language, maybe how to build a website. Whatever your interest there is a class that can teach you!
Spend Time with a Knowledgeable Person
One of my favorite ways to learn is through other peoples experiences. Meet up with someone who has experience in the area you want to learn more about. Ask about their learning process, trials and tribulations, and ultimately their success.
Take mental notes of all the advice that resonated well with you. You can't follow in someone's exact footsteps but you sure can learn a lot from their experiences.
Benefits of Investing In Yourself
When you are overworked, underappreciated, and just generally stressed, investing in yourself gives you something positive to think about. You can feel like a kid again, getting excited about what you are getting ready to learn or experience.
Your confidence will be boosted and your self-worth will soar. You deserve to continually be bettering yourself and you deserve a little bit of time each day to dedicate to this.
If you have been neglecting yourself, why not take some time right now and make that investment in you!