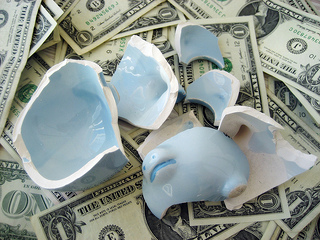 A few months back I had estimated what my budget would be when I moved into the trailer and out of my dads house. I think my estimates were fairly accurate but now that I am down to one job my income is a lot lower.
Below were my original estimates. My actual numbers are in green.
Loan Payment

for the Trailer $226

–

$226

Credit Card $45

(recurring donation)

–

$45

Car Insurance

$52

–

$52

Phone $28

–

$45

Internet $70

–

$66

Electricity $120

–

$460 (three month average)

Water $25

–

$18

TV $55

–

$0
Total Utilities/Bills – $621 –$912
Thanks to my ridiculous electric bill I am $291 over budget on my fixed expenses. Last month my electric bill was $520, this month it was $360. I am hoping that since the cold weather is finally over that my electric bill will be much lower next month. I am praying it will be under $200. This by far has been the hardest bill for me to pay. I did check on budget billing but my power company won't offer it until you are with them for a year and always pay on time. Ugghhh!
I didn't end up getting cable. We don't watch any TV until night time. When the girls are ready for bed they pick one of their DVD's and watch it. I always thought I couldn't live without cable, but I honestly don't miss it a bit. It's amazing how much more you get done when you aren't glued to the TV all day long!
Gas $200 –

$160

Food $250 –

$250

Babysitting $300

–

$300

Fun/Misc. $400

–

Not Sure??
Total Everything Else $1150 – Not Sure?
There really isn't a lot of extras in this budget. Other than my misc. money its pretty bare bones. And the bad thing is, it's a lot more than what I am bringing home. I have went through the buffer that was in my checking account now and if I don't start bringing in extra money then I will have to resort to touching my emergency fund.
Working two jobs was very stressful and allowed me no free time for myself. I want to be able to build up enough side income to not have to go back to two jobs. It's time for me get hardcore with my budgeting and earning.
Working on the Budget
Like I said, I don't have much that I can cut from my budget, its pretty tight. The biggest hurdle is cutting the electric bill and since the furnace hasn't run much this month I am hoping and praying that next months bill will be manageable.
I probably have spent every bit of the $400 budgeted for fun/misc money. I haven't done a very good job at keeping track of it. There haven't been any big purchases, pretty much just nickel and diming the $400. I need to keep track of this and cut it down to $200/month.
Earning More Money
I am not gonna lie, I have been slacking in this department. I found a system that worked great and was producing results yet I haven't put too much time into it over the last week or so. I need to get my butt in gear.
Looking at the numbers in my budget is a wake up call. I am going to work a lot harder at increasing my income. I know it can be done, I just have to do it!!
Here is my to do list for this week:
Put up my writers website – I already purchased the domain and hosting but I need to pick a theme and get samples, a bio, and a pic up.

Email 10 prospects

Work on my new niche website – I have ten articles ready that need to be scheduled and I need to work on backlinking.

Write 5 articles on insurance topics so that I have some of these ready to go!
I promise this week I am going to get stuff done! Any budget suggestions? Am I missing something that I could cut out or down?