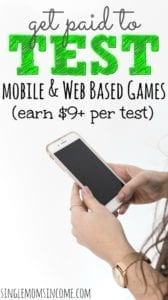 This post is sponsored by PlaytestCloud.
If you enjoying playing games and would like to get paid to test them I've got a pretty fun opportunity for you today.
PlaytestCloud is a company that connects game developers to testers. They've worked with top game companies like Wooga and TinyCo and are currently looking to add some new game testers to their database!
Here's what you need to know.
Why Game Testers?
Game developers need to know what users think of their games as they're playing them. This is where testers come in. The game testers give their input on what they do and don't like so that the developer can fine-tune the final product.
How it Works
PlaytestCloud sends testers games to play so they can get honest feedback on the game.
As a tester you'll receive an invitation email when something is available (approximately every other week.) The email will tell you how long the test will take and the payment amount.
As you play the game you talk about your goals in the game and what motivates you while you are playing! Doing this will accurately reflect what you are thinking and feeling in that moment. PlaytestCloud will record your screen and voice as you play.
After you're finished playing you'll take a short survey and are encouraged to provide your honest feedback.
Here's what you'll need to get started:
A smartphone/tablet/Mac or PC
Headphones
Paypal account
How Much is the Pay?
You can earn $9 or more per Playtest.  Tests can range from 5-60 minutes with the average being about 15-30 minutes.
Different tests will have different time and payment amounts, which you'll see in your invitation emails.
PlaytestCloud pays via PayPal 3 times per week so you should receive your payment a few days after completing your test.
Is PlaytestCloud Legitimate?
Yes, PlaytestCloud is a legitimate company. However, it's important to note that this isn't a source of full-time or part-time income as test games aren't available on a regular basis.
If you're into playing games this a fun way to get paid to test up and coming games and help be a part of the finalized product.
You can sign up to be a play tester here.