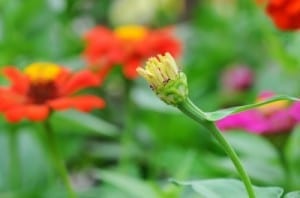 Spring is finally in the air.
After an unusually rough winter the sun is out and it's finally starting warm up. This change has not only put me in a better mood but it's made me want to go out and do something fun.
So instead of blowing my budget once again I figured it was much better to look for ways to earn some extra cash.
If you're itching to pad your bank account or take a little trip this spring here are three ways you can earn some extra cash.
Sell Your Clutter
Every time the sun comes out I open up the blinds and get the urge to clean. And with two preschool aged kids cleaning is a constant chore.
I have a "get rid of" pile in my house where I continually add things I no longer want or need. And now that this pile has amassed to something pretty big it's time to get rid of everything.
I've considered having a traditional yard sale but I actually prefer trying to get rid of my things online first. Here are some alternatives to a regular yard sale:
List and sell on Facebook Yard Sales

Sell on a local marketplace similar to

Quicksales

List larger items on Craigslist

Donate whatever I can't sell
I think I can probably earn at least $200 – $300 by selling all the stuff in my "get rid of" pile.
Sell Other Peoples Stuff for Them
I had tested out a commission based selling side hustle a couple years ago. My Dad and brothers are pretty much internet impaired. They don't know how to use Facebook, how to list anything on Craigslist, and don't want to deal with potential buyers. Therefore I came up with a solution to their problems: I would list and sell their items for a commission. And when I stuck with it, it worked really well!
If you enjoy selling items online and are good at it find someone who could use your services. Agree upon a percentage of the sale price that you will take and get to selling.
This idea could turn into a nice little side hustle!
Do Yard Work for Others
The past couple of days have been so nice here and I just want to spend every single second outside. If you're wanting to spend all of your time outside consider doing yard work for others.
Find someone who doesn't have the time or ability to work on their own lawn. You can clean up the yard by picking up sticks, pull any weeds coming up, and mow.
You can enjoy the outdoors, work on your tan, and add some money to your pocket!
Other Ideas
Ideas are limitless. There are so many different types of things you can do to earn some extra money this spring.
Walk Dogs

Wash Cars

Clean Houses

Babysit
Make it fun. Pick something you enjoy and get to work!
Will you do anything to earn extra cash this spring?
Photo Credit: Phanlop88