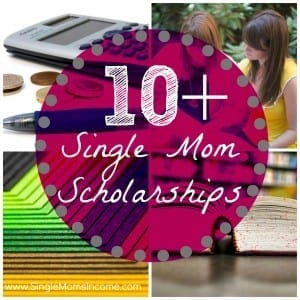 Have you ever done an internet search for single mom scholarships? If so, then you probably got so sick and tired of weeding through spam that you eventually gave up. I've been there before!
I, too, have considered going back to school and finishing my degree. I just haven't decided which path I want to take yet. I know for some single mothers continuing education can be the ticket to financial stability.
Going back to school can, however, be extremely expensive.  That's why it's so important that you take the time to find scholarships and grants before taking out student loans.
(Note: This post was originally published in 2013. It has been updated as of August of 2019. Some of the original opportunities are no longer available and have been deleted from the post.)
10 Places Single Moms Can Apply for Scholarships
I want to free you from the spam! I have spent hours compiling this list of 100% legitimate places where you can apply for scholarships or grants.
Soroptimist Women's Opportunity
This organization gives out over $1.5 million dollars to over 1,000 women to help them achieve their dreams. Award amounts vary from $3,000, $5,000 and $10,000. Here is a brief overview of the qualifications:
must be woman who provides primary financial support for her dependents

must be in financial need

must have not have previously been awarded through the organization

must be enrolled in a skills program or an undergraduate degree
This sounds like one of the best organizations I have read about so far. If you want to read the full qualifications or fill out an application, you can do so here.
The Patsy Takemoto Mink Education Foundation
This foundation will award five single mothers a $3,000 scholarship this year. Here are the qualifications:
must be a women, at least 17 years old

must be a mom, must have minor children

must be enrolled in a degree,GED, or skills/vocational program

must be low income
You can read the full list of qualifications and apply here.
Emerge Scholarships
Emerge offers scholarships to women in the amount of $2,000 – $5,000 dollars. They have a detailed list of qualifications, but here are a few basics:
must be a resident of Georgia

must be at least 25 years old

must be enrolled or accepted to a continuing education program

must fill out the application and essay form
To view the complete list of qualifications and apply for this scholarship, you can visit Emerge Scholarships Website.
The Jeanette Rankin Foundation
I could not find a specific scholarship amount for this foundation but they have helped a lot of women go back to school. Here are the qualifications:
must be a woman, age 35 or older

must be low income

pursuing a technical, vocational, associates degree, or first bachelors degree

citizen of the US

accepted to ACICS regionally accredited school
To see the full set of qualifications and apply you can visit their website here.
American Association of University Women (AAUW)
This organization gave out more than $3.7 million dollars in funding to women in the 2017-2018 school year. They have a variety of grants and fellowship programs available. Here is a complete list:
American Fellowships

Career Development Grants

Community Action Grants

International Fellowships

International Project Grants

Selected Professions Fellowships
You can visit their website here. You will be able to check out the fellowships and grants you are interested in and learn about the qualifications and application process from there.
The Educational Foundation for Women in Accounting
As it sounds, this scholarship is awarded to women pursuing accounting degrees. There are a few different scholarships you can apply for. The award amounts range from $1,000-$5,000 dollars. Here is a brief overview of the qualifications.
Must be a woman who is the primary source of support for her family
Must be pursuing a degree in accounting.
To view all of the available scholarships and learn about the application process, you can visit their website here.
FAFSA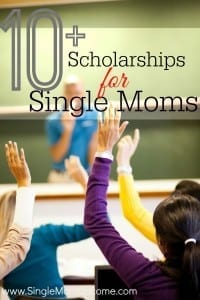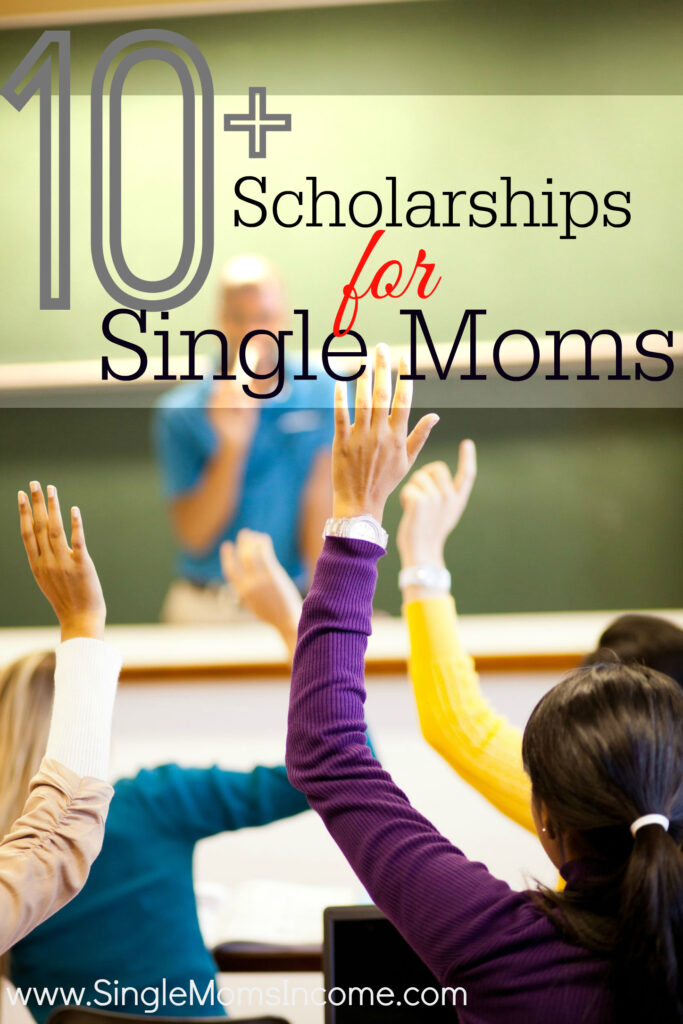 Our list wouldn't be complete without the almighty FAFSA. The FAFSA is a government grant that will help you pay for school if you meet the income criteria.
I received this grant when I was enrolled in community college. It paid for all of my tuition and all I had to cover was books. Even if you are applying for scholarships, don't forget to apply for the FAFSA. It can be a great help.
If you need help filling out make an appointment with the financial aid department of your school.
You can fill out a FAFSA application here. (You can also check out the other grants for single moms going back to college.) There you have it. 10 places single moms can get scholarships or grants to go back to school. Be sure to apply to all that you qualify for. Best of luck to you!
*Updated* I'll continue to update the list as I see more scholarships. So, here you go:
Rosenfeld Injury Lawyers Single Mother Scholarship
Rosenfeld Injury Lawyers will be awarding two single mothers a $1,000 scholarship.
In order to apply you'll need to write a 500+ word essay on the advantages of going back to school while being a mother. Five finalists will be chosen. The finalists essays will be posted on the RIL website and social media. The two essays with the most tweets will win the scholarship. Here are some other requirements:
Enrollment in an accredited high school, college or university in the U.S.
Must be a mother who is attending school
Maintain a cumulative Grade Point Average (GPA) of a minimum of 3.0
Applications must be received by December for the following school year
Read further details and apply here.