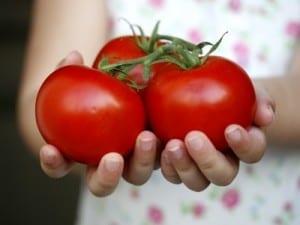 If you've read my Single Mom's grocery list you know that I don't spend much on food – at all. Over the past few months my food bill has lowered even more due to the fact that I am now brown bagging it.
In fact, I only ate out once last month and have vowed to only eat out for my birthday this month. That's it! This is down from an at least 5 times a week eat out fest just six months ago.
While my grocery budget is low I am still looking to cut out $50 from my overall budget this month. My original $50 budget cut won't be doable until next month, so here I am with the easiest category: food.
Cutting Out $50 in Grocery Money
You're probably thinking by now that I am going to dive into the world of extreme couponing. Well, I've considered it but don't have the time right now. So, extreme couponing isn't the answer.
Instead I am hopping on board with fellow blogger Holly to eat up all the food I currently have in the house that just seems to sit there every month.
I loved Holly's post Operation Frugality: Save Money by Eating Old Food.
So without further ado here are my misfit and excess foods.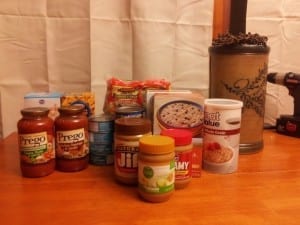 Here's a breakdown of the picture:
6 Boxes of Mac n Cheese I got for $0.39/box

9 Cans of Tuna

2 Boxes of Instant Oatmeal

One Container of Oatmeal

Two Jars of Pasta Sauce (not the normal kind I use)

12 Packs of Ramen Noodles

3 Jars of Peanut Butter (1 Regular Creamy, 1 Organic, 1 Natural)
All of this stuff has just been sitting in my cabinet unused for quite some time. In addition I have four boxes of cereal that need used up.
Other Goodies:
I have *tons* of fresh veggies thanks to my dad's big garden along with my small one. I even made my own homemade salsa this year!

A family member recently got a cow butchered. She had to clean out her freezer to make room which landed us a *ton* of beef in every size, shape, and cut you can think of. Plus a big bag of Schwan's chicken, a couple Corky's BBQ ribs, and a bag of shrimp.
Also I have all the baking supplies I need to whip up cakes, cookies, and cobblers. So, other than milk, juice, and Diet Mt. Dew I should be more than set for the month!!
I think I could really save the majority of my grocery budget this month and a good bit of it over the next few months, thanks to all the free meat I got. I've even considered making a menu plan so that we actually have good dinners instead of PB&J three times a week. We shall see!
Big thanks to Holly for the inspiration to actually eat the food I buy! Did anyone else decide to use up all their excess and old food?