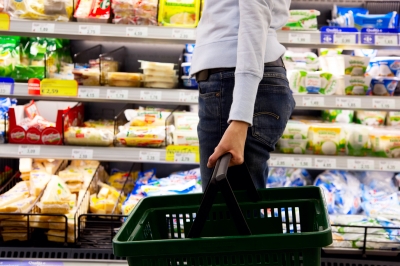 My grocery bill vary rarely exceeds $250 a month. Sometimes it's even less, which is a good thing because I don't have a lot of extra money to spend. Granted I am not feeding teenagers. It's just myself and my two little ones ages two and four, but I still think for the three of us our grocery bill is pretty mild.
All you moms know how picky little ones can be. My youngest wants hot dogs and ketchup every night (mainly so she can just eat big forks full of ketchup) and it's a challenge to get her to eat anything else for dinner.
Groceries you can always find at my house:
Hotdogs

Ketchup

Bread

Peanut Butter

Jelly

Frozen Dinners

Yogurt

Fruit (Usually cuties and grapes)

Cereal (Usually Lucky Charms)

Instant Oatmeal (My youngest refers to this as "bugs" because of the pieces of fruit it contains. She loves it though!)

Chocolate Milk

Diet Mountain Dew

Hawaiin Punch

Ramen Noodles

Gummy Fruit Snacks

Turkey Lunch Meat

Spaghetti O's/Ravioli
Our house is always stocked with those foods. I may catch some flack from some about this not being the most healthy cuisine, but this is what we eat. And really I don't think it's that unhealthy it's just not a lot of variety.
The girls will usually have cereal or oatmeal for breakfast, a heart shaped peanut butter and jelly sandwich or turkey sandwich for lunch, and for dinner they will eat a hot dog, Ramen noodles, or Spaghetti O's. Snacks consist mostly of gummy fruit snacks, yogurt, or cuties. And neither will go to bed without first drinking a cup of chocolate milk.
Every now and again I will make spaghetti or chicken for supper but most of the time they choose one of the options above. We are creatures of habit and they are picky eaters!
I go to the grocery store about twice a month and stock up on the above items and throw in a few extras for a little variety. Unless I am buying other household items like toilet paper, cleaner, or shampoo I never spend more than $125 for a trip to the grocery store.
I always buy generic but I harldly ever use coupons. Although, I would like to give couponing a fair try again so I can get more variety for the same amount of money. Also, my mom just gave me a bread machine so that will be fun to experiment with. (I might need some pointers though, I am far from the Martha Stewart type 😉 )
Thats how I keep my grocery bill so low. What about you? How much do you spend?


style="display:inline-block;width:300px;height:250px"
data-ad-client="ca-pub-5038508593064137″
data-ad-slot="5828162489″>