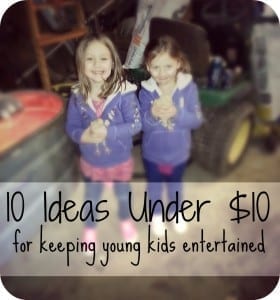 Any parent of toddler to preschool aged kids knows that keeping kids this age entertained requires constant attention. And, I prefer to spend a little money so I can save myself from playing hide and seek for hours on end. 
 Whether you're babysitting, spending time with family, or looking for some cheap ideas to entertain your own kids here are 10 Cheap Ideas for Keeping Young Kids Entertained. Everything on this list is $10 or less. (Hide and seek not included.)
Coloring Book and Crayons – $1.50
When I'm feeling drained my go-to activity for my daughters is coloring. We've amassed quite the collection of coloring books and coloring utensils. I actually think we have enough coloring gear to entertain twenty kids. But, you don't need that much.
You can get a pack of crayons for around .50 and a coloring book from the Dollar Store for $1. Crayons and a coloring book will easily entertain preschool aged kids for a good hour.
Board Games – $10
The girls and I have a new tradition of playing a game of Candy Land every night after dinner. I bought the game for around $7 at K-Mart but saw it as low as $5 at Walmart near Christmas time.
This game gets great use. I figure we'll have played it about 150 times over the course of one year. This breaks down to just $0.07 per game played. Can't get much cheaper entertainment.
Go to the Library – Free
Confession: I haven't been to the library for a while because 1) I've read everything of interest to me and 2) I owe late fees. But, I used to take my oldest daughter to the library quite often to pick out books.
We have now amassed quite the book collection ourselves thanks to the awesome deals I've scored Facebook Yard Sales. So, we read quite often, which is another form of super cheap, yet educational entertainment. But if you don't have a kid's book collection go to the library and stock up.
Jumbo Activity/Learning Books – $10
My kids, ages three and five, favorite activity is completing learning workbooks. We have pretend school quite often and my three year old commonly refers to me as "peacher." (or Princess Mommy 😉 )
I used to buy the $3 workbooks all the time but they were short and the cost really started to add up. I then invested in a large $10 jumbo workbook and it lasted us a good two months.
Scavenger Hunt – Free
If you want to get outside and play a scavenger hunt can be an awesome way to do so. Simply write down a list of items that your kids need to find and have them gather them all for you. You can take a walk to do this or simply do it in the backyard.
You can even do this inside if the weather doesn't permit outdoor fun.
Take a Trip to the Pet Store – Free
This idea was left as a comment on a post I wrote a while ago and I absolutely loved it. In fact, the girls and I made a trip to the pet store just the other day and they loved it. Although, they thought every animal in the store was a rabbit.
Young kids love to look at animals. Had I let my girls they would've stayed in the pet store all day long. Taking your kids to the pet store is awesome entertainment as long as you have the willpower not to bring any new critters home with you.
Make Play Dough – Less Than $1
If you don't mind cleaning up messes then making play dough with your kids is a great way to have some fun. Here is a recipe for homemade play dough and it's super easy to make. (I leave out the food coloring, don't want to ruin clothes.)
You should have all ingredients in your pantry and all in all it shouldn't cost you more than $1 to make homemade play dough.
Just be ready to clean up the messes afterwards.
Easy Kids Crafts – $1 – $10
My oldest daughter loves everything arts and crafts related. While we have quite the stockpile of coloring supplies we also occasionally do other crafts.
For Christmas we made some of our own decorations. We've also painted piggy banks ($4 kits at Gabriel Brothers) among other things.
Here are a few awesomely, cheap kids crafts that will keep young kids entertained.
Play Online Games – Free
There are several parents who aren't huge proponents of letting kids play games online, but I don't mind at all.
My daughters both regularly play educational games on PBSKIDS.org. They can also watch cartoons and print out crafts at PBSKids.
Their babysitter is subscribed to ABC Mouse so my oldest daughter has been begging me to subscribe. I'm just not sure it's worth the cost considering there are so many free educational websites for kids to learn and play on.
Make Home Videos – Free
Hands down my three year old daughter's favorite activity has to be me videotaping her while she sings or dances. And, since most phones have built in video recorders this is absolutely free.
Have your kids put on a play, sing, dance, or tell jokes while you video tape them. This not only keeps your kids busy but you'll be able to capture memories.
When my kids are at their dads I'll often watch old videos that we recorded. They are always so goofy so watching these immediately lifts my spirits.
Those are my 10 cheap ideas for keeping young kids entertained. What would you add to the list?