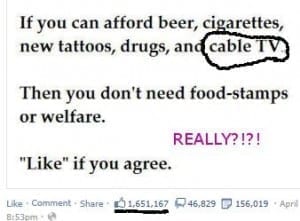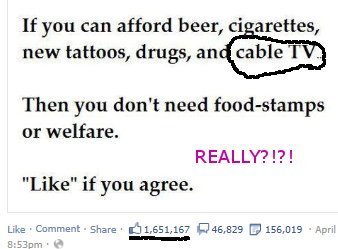 I'm like a chameleon. I blend.
This is because I have lived on both sides of the fence. My dad's side of the family is pretty well off. My mom's side of the family has come from nothing financially. I have lived in some rough places. I have lived in some nice places.
I can fit in well with almost any group.
One thing I can tell you is that neither group is better than the other. They are different, but the same. Both have had struggles and neither is perfect.
One thing in particular that I have begun to get fed up with is people passing judgments on others who they know nothing about. Social media fuels the fire. It's so easy to click "like" and not think about the message you are conveying or the people you are hurting.
So, what do food stamps and cable TV have in common?
Answer: Pretentious assholes who like to make assumptions.
A Day in the Life
Let's take a look at a day in the life of a single mother who makes minimum wage. This single moms name is Sherry. Sherry got pregnant when she was eighteen years old. The father of the child, who once promised Sherry the world, abandoned her after the birth of their son. Sherry does not receive any child support and she does not get any financial help from her family.
Sherry fends for herself. She works her ass off, taking as many hours as she can possibly get. She makes $7.85 an hour.
Sherry is enrolled in her local community college. She knows that it will be a long time before she gets her degree but she squeezes classes in every chance she gets.
Sherry works an eight hour day at a shitty job, takes a class at the local college, and then comes home and cares for her son. There are days when Sherry feels like she is trapped and will never get her head above water.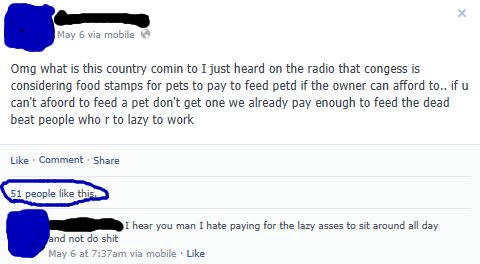 (**The Facebook post above is  from a 19 year old boy who comes from a wealthy family and will NEVER know what it's like to need government assistance. This is just one of the many posts I've seen from people who have no clue and never will. )
The food stamps, Medicaid, and child care that Sherry receives through government assistance programs allow her to stretch her check far enough to pay for basic necessities. These benefits give her hope that she can dig her way out.
Sherry has one small  frill in her life, a $30/month Cable TV package. After Sherry gets her son to bed she turns on her favorite TV show and takes a small break from reality. This is the only break she gets.
Should Sherry be denied government benefits because she has Cable TV?
Let's Talk Addiction
Have any of you ever grown up or been around addicts? I have my entire life.
You know what I can tell you about an addict? They don't like being addicted. Their life plan wasn't to become an alcoholic, crack addict, meth user, whatever.
I want to tell you a story (real life here) about Ron. Ron is about 45 years old, he is married, and has two teenage kids. Ron works for the city. His wife has never had a job outside of the household.
Ron and his family live in a dilapidated trailer parked in the backyard of his parent's house.  While Ron makes more than minimum wage it is still barely enough to cover the bills and the childrens needs.
Ron gets food stamps. His kids eat.
Ron is a severe alcoholic. Drinking started out as a way for him to take a mini escape from his life. It is now such a strong addiction that if he goes a day without drinking he will have a seizure.
Everyday after work Ron stops at the local gas station and buys 4 – 40 oz. King Cobras. He consumes every last drop.
Ron doesn't want to be an alcoholic. He gets drunk and thinks of how bad he has made life for his family. He wishes things weren't like they are but he is so far gone he doesn't even know where to begin.
Should Ron's family starve because he is an alcoholic?
Now Let's Talk Assumptions
There are people who abuse the system. There are also people who can't imagine life any different – the system is all they know. There are people who have temporary setbacks and benefits give them the boost they need to get back on their feet. There are thousands of kids involved.
You and I know that if we put our mind to something we can do it – absolutely anything in the world. This mentality is not something that everyone has.
No matter the reason, it is completely unfair to stereotype a group of individuals who you know nothing about. A person on food stamps is no less of a person than someone who isn't on food stamps.
For those who feel like the government is taking your money to give someone else a free ride, I got news for you, even if there was no welfare the government would still be taking your money. Get over it.
For all of you who are so quick to judge, I am dying to know, What Makes You So Perfect?
The next time you click "like" take a minute to think about what you are choosing to represent.
IF YOU AGREE WITH ME PLEASE "LIKE"!