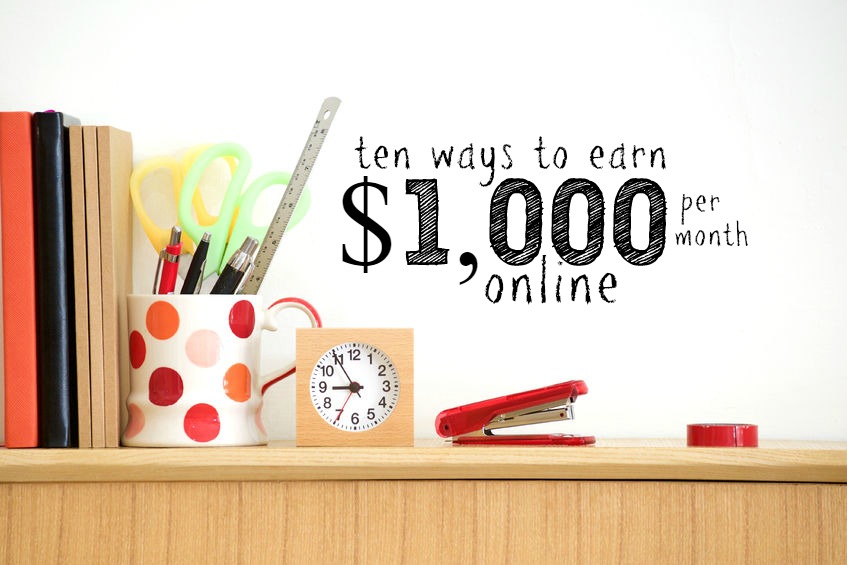 Working from home can be a great way to supplement your income. And if you're a mother like me it's a fantastic way to keep a flexible schedule.
If you're looking for ways to earn $1,000 per month from home here are ten of them. (These are all ranked from lowest pay to highest pay so that you can easily sort through.)
Phone Customer Service (100 hours at $10/hr.)
If you have a quiet home, a landline, computer and high speed internet, answering customer service calls may be up your alley. There are many reputable companies who hire at-home workers to handle customer service calls.
Pay is generally $8-$15 per hour. Here are some places you can apply:
Online Chat Job (100 hours at $10/hr.)
If you like the idea of customer service but prefer to stay off of the phone, chat based customer service jobs might be the better fit for you.
From what I can tell the average pay for chat based customer service jobs is right around $10/hour.
Here are 13 places you can apply for online chat jobs.
Data Entry (100 hours at $10/hr.)
Data entry is one of the work from home jobs I'm asked about most often.
There are a lot of different tasks that fall under the data entry label. Doing this job could mean transcribing audio files, sorting data from one software to another or compiling spreadsheets.
Since the barrier to entry on this type of work is low the pay is too. With a data entry job you can expect to earn $7-$15 per hour.
Here are 6 places to sign up for data entry jobs.
Search Engine Evaluator (71 hours at $14/hr.)
Search engine evaluators are given assignments to search for terms or phrases on specific search engines and then evaluate the relevancy of the results. These jobs are usually first come, first serve meaning that the hours you get can vary widely.
Most of the top search engine evaluation companies pay around $14 per hour.
Here's where to sign up for a search engine evaluator job:
Online Stylist Job (67 hours at $15/hr.)
I'm sure you heard of companies like Stitch Fix and Rocksbox but did you know that they hire stylists who work from home? If you have a love for fashion, like connecting with people and have excellent communication skills one of these jobs might be a good fit!
Here's a list of online stylist jobs with openings.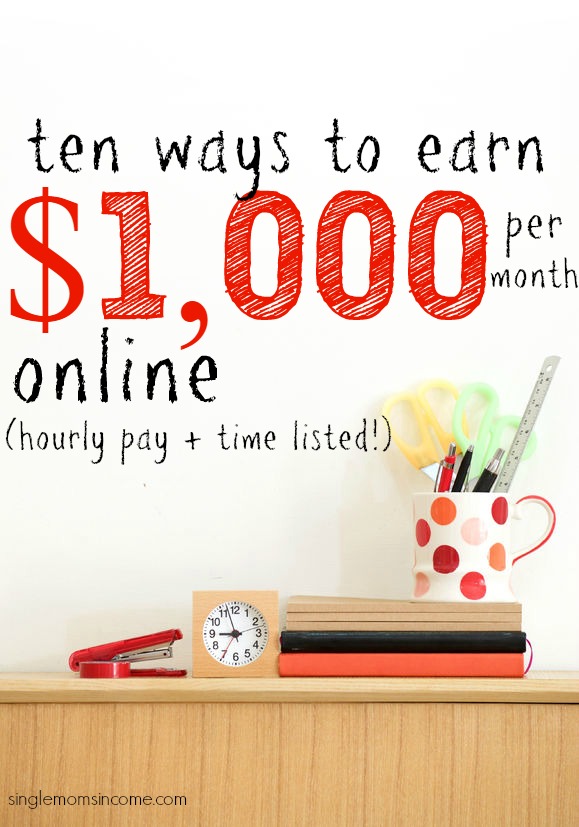 Work From Home Bookkeeper (63 hours at $16/hour)
Even though I was a bookkeeper in the past, I wasn't aware that remote bookkeeping as a 'thing' until being connected with CPA Ben Robinson last year.
To become a work from home bookkeeper you'll need bookkeeping knowledge and the ability to find your own clients. (Ben has courses for this found here if that's something you're interested in.) If you have prior experience as a bookkeeper then this could be a great fit for you.
According to Payscale the average pay for bookkeepers is $16 per hour. However, if you build your own reputation and clientele you stand to earn much more.
Online Tutor (50 hours at $20/hour)
Online tutoring is one area that I look to really expand over the next several years. Because of the flexibility parents and students need the demand for tutors is on the rise.
The pay for online tutors ranges from $9-$23 per hour.
Here's a list of 6 online tutoring jobs you can check out.
Virtual Assisting (33 hours at $30/hr.)
Virtual assisting was (and is still is) one of my very first online jobs. There are a ton of different things you can do as a virtual assistant. I personally help bloggers by scheduling blog posts, creating images, doing outreach and more. However, virtual assisting is not exclusive to just bloggers.
Here's a list of 30+ services you can offer as a virtual assistant. And here's how to find virtual assistant jobs.
Social Media Manager (33 hours at $30/hr.)
You'll notice a trend in these last few jobs on the list. While they pay the highest they require you to put in some upfront work finding your own clients. This is true with social media management as well.
Social media managers schedule social media posts, interact with fans, answer questions, run ads and provide reports for their clients. This is a great position for someone who is analytical but can also be creative.
Here are 5 ways to turn social media into your full-time job.
Freelance Writing (20 articles at $50 or 10 at $100)
Freelance writing was the very first sustainable way I learned to earn money online.
I started out completely clueless as what to do and therefore under-earned for a long time. When I finally figured things out I earned $50+ for basic articles. (Some of my friends earn $300+ per article!)
I've since turned everything I've learned into a step-by-step article teaching new freelance writers how to find jobs.
You Can Earn, Even With a Busy Schedule
The nice thing about most of these online jobs is that they allow flexible hours. You should be able to match up one (or more) of these jobs with your skillset and schedule.
If you're looking for easier ways to supplement your income you can check out my recommended survey sites here.
What ideas have you tried for supplementing your income?
Photo Credit: niradj