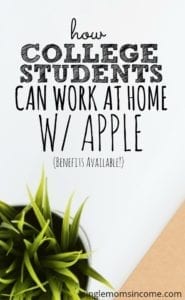 Work-from-home jobs are not only great for stay-at-home moms, they're a perfect fit for college and university students who want to earn an income while going to school. You don't have to commute, allowing more time for work or study, and you can earn extra money for school expenses.
Now Apple has work-from-home positions specifically for college and university students. If you're a fan of Apple products and use many of them, this might be the perfect fit for you.
Working with Apple
The Apple At Home Advisor position is part of Apple's customer care program and is available to college students enrolled in a participating university.
As an at home advisor you would be responsible for answering customers' questions about a variety of Apple products over the phone or via chat. You don't need to handle calls about every product at once, but the products you would need to know about are Apple Watch, iPhone, iPod, iPad, Mac, AirPort, Apple TV, and iTunes.
Your home workspace would need to have a few requirements:
A quiet, distraction-free place to work with a door that closes to block any ambient noise.
A desk and ergonomic chair.
A reliable and dedicated high-speed Internet connection with a minimum of 5 megabits per second download and 1 megabit per second upload. (Some or all of this cost will be reimbursed.)
The good new is this . . . you don't need to provide your own computer. Apple will supply you with an iMac and headset that you will be able to use exclusively for your work.
It helps to have some experience and knowledge of Apple products, but 5-7 weeks of paid training will be provided.
Apple At Home Advisor Pay
Pay will vary based on experience and the number of hours you work. Part-time At Home Advisors reportedly average $12-$15 an hour.
You are hired as an employee of Apple, not a contractor. Hours would be normal Apple support hours and shifts vary based on their business needs. There are times you may be asked to work additional hours like holidays, training, and peak business hours.
You would need to be available to work a scheduled shift so you may need to plan your class schedule accordingly. More information about shifts is available during the interview process and in the job descriptions. Most positions require afternoon to late night availability (around 4pm CST to 10:30pm CST.)
Both full and part-time employees receive benefits. These include product discounts, paid vacation, and even tuition reimbursement, as well as other benefits.
If this sounds like an opportunity you'd be interested in, you can find available positions and more information here. Once you find a job that interests you, simply apply by submitting your resume in the job description link.
Related Work from Home Jobs: