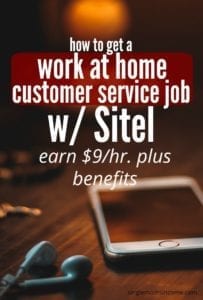 If you are looking for a work from home job that offers benefits and you enjoy customer service, Sitel could be a good fit.
Sitel hires service providers to handle inbound calls related to billing, account management, product inquiries, orders, installation scheduling, and troubleshooting.
They make working from home easy; to start your shift you only need to log in to your account. There are several requirements you'll need to fill in order to work for Sitel, but once you're hired, the benefits will make you feel like a valued employee.
Working with Sitel
There are several home office requirements you'll need to meet in order to qualify for any position:
A distraction and interruption-free work zone is a must.
An approved USB Headset.
An internet connection with a minimum download and upload speed of 1.5 MB, strong connection, DSL or broadband required (dial-up, Wi-Fi and/or hot spot not allowed), home router with a wired link to your PC. NOTE: Internet connection can only be used for work-related purposes during work hours. This means no one else in your home can use the same connection for streaming, gaming, or for any other purpose.
You'll also need a desktop or laptop that meets these requirements:
Operating System: Windows 7, Windows 8, Windows 10. (Other systems are not compatible)
Windows system must be a minimum of 4 GB RAM with a processor speed of Dual Core 2 GHz or better. You need at least 20 GB of free space and at least 2 available USB ports.
All peripherals must be wired (no wireless keyboard, mouse, or headset).
A monitor that is at least 19" with a minimum 1280 x 1024 resolution.
Monitor: Capable of displaying at least 1024 x 768 pixels.
Full version anti-virus software. Approved products are Symantec, McAfee, Windows Defender, Avast Free, and Avira Free.
Personal Qualifications
Previous customer service experience is preferred and sales experience is a plus as ALL projects involve sales.  There are also a few other basic qualifications:
Excellent verbal and listening skills.
Professional and articulate speech.
Self-motivated.
Able to multi-task several computer applications while holding a conversation.
Enjoy fast-paced and hectic work environment.
If you meet all these qualifications, you're ready to apply.
Getting Paid
The pay starts at $9/hour and goes up to $14/hour depending on the position and your experience. Supervisors average $30,000 per year and managers can make as much as $47,000/year. You'll receive your pay via direct deposit.
Sitel also offers paid training, medical and dental benefits, a 401(k), and vacation and holiday pay. Another benefit to working with Sitel is that you'll be hired as an employee rather than an independent contractor. This means they'll withhold taxes for you and you won't have to worry about paying self-employment taxes like you would with many other at-home positions.
If all of this sounds good to you, visit Sitel's job site and search current job openings. You're sure to find something that interests you.