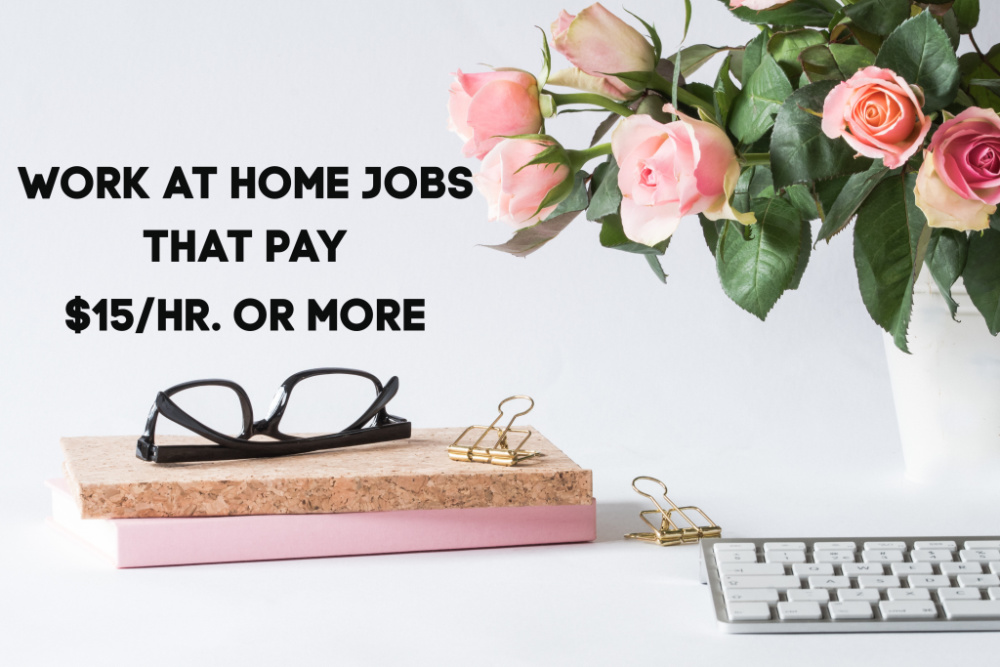 Although work from home jobs are gaining popularity with employers it can still be tricky to find a job that pays higher than $9 per hour. And if you're looking to replace your day job (or just feed your family) it can be hard to make it on $9 per hour. #BeenThereDoneThat
Luckily there are jobs that start out at $15 or more per hour – they're just a little tougher to find.
Here are work from home jobs that pay $15 or more per hour.
Virtual Assistant Jobs
Virtual assistants are admin assistants who work from their own home office. Virtual assistants perform a wide variety of tasks, depending on who they're working for.
Here are a few general tasks you may be required to do as a virtual assistant:
Booking appointments
Managing email
Managing customer service requests
Scheduling social media posts
Basic data entry
There are quite a few companies who hire virtual assistants (see 7 here) but it can be hard to find companies that start at $15 or more per hour.
Zirtual – Zirtual hires virtual assistants to perform duties such as managing email, making appointments, posting on social media and more. You must have an associate degree or higher and one year of admin experience. Pay averages $13-$18 per hour. Read the full review here.
Belay Solutions – Belay Solutions hires virtual assistants to perform tasks such as event planning, data entry, email management and more. They prefer applicants with bachelor's degrees and a minimum of five years' experience doing admin work. Although they don't list pay on their jobs page it's rumored that Belay starts at $15-$17 per hour. Read the full review here.
Start Your Own Virtual Assistant Business – I was a virtual assistant for years earning up to $50/hr. (Although I started out around $17ish per hour.) It's truly been one of my favorite jobs. You can make much more money starting your own virtual assistant business than you can going through a company.
If you're looking for a good paying virtual assistant jobs I've outlined exactly how I went about finding them in this post.
ESL Teaching Jobs
ESL = English Second Language
Most of the work from home ESL jobs that are currently available entail teaching English to Chinese students. Luckily, every company I've looked into so far supplies all teaching material needed to do this.
VIPKid – VIPKid starts out at $14-$22 per hour. You do need a bachelor's degree (any subject) to apply. The hours are flexible and VIPKid provides all curriculum. You can check out a full review here.
Magic Ears – Magic Ears is very similar to VIPKid only the pay starts a little higher. With Magic Ears starting pay is $18-$22 per hour. The hours are also flexible. Read the full review here.
Online Tutoring Jobs
If you have a bachelor's degree or higher, you'll qualify for tutoring jobs that pay $15 or more. The pay for tutoring job always varies based on the subject being taught.
Student Tutor – Student Tutor hires college students or grads with a GPA of 3.0 or higher to tutor in various subjects. They pay Math tutors $18/hr. and SAT/ACT tutors $21/hr. Read the full review here.
Chegg – Chegg hires tutors to give live one-on-one help as opportunities come in. They offer a flexible schedule and pay around $20 per hour.
Bookkeeping Jobs
Bookkeeping was my first "real" job and I absolutely loved it! Now, I'm seeing online bookkeeping jobs popping up and I think that is awesome. As a bookkeeper you can get hired through a company or start your own virtual bookkeeping business.
Below are two bookkeeping jobs that start at $15+ per hour.
Accounting Department – AccountingDepartment.com hires virtual bookkeepers and accountants as work from home, W-2 employees. Although I couldn't find a definitive number, it looks as though pay starts at around $16/hr. for bookkeepers.
Belay – Belay hires virtual bookkeepers to provide clients with a wide array of bookkeeping services. You must be available during normal business hours.
Gain the Skills You Need to Be a Bookkeeper – If you've thought about becoming a bookkeeper but aren't quite sure if you have the skills you can check out this three part vide course from CPA, Ben Robinson. (It's free.)
Customer Service
Most work at home customer service positions start out at $9-$11 per hour (usually with benefits, too.) However, every once in a while, you'll see an at-home customer service position pay more.
Apple – Apple hires college students to be "At-home advisors" and assist customers with various apple products. Pay is reported to start out at $12-$15/hr. Read the full review here.
Working Solutions – Working solutions is a company that matches independent contractors to companies that need work from home help. They offer many different types of jobs – many being customer service related. You can earn $9-$30 per hour, depending on the job you're matched with. Read our full review here.
Writing Jobs
Writing was my first foray into the "work at home world." Writing allowed me to build a business that led to me quitting my day jobs and working from home permanently. While I do recommend finding your own clients for higher pay, there are a few companies you can sign up with to earn $15+ per hour.
Online Writing Jobs – Online writing jobs contracts freelancers to write a variety of articles for different businesses. Pay is $15 to $50 per assignment.
The Hoth – The Hoth hires bloggers to write articles on different subjects, based on their knowledge. Pay is $25 for a 500 word article and $95 for a 2,000 word article.
Talent Inc. – Talent, Inc. hires resume writers to write cover letters, resumes, and LinkedIn profiles. Pay is reported by around $22/hr.
Put Your Best Foot Forward
If you're serious about getting one of these jobs you need to be prepared to put your best foot forward.
While most of these companies have a standard application for you to fill out, many will also want a copy of your resume. Before you start filling out applications have your resume updated and ready.
And when it comes to the interview process remember, employers expect the same from remote workers as they do on-site workers. You need to be professional and present yourself in the best light possible.
How to Earn More than $15 Per Hour from Home
While you can find some decent paying work from home jobs your best bet to make good income is to work as an independent contractor or freelancer.
Freelancers find their own clients, set their own rates, and are their own bosses. If you need help getting a freelance business set-up, I have a guide just for that. Check out the freelance side hustle challenge here, available for a limited time!