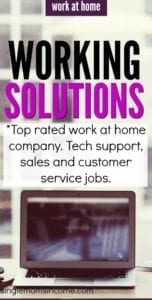 If you're looking for an established and high-rated work from home company Working Solutions is just that.
Working Solutions was started in 1996, has been in Flex Jobs' top 100 remote companies for the past 4 years and are highly rated by their contractors.
The thing I like most about this company is that they allow you to select the jobs you feel most suited for.
What kind of Jobs are Available at Working Solutions?
Working Solutions contracts with other companies to hire the best available customer service, sales and technical support people. They partner with clients from a variety of industries to provide talented professionals to assist their customers.
All agents are hired as independent contractors, not employees, and you can work as much or as little as you'd like. The only requirement of your schedule is that you choose your shifts in advance and be available to work when you say you will.
If you're looking for part-time work to fill some empty hours in your week or you'd rather work full-time from the comfort of your home, Working Solutions has the right opportunity for you.
Technical Requirements for Working Solutions
There are several equipment and technical requirements you'll need to meet in order to do the job:
A computer with Windows 7, 8.1, or 10. While macOS is acceptable, there is limited support and jobs will be limited.
Firefox, Chrome, or Explorer 11 browser
Processor: Intel Core i3/i5/i7/i9 running at 1.5 GHz or higher, Intel Xeon running at 1.5 GHz or higher, AMD A-series APU or AMD Ryze Threadripper, running at 1.5 GHZ or higher
Minimum 4 GB RAM, but 8 GB RAM or higher recommended
VoIP, wired phone line, or digital phone line with no added features and a wired headset (traditional landline preferred)
Cellphone, VoIP adapter (Vonage or MagicJack), Skype are not acceptable
Phone features like voicemail, call waiting, and call blocking are not acceptable
Ethernet-only internet connection only (wireless connections are not acceptable)
Mouse and keyboard (wired is preferred, but wireless is acceptable)
A quiet, uninterrupted work area
Working Solutions Application Process
You'll need to go through a few basic steps to start working. First, you'll need to apply and take an assessment. It can take up to two weeks to get a response to your application. After being accepted, you'll be directed to an orientation video before you can begin working.
Before taking the assessment test, make sure you allow enough time (about 45 minutes for the entire process) and are in a distraction-free area. You only have one opportunity to pass the test. If you don't pass, you will not be able to apply again. Applying under a new profile is not allowed and you will be immediately rejected.
Working Solutions is accepting applications in all states except CA, NY, PA, and WA. Your hours are up to you, but once you set your hours you are responsible for them. Agents who consistently meet their commitments will be given priority scheduling.
How Much Does Working Solutions Pay?
Pay varies based on the job, but ranges from $9 to $30 per hour. Your income will vary based on the jobs you accept, your performance, how much work is available, and how much time you put in.
Working Solutions pays by direct deposit or check and payments are issued twice per month for any completed and invoiced work. You can work anywhere from 15 to 40 hours per week. More at certain times of the year, like holidays.
How to Apply
Ready to apply and see if you're a good fit for their work program? You can join their community and start your application process here.
Related Jobs
If you're looking for more work at home jobs here are some similar ones you may be interested in:
9 Virtual Call Center Jobs – Here are nine companies you can apply with for work at home customer service and support positions.
17 Work at Home Jobs with No Fees – Looking for fee free jobs? This post has you covered. There are 17 fee-free legit work at home jobs to check out.
Easiest Ways to Make Money Online – These definitely won't provide you a full-time (or part-time) income but they are some of the easiest ways to earn a little extra cash on the side.