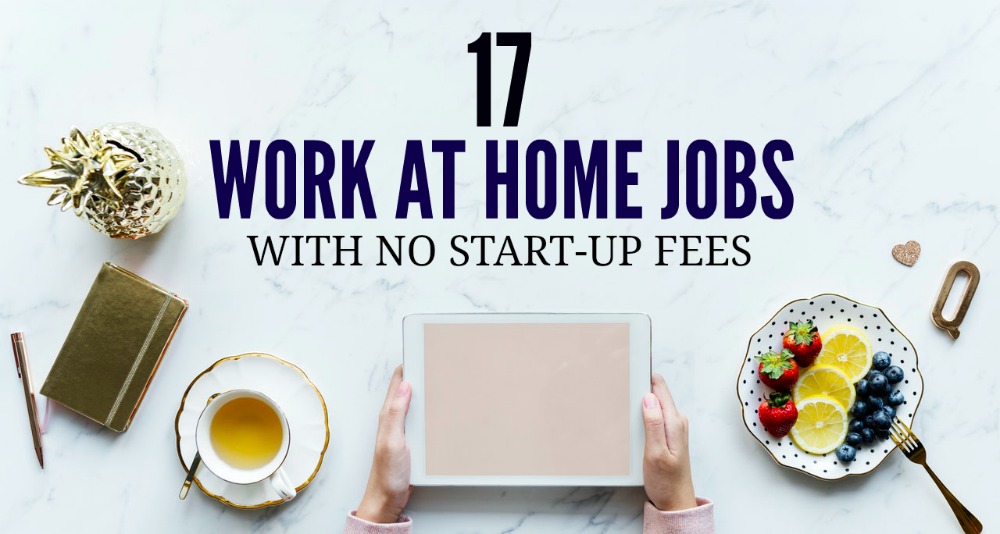 You find an online job that sounds promising, you click over to get more information and BOOM you're asked for your credit card information. For only $39.99 you, too, can earn hundreds of dollars per week in mere hours.
Sound familiar?
One of the most frustrating things about finding a work from home job is weeding through scams.
Still, when you are a working mom you'd better be a home working one. There are many things to do starting from writing papers for money and ending with opening your own business. First and foremost, you are to secure your financial stance from Day 1. In the article below you will find some working options.
There's always someone out there trying to take advantage which is why you should always be wary when it comes giving out personal information and/or money.
Luckily these 17 REAL work from home jobs with no start-up fees are legit and from companies you'll already be familiar with.
(Almost) Always Hiring
American Express – American Express offers work from home jobs in customer care, travel and lifestyle, sales, and human resources. Pay will vary depending on job.
Alorica at Home – Alorica is a company that hires work at home agents to perform customer service, mainly over the phone but also through chat and email, for a variety of different companies.  The pay is usually around $9/hr. or minimum wage, whichever is higher in your state. They also offer paid training.
VIP Kid – This company is always hiring independent contractors to teach English second language to Chinese children. The teaching material/lessons are provided. To qualify as a teacher you'll need to have a bachelor's degree (any field) and one years' teaching experience or equivalent (tutoring, homeschool, etc.) Pay is $14-$22 per hour.
Transcribe Me – This company hires general transcriptionists to transcribe audio files. No previous transcription experience is needed and you can work as little or as much as you want. Pay is $20 per audio hour.
Stitch Fix – Stitch Fix hires work at home personal stylists in the following states: Texas, Ohio, California, Pennsylvania, and Minnesota. In person training is required. Pay is reported be $14-$16 per hour.
Leapforce – Leapforce hires independent agents to evaluate and improve search engine results. Hours vary and pay is reported to be around $13 per hour.
Convergys – Convergys hires for work at home call centers. They have three types of work from home customer service positions. They also offer paid training and a full benefits package. Average pay is $9-$14 per hour.
Other Work from Home Jobs with No Start-Up Fees
Amazon – Amazon often has virtual positions open – especially around the holidays. If you're interested in a job with Amazon be sure to check their openings often.
Apple – Apple hires at-home advisors to help with customer support via phone and chat. If you're hired as an Apple at home advisor you'll be provided an iMac, headset and employee benefits.
Asurion – Asurion is a company that hires at home customer service agents to help customers troubleshoot technological problems. Pay is generally $9-$13 with some incentives offered.
Dion Data Solutions – Dion Data Solutions offers work at home data entry jobs. (As of this writing they aren't accepting applications, check often.)
Aberdeen – Aberdeen is a company that hires contractors to caption in real-time and also to caption videos. Pay varies but looks to be decent.
Thred Up – ThredUp, the online consignment store, hires "personal stylist" to curate clothes for their customers. This job is only available in certain locations. (Look for "personal stylist" on their career page.)
Sitel – Sitel hires work at home associates to service inbound calls. They work in a number of different industries so specific duties will be based on individual jobs. Pay is rumored to start at around $9 per hour.
Hilton – Hilton hires both reservation sales and customer service jobs. The pay is around $9/hour (with incentives for sales associates.) Benefits packages are available.
Intuit – Intuit, the company that owns Turbo Tax and Quickbooks, hires work at home tax-advisors and tax support specialists during income tax season. Tax Advisors answer tax related questions while tax support specialists help answer software questions via phone and chat.
HSN – HSN hires work from home customer service jobs but not nationwide. As of right now HSN is hiring in Florida, Tennessee, and Ohio. (Even if you live in one of these states you will also need to have a specific area code.) Pay is rumored to be $11-$12 per hour.
No-Start Up Fees
If you're looking for a work from home job these 17 companies are a good place to start. These are real work at home jobs with no start up fees.
Always remember that jobs do NOT come with start-up fees. (The only exceptions to this would be purchasing necessary equipment to perform your job and in some cases, paying for a background check.)
The only time start-up fees should be involved is when you're starting your own business. And even then you should do plenty of research before shelling out any money.
Also read: 19 BEST Money Making Apps of the Year