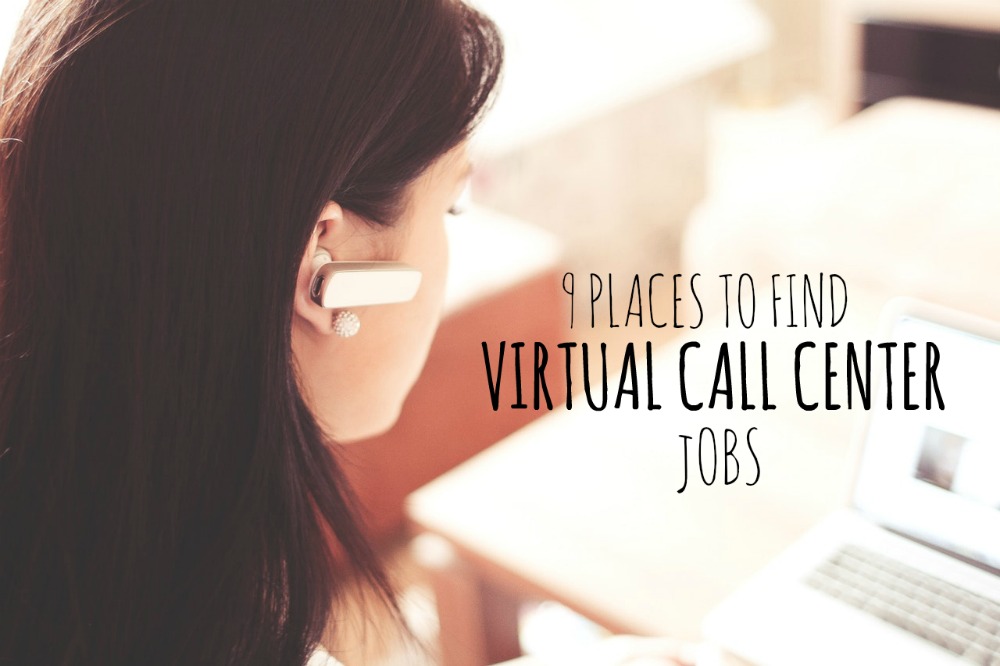 Are you having trouble finding a job?
Every week I browse through work at home job positions and see a TON of virtual call center openings. Now, these jobs certainly aren't for everyone. In fact, if you don't have a quiet place to work you can pretty much cross them off your list. But if you're looking to find employment quickly and enjoy customer service, these jobs can be a great fit.
Here are 9 places to find virtual call center jobs. (And they're almost always hiring!)
General Requirements for Virtual Call Center Jobs
Before you start applying it's best to know what kind of qualifications and equipment is most commonly needed. (The specifics will definitely vary depending on the company so be sure to check when applying.)
Common Qualifications:
High School Diploma or GED
One year experience in customer service or call center environment
A quiet place to work
Common Equipment Needed:
PC
High Speed Internet
USB headset
Telephone Headset
Landline
Alorica
Alorica contracts with many large companies to offer customer service. They hire at-home agents to fulfill these duties.
As an at-home agent you'll be responsible for entering customer information, answering questions, providing additional sales information and more. The specific duties you'll have will be dependent upon the job you get.
You can fill out an application here. After completing the application you'll be required to take a job fit and behavioral assessment. If you successfully complete those you'll be required to do additional screenings and if a good fit will receive a job offer.
Pay is typically around $9 an hour or minimum wage in your state, whichever is greater. However, you may be paid per minute, per call, or an hourly rate.
Convergys
Convergys is another company that contracts with multiple businesses to provide customer service. They have three different type of customer service jobs, some focus more on tech support while others focus more on sales. You can specify which you prefer on your application.
One good thing about Convergys is that they offer benefits including medical, dental, and vision insurance as well as a 401k and possible paid vacation.
Full-time employment equates to 40 hours per week while part time work equates to 25-30 hours per week. Overtime may be available.
Pay is reported to be around $9-$14 per hour. You can view job openings here.
Asurion
Asurion offers mobile device insurance and hires at home workers to handle customer care and technical support. This company offers its employees health and dental benefits.
Pay is reported to be between $9 and $15 per hour. To see if there's a job opening in your state click here.
Sitel
Sitel contracts with a number of companies in various industries to provide customer support.
As an agent with Sitel you may responsible for billing inquiries, product inquiries, product questions, installation scheduling, and troubleshooting.
They hire in the following states: Alabama, Arizona, Colorado, Delaware, Florida, Georgia, Idaho, Illinois, Iowa, Kansas, Kentucky, Louisiana, Minnesota, Mississippi, Missouri, Nevada, New Jersey, New Mexico, North Carolina, Ohio, Oklahoma, Pennsylvania, South Carolina, South Dakota, Tennessee, Texas, Utah, Virginia and Wisconsin.
If hired full time Sitel offers a variety of benefits including health and dental and a 401k match.
Pay is reported to be around $10 per hour. You can view all available virtual call center jobs here.
HSN
HSN, or the Home Shopping Network, is a TV channel (and website) that sells a variety of goods. HSN hires work at home customer service representatives to help field inbound calls, close sales and promote other sales.
HSN currently hires in Florida, Tennessee, and Ohio. (Even if you live in one of these states you will also need to have a specific area code.) Pay is rumored to be $11-$12 per hour.
You can find available HSN call center jobs here.
Hilton
Hilton, the hotel and resort chain, hires for at home customer care and reservation sales. Customer care associates offers customer service to Hilton Honors members. Reservation Sales specialists act as a first point of contact for the hotels' brands.
Reservation sales associates base pay is $9.00 per hour with incentives. Benefits are offered.
You can view available jobs here.
Sykes
Sykes provides customer service for a variety of industries including communications, health insurance, financial services, and more.
As a Sykes representative you may responsible for a number of different types of customer care services.
Sykes offers paid training and benefits. Pay is reported to be around $10 per hour. You can view available positions here.
LiveOps
LiveOps contracts with many companies to provide various levels of customer service. When you work with LiveOps you're hired as an independent contractor rather than employee. This means you won't receive benefits and will be responsible for paying your own taxes. The good side is that it also means you'll have more control over your schedule.
Pay is usually per minute and will vary depending on how much you work and what type of calls you take.
You can browse job openings and apply online here. If hired you will need to pay $45 for a background check.
Arise Virtual Solutions
Arise is a little different than the rest of the jobs listed on this page. With Arise you'll technically be starting your own business (which does require an upfront investment) rather than being hired as an employee.
For a fee Arise will help you get started running your mini call center through their platform. You can learn more about it here.
My friend Angie has a blog post detailing her experience owning an Arise virtual call center business. (If you're thinking of starting an Arise home business I recommend you read her post.)
Getting a Virtual Call Center Job
If you need a job fast and have previous customer service experience, chances are you'll be able to land one of these virtual call center jobs. Just be sure to read through the list of qualifications and equipment needed before applying.