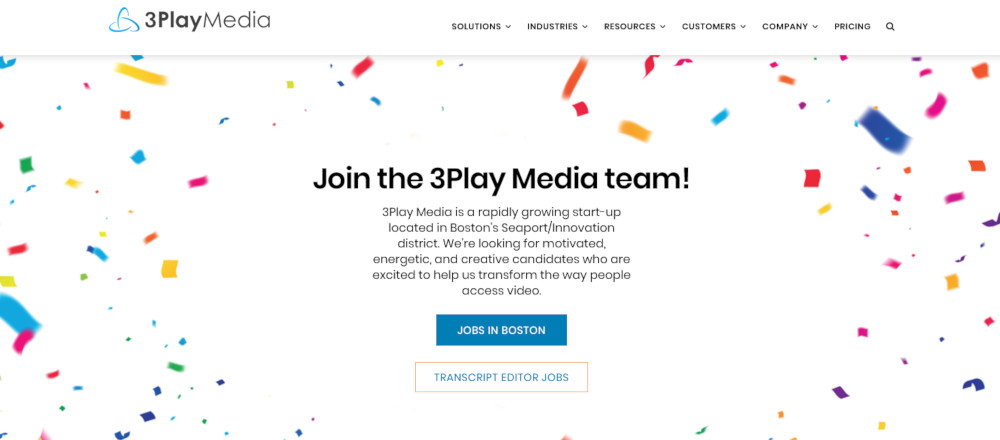 It can be hard to find a decent paying work at home transcription job.
Even though there are a lot of companies that contract this work, most only pay around minimum wage. Luckily, we've found a company that pays a little higher.
3Play Media is a company that provides transcription, audio description, closed captioning, and subtitling for their clients. They've worked with big brands such as Sesame Street, NBC, and Procter & Gamble.
3Play Media currently contracts transcript editors for work at home positions. Here's what you need to know.
Working with 3Play Media – Job Duties
3Play Media hires English and Spanish transcript editors to work from home.
Job duties include transcribing audio files and also editing other transcripts using 3Play Media's software.
You can work from anywhere in the United States as long as you have a reliable internet connection and can log in to their website. The hours are flexible; you're an independent contractor so you can work when you feel like it. There are no set schedules, simply log in and claim a project when you want to work.
Requirements for Working with 3 Play Media
They do have some personal qualifications as well as some technical ones in order to be accepted. First, you must meet these required qualifications:
Excellent written communication skills
A command of English usage, grammar, and punctuation
Prior experience with word processing
Typing speed of at least 75 WPM
Expertise with internet research and resources
Ability to work independently and complete projects on time
Be at least 18 years old
If you're familiar with Microsoft Excel or other spreadsheet applications and you possess computer skills, that's a bonus
Your computer must meet the following requirements:
Processor: minimum 2.0 GHz
Memory: 4 GB RAM, 5 GB available disk space
High speed internet connection with a minimum of 10 Mbps download speed (you can test your connection here)
Access to email
Headset
How Much Does 3 Play Media Pay?
The pay varies based on the project and the number of hours worked, but it can range from $10 to $30 per hour. The better your typing speed and proficiency, the more jobs you'll be able to take on and the more money you'll make.
Great Glassdoor Reviews
3Play Media has 4.3 out of 5 stars on Glassdoor – which is pretty great!
Reviewers have verified that 3Play Media does indeed pay well. The main complaint was that during certain times of the year that the workload is less steady.
How to Apply to 3Play Media
If you think this sounds like the perfect work-at-home job for you and you want to apply, you can fill out your application and start the hiring process here. With the ability to work when you feel like it, this might be the perfect opportunity for adding additional income when you need it.